Just like the recent recipe for lemon chicken kebabs, this is another complete meal that's ready in just a few minutes, taking advantage of how quickly the fish is done cooking.
In fact, it takes so little time that you'll have to be careful not to overcook the fillets. Heat them too long, and they'll get dry and rubbery; just a few minutes on each side will make them juicy from the lemons and perfectly fork-tender.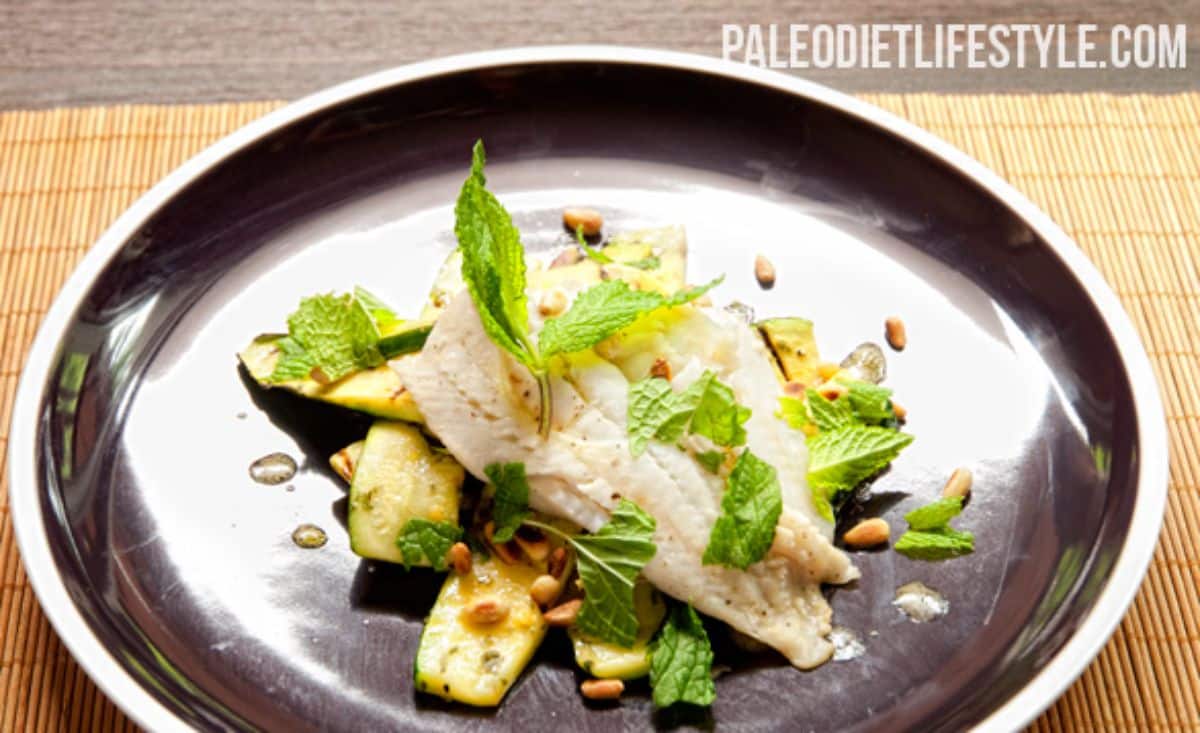 I used it solely for the fish, but any kind of white fish will do just as well; use whatever you have on hand. The one thing you should look out for is fish that's been sustainably harvested.
The very best way is to get your dinner from a fisherman you trust, but if you're shopping in a store, look for the Marine Stewardship Council logo on the package.
You can sometimes find MSC certified fish even in big box stores like Wal-Mart. Sole is very frequently sourced from questionable fisheries, so it's important to check the labels carefully; if you're substituting another kind of white fish, use the Monterey Bay Aquarium's guide to look it up.
When you're making the vinaigrette, don't be afraid to really pour on the olive oil. As well as adding a rich flavor to the meal, high-quality olive oil is full of antioxidants, and it's primarily monounsaturated fat, the one kind of fat that everyone agrees on!
Whitefish, in general, is high in protein and very low in fat, so you'll want quite a bit of oil over your vegetables to make a satisfying dinner. Also, be aware that this is really a recipe for lemon lovers – if you prefer a milder flavor, you may want to tone down the lemon juice in the vinaigrette a little.
Grilled Lemon-Herb Zucchinis with Sole Recipe
Serves: 4 Prep: 12 min Cook: 10 min
Ingredients
4 sole fillets;
2 lemons, sliced into thin rounds;
2 limes, sliced into thin rounds;
6 sprigs of fresh thyme;
Sea salt and freshly ground black pepper to taste;
Aluminum foil;
Grilled lemon-herb Zucchinis Ingredients
4 medium zucchinis, sliced lengthwise into thin slices;
¼ cup of freshly squeezed lemon juice;
2 tbsp. fresh parsley, chopped;
½ cup extra-virgin olive oil, plus more for rubbing;
1 tbsp. Dijon mustard;
Fresh mint leaves;
2 tbsp. pine nuts, toasted;
Sea salt and freshly ground black pepper to taste;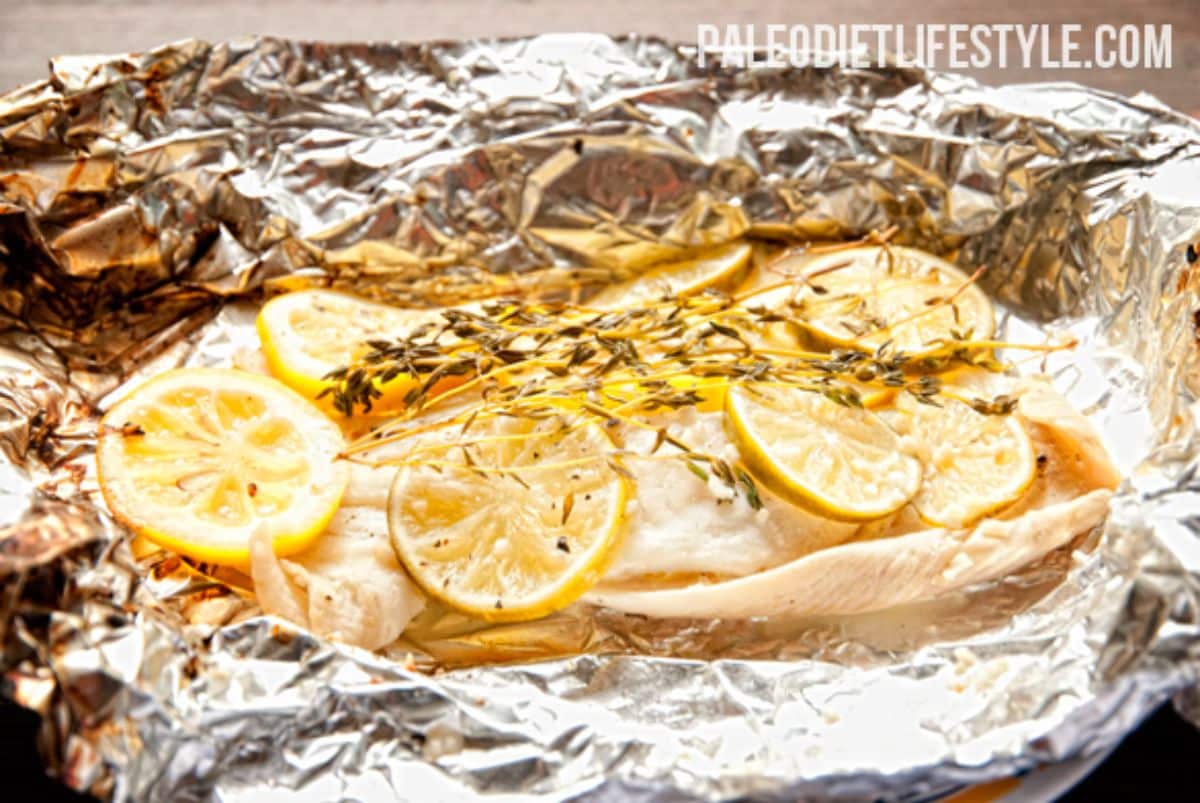 Preparation
Preheat your BBQ or grill to medium-high.
On a big piece of aluminum foil, make a bed for the fish with half the lemon and lime slices. Place the fish on top, then cover with the rest of the slices and top with the thyme sprigs. Close the foil tightly.
Put the foil packet of fish on the grill and cook for about 8 minutes (4 minutes on each side).
Brush the zucchinis on both sides with olive oil, and add salt and black pepper to taste.
Grill the zucchini for about 1 or 2 minutes on each side and remove.
In a small bowl, combine the Dijon mustard, lemon juice, and parsley, and season to taste with salt and pepper. Slowly whisk in the olive oil until emulsified.
Drizzle the vinaigrette over the zucchinis.
Top the zucchinis with the sole, the pine nuts, and the fresh mint, and serve.
📖 Recipe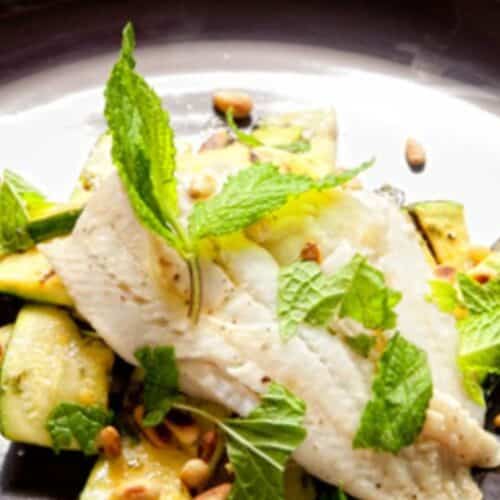 Grilled Lemon-Herb Zucchinis with Sole Recipe
An ultra-quick barbecue dinner with a summery lemon theme.
Ingredients
Grilled lemon-herb Zucchinis Ingredients
4

medium zucchinis

sliced lengthwise into thin slices

¼

cup

of freshly squeezed lemon juice

2

tbsp.

fresh parsley

chopped

½

cup

extra-virgin olive oil

plus more for rubbing

1

tbsp.

Dijon mustard

2

tbsp.

pine nuts

toasted

Sea salt and freshly ground black pepper to taste
Instructions
Preheat your BBQ or grill to medium-high.

On a big piece of aluminum foil, make a bed for the fish with half the lemon and lime slices. Place the fish on top, then cover with the rest of the slices and top with the thyme sprigs. Close the foil tightly.

2 lemons,

2 limes,

6 sprigs of fresh thyme,

Aluminum foil

Put the foil packet of fish on the grill and cook for about 8 minutes (4 minutes on each side).

Brush the zucchinis on both sides with olive oil, and add salt and black pepper to taste.

4 medium zucchinis,

½ cup extra-virgin olive oil,

Sea salt and freshly ground black pepper to taste

Grill the zucchini for about 1 or 2 minutes on each side and remove.

In a small bowl, combine the Dijon mustard, lemon juice, and parsley, and season to taste with salt and pepper. Slowly whisk in the olive oil until emulsified.

¼ cup of freshly squeezed lemon juice,

2 tbsp. fresh parsley,

1 tbsp. Dijon mustard,

Sea salt and freshly ground black pepper to taste

Drizzle the vinaigrette over the zucchinis.

Top the zucchinis with the sole, the pine nuts, and the fresh mint, and serve.

Fresh mint leaves,

2 tbsp. pine nuts
Nutrition
Calories:
987
kcal
Carbohydrates:
18
g
Protein:
116
g
Fat:
51
g
Saturated Fat:
8
g
Polyunsaturated Fat:
9
g
Monounsaturated Fat:
26
g
Trans Fat:
0.1
g
Cholesterol:
405
mg
Sodium:
792
mg
Potassium:
2176
mg
Fiber:
5
g
Sugar:
8
g
Vitamin A:
1417
IU
Vitamin C:
92
mg
Calcium:
266
mg
Iron:
4
mg