Sonia, over at The Healthy Foodie, has created her very first cookbook called Paleo Home Cooking. She was kind enough to send us a copy of the book. Let us tell you; it's a great book. It contains a variety of recipes, including a chapter for basic seasoning blends, dressings, and condiments.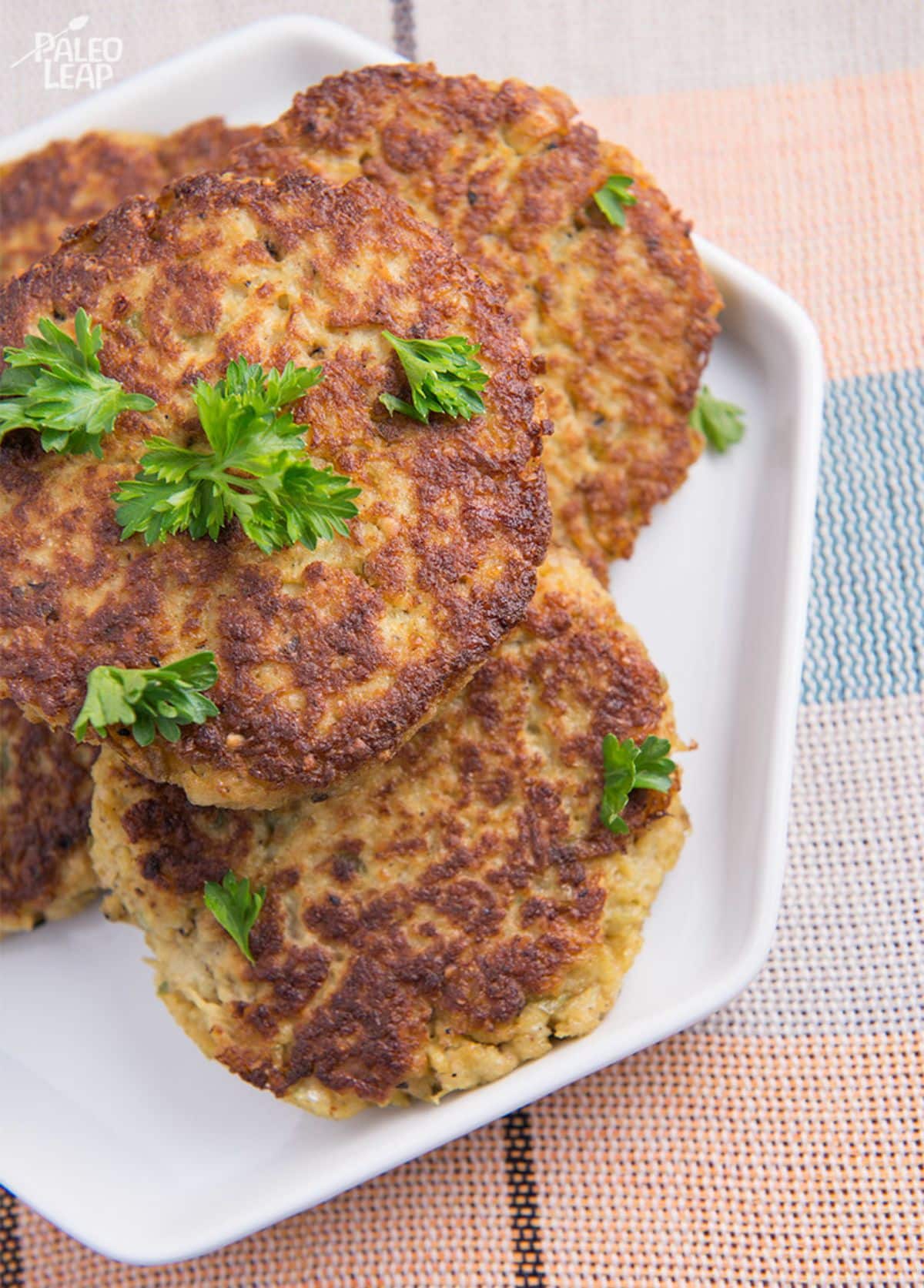 There's even a whole chapter dedicated to nut butter, and they all look amazing. Our favorite touch about Paleo Home Cooking is that each recipe has categories and icons letting you know about things like if the recipe is quick & easy, if you'll need to plan ahead, or if the recipe is keto-friendly.
Sonia also included the nutritional facts for each recipe, which is something she does on her blog as well.
We chose to share the cauliflower fritters recipe from the Sides chapter. The recipe is pretty simple to make, and if you've ever tried our cauliflower tortillas, then you already know how to prepare the cauliflower.
That's the one and the only change we made to the recipe. Mind you, it isn't much different than what Sonia suggests; we just find ricing the cauliflower first makes it a bit easier. Once the water is squeezed out of the cauliflower, the recipe goes very quickly and is ready in under 30 minutes.
The fritters are full of flavor and a nice combination of garlic, shallot, and nutmeg. They would be a great side to go with pretty much any protein.
Another plus is they keep in the refrigerator for up to 3-4 days, and they reheat well, so you can make them ahead. The recipe says to reheat them the same way you cook them, using a good amount of healthy cooking fat.
Cauliflower Fritters Recipe
Makes: 6 fritters PREP: 12 min COOK: 12 min
Ingredients
1 medium head cauliflower (1 ¾ lb.)
1 shallot, very thinly sliced
1 clove garlic, minced
2 large eggs, beaten
¼ cup almond flour
2 tbsp. tapioca starch
2 tbsp. coconut flour
½ tsp. baking soda
½ tsp. Himalayan salt
½ tsp. freshly ground black pepper
¼ tsp. ground white pepper
¼ tsp. freshly grated nutmeg
2 tbsp. ghee + more for serving
Chopped fresh parsley for garnishing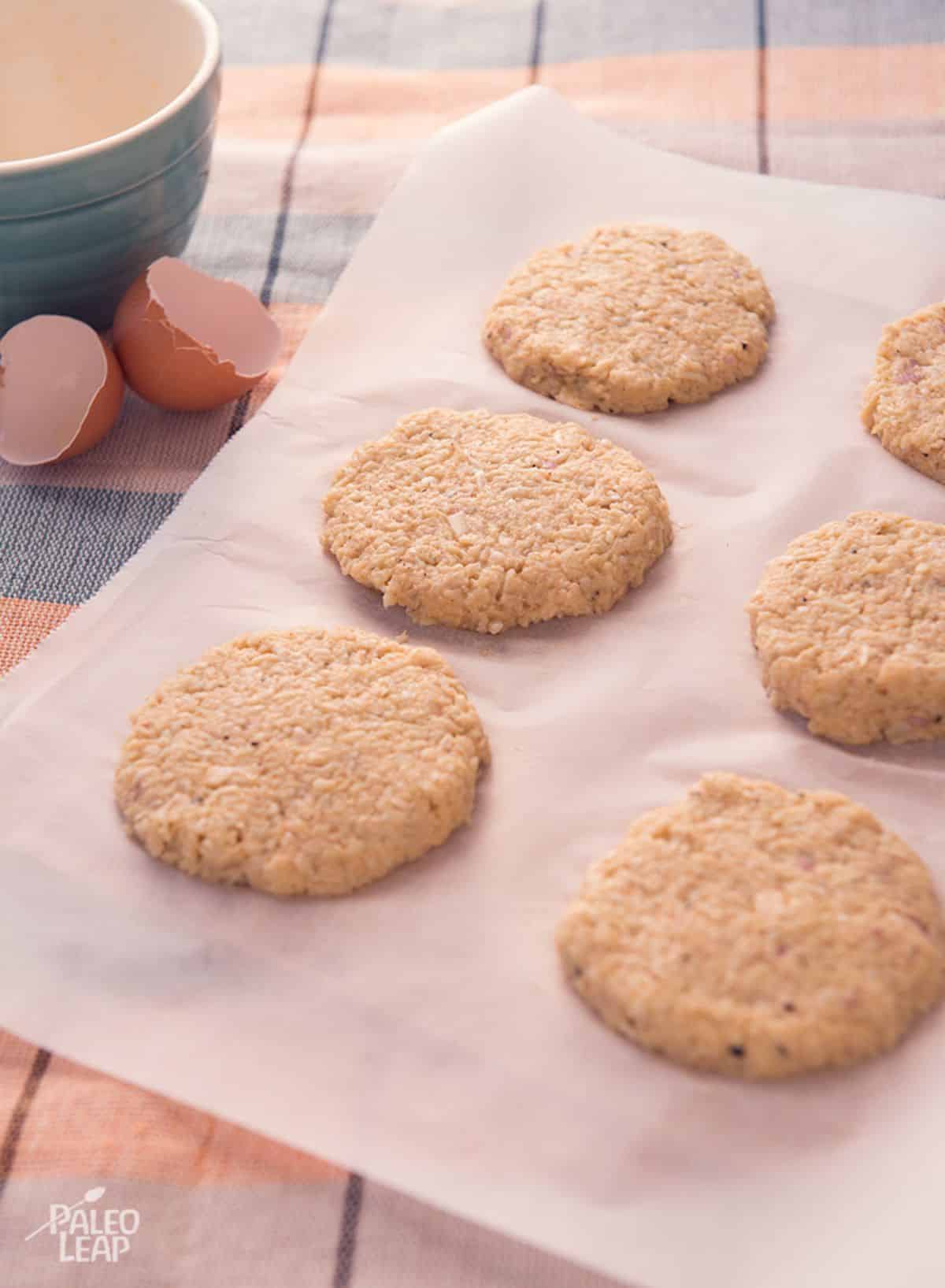 Preparation
Using a food processor or box grater, "rice" the cauliflower.
Steam the riced cauliflower over boiling water for 5 minutes, then allow it to cool completely.
Using some cheesecloth or a dish towel, squeeze out all of the excess water.
Transfer to a large mixing bowl and combine the rest of the ingredients except for the ghee and parsley.
Mix well, then form 6 equally-sized patties.
Heat 2 tablespoons of ghee in a large sauté pan over medium heat.
Once hot, carefully add the patties and cook, undisturbed, until a golden crust forms, about 3-4 minutes on each side.
Serve hot with extra ghee on top and sprinkled with parsley.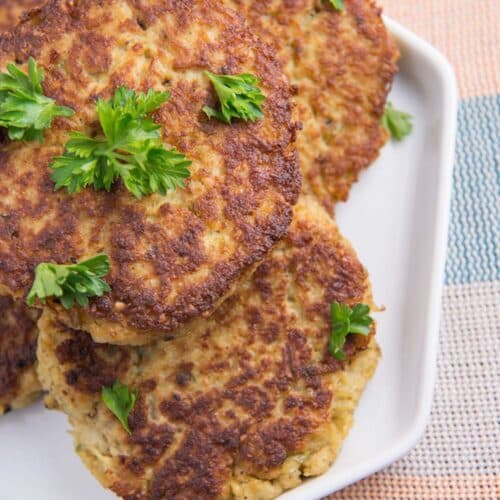 Cauliflower Fritters Recipe
Taken from The Healthy Foodie's new cookbook, Paleo Home Cooking, these cauliflower fritters are a delicious side that will please the whole family.
Ingredients
1

medium head cauliflower

1 ¾ lb.

1

shallot

very thinly sliced

1

clove

garlic

minced

2

large eggs

beaten

¼

cup

almond flour

2

tbsp.

tapioca starch

2

tbsp.

coconut flour

½

tsp.

baking soda

½

tsp.

Himalayan salt

½

tsp.

freshly ground black pepper

¼

tsp.

ground white pepper

¼

tsp.

freshly grated nutmeg

2

tbsp.

ghee + more for serving

Chopped fresh parsley for garnishing
Instructions
Using a food processor or box grater, "rice" the cauliflower.

Steam the riced cauliflower over boiling water for 5 minutes, then allow it to cool completely.

1 medium head cauliflower

Using some cheesecloth or a dish towel, squeeze out all of the excess water.

Transfer to a large mixing bowl and combine the rest of the ingredients except for the ghee and parsley.

1 shallot,

1 clove garlic,

2 large eggs,

¼ cup almond flour,

2 tbsp. tapioca starch,

2 tbsp. coconut flour,

½ tsp. baking soda,

½ tsp. Himalayan salt,

½ tsp. freshly ground black pepper,

¼ tsp. ground white pepper,

¼ tsp. freshly grated nutmeg

Mix well, then form 6 equally-sized patties.

Heat 2 tablespoons of ghee in a large sauté pan over medium heat.

2 tbsp. ghee + more for serving

Once hot, carefully add the patties and cook, undisturbed, until a golden crust forms, about 3-4 minutes on each side.

Serve hot with extra ghee on top and sprinkled with parsley.

Chopped fresh parsley for garnishing
Nutrition
Calories:
477
kcal
Carbohydrates:
42
g
Protein:
17
g
Fat:
30
g
Saturated Fat:
14
g
Polyunsaturated Fat:
2
g
Monounsaturated Fat:
6
g
Trans Fat:
0.01
g
Cholesterol:
202
mg
Sodium:
997
mg
Potassium:
984
mg
Fiber:
13
g
Sugar:
8
g
Vitamin A:
245
IU
Vitamin C:
140
mg
Calcium:
130
mg
Iron:
3
mg