If you are absolutely in love with chili peppers and Sriracha makes your mouth water at the very thought of dipping anything in it, then you are in the right place, as this honey Sriracha chicken is loaded with an indulgent spicy sweetness.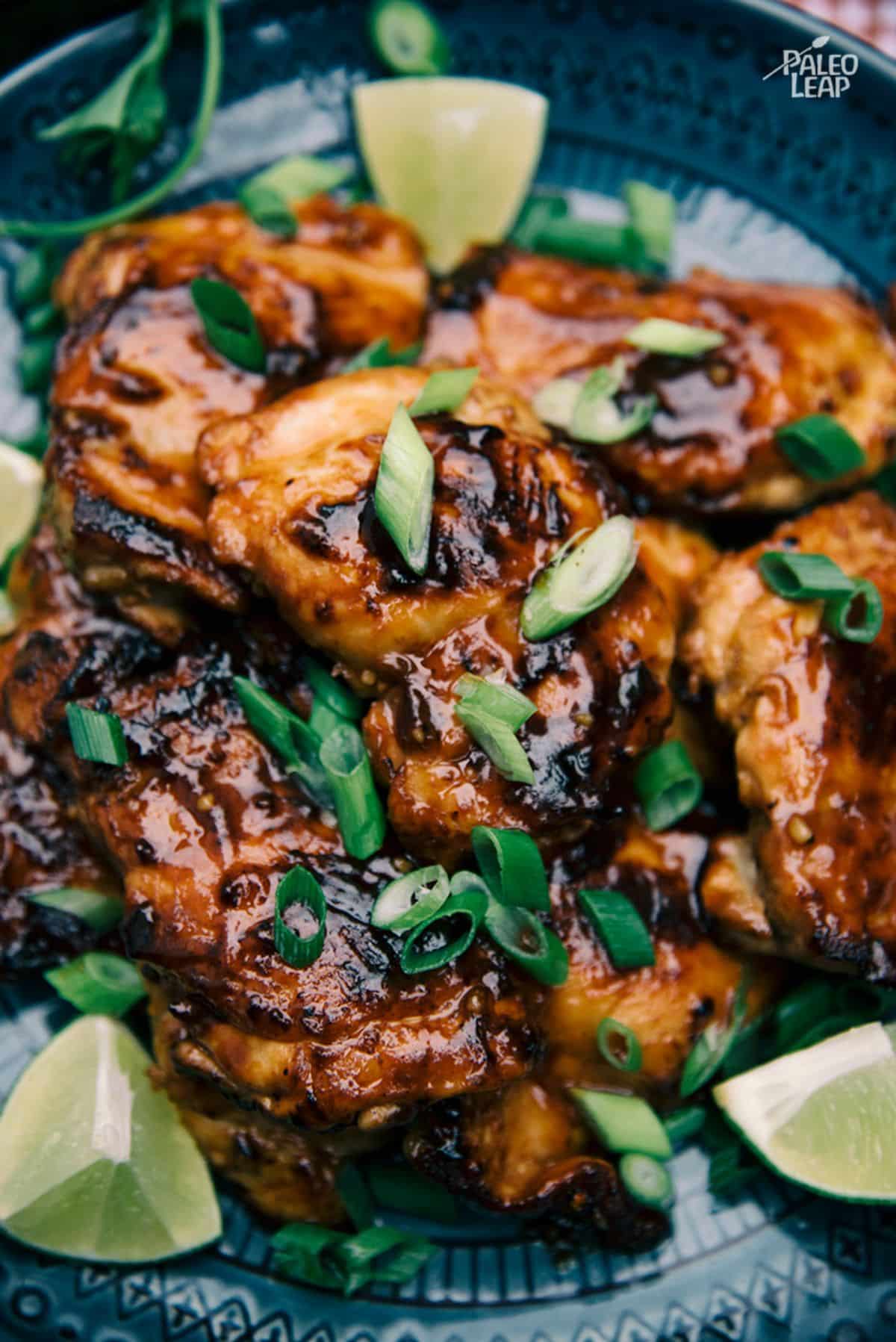 Don't be alarmed at the time it takes to prepare this dish, as the chicken will be marinating in the refrigerator, leaving you time to chop up some fresh salad greens or to shred up some veggies for a warm broccoli and carrot slaw in the hopes of providing some milder bites in the meal.
If you are nightshade intolerant, you may want to pass on this delightfully peppery dish, but if you aren't sensitive, then enjoy it for all it is worth. Sriracha is a specialty from Thailand, and it tastes: "perfectly wonderful!"; more important, however, is how hot peppers can benefit your body in multiple ways.
If you suffer from headaches, arthritis, or nasal congestion, eating hot peppers may help your symptoms subside, as capsaicin does its job of acting as an anti-inflammatory compound.
And we hear you wondering if honey is Paleo. It does have an elevated fructose content, but overall it is one of the best Paleo sweeteners to be had.
If you make a larger batch of sriracha sauce, you can freeze any leftovers for the next time you are ready for a fire-burning meal. Just make sure to have a refreshing drink on hand to cool down.
Honey Sriracha Chicken Recipe
Serves: 4 Prep: 45 min Cook: 20 min
Ingredients
8 to 10 chicken thighs, boneless and skinless
¼ cup raw honey
¼ cup Sriracha sauce (or to taste)
4 garlic cloves, minced
2 tbsp. apple cider vinegar
2 tbsp. fresh lime juice
Green onions, sliced
Lime wedges, to serve
Cooking fat
Sea salt and freshly ground black pepper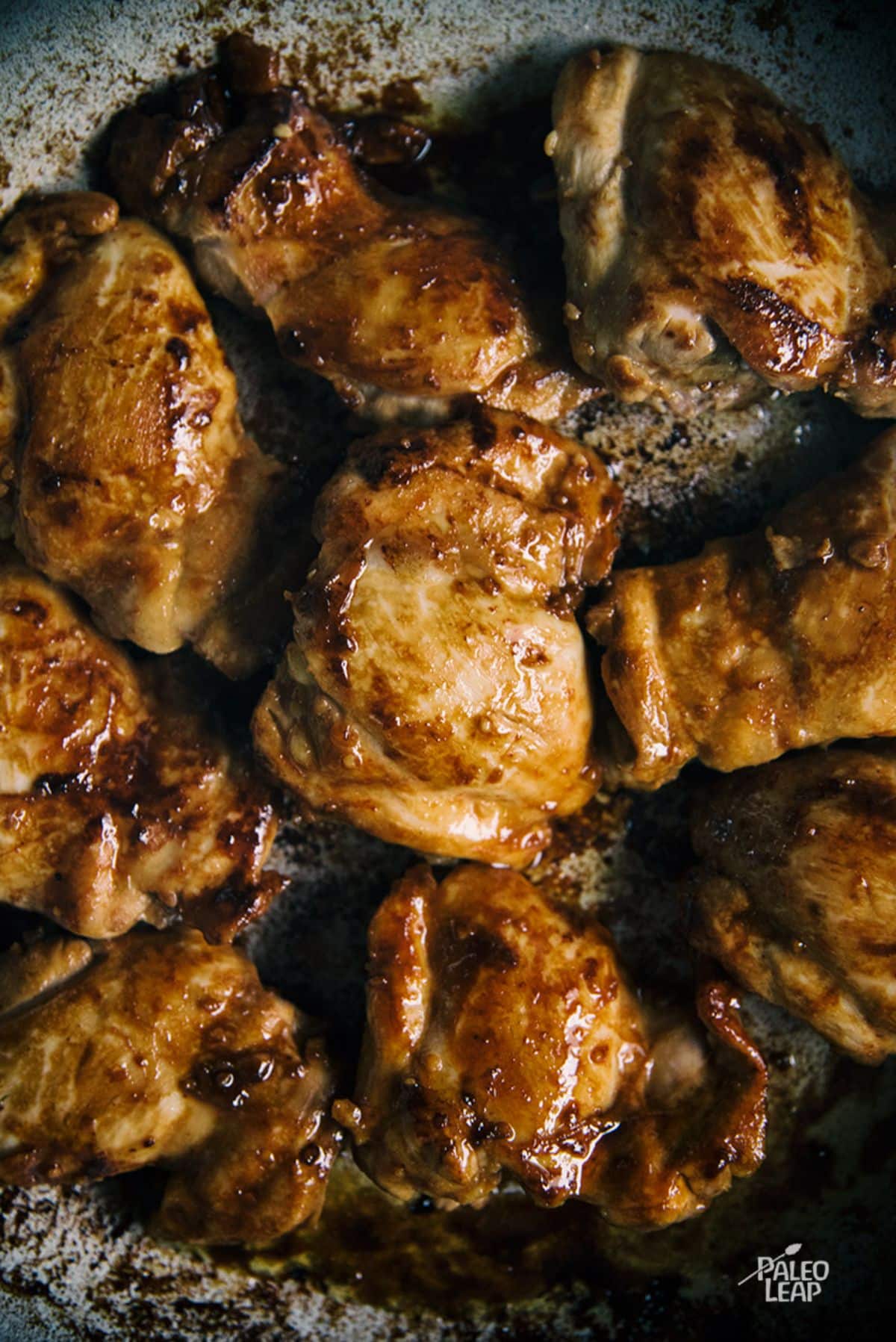 Preparation
In a large bowl, stir the honey, Sriracha, garlic, vinegar, and lime juice, and season to taste with salt and pepper.
Add the chicken to the sauce, cover, and refrigerate for 30 minutes to 2 hours.
Melt cooking fat in a skillet over medium-high heat.
Cook the Chicken until nicely charred, 4 to 5 minutes per side, brushing with the remaining marinade.
Let the chicken rest for 4 to 5 minutes before serving.
Serve the chicken topped with green onions and fresh lime wedges on the side.
📖 Recipe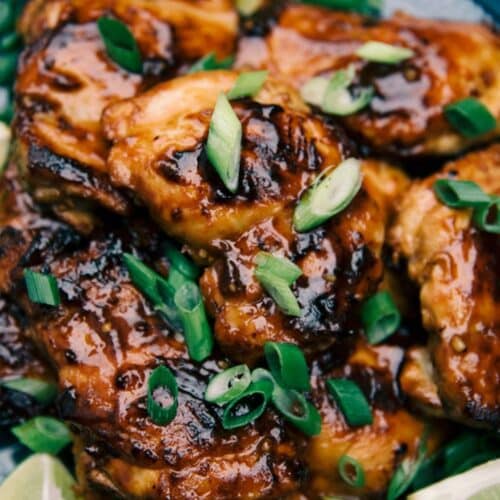 Honey Sriracha Chicken Recipe
Spice is nice and the spicier the better! Sriracha chicken will not fail to please your desire for a spicy pepper sauce, balanced out with honey and lime.
Instructions
In a large bowl, stir the honey, Sriracha, garlic, vinegar, and lime juice, and season to taste with salt and pepper.

¼ cup raw honey,

¼ cup Sriracha sauce,

4 garlic cloves,

2 tbsp. apple cider vinegar,

2 tbsp. fresh lime juice,

Sea salt and freshly ground black pepper

Add the chicken to the sauce, cover, and refrigerate for 30 minutes to 2 hours.

Melt cooking fat in a skillet over medium-high heat.

Cook the Chicken until nicely charred, 4 to 5 minutes per side, brushing with the remaining marinade.

Let the chicken rest for 4 to 5 minutes before serving.

Serve the chicken topped with green onions and fresh lime wedges on the side.

Green onions,

Lime wedges
Nutrition
Calories:
571
kcal
Carbohydrates:
19
g
Protein:
43
g
Fat:
35
g
Saturated Fat:
10
g
Polyunsaturated Fat:
8
g
Monounsaturated Fat:
14
g
Trans Fat:
0.2
g
Cholesterol:
173
mg
Sodium:
560
mg
Potassium:
496
mg
Fiber:
0.2
g
Sugar:
18
g
Vitamin A:
352
IU
Vitamin C:
18
mg
Calcium:
35
mg
Iron:
2
mg