You've been searching high and low for a holiday meal that is not only keto, but one that reaches for the stars... it just so happens that this meal works on a busy weeknight, too, so long as you are up for eating dinner in less than half an hour. Amazing, right?!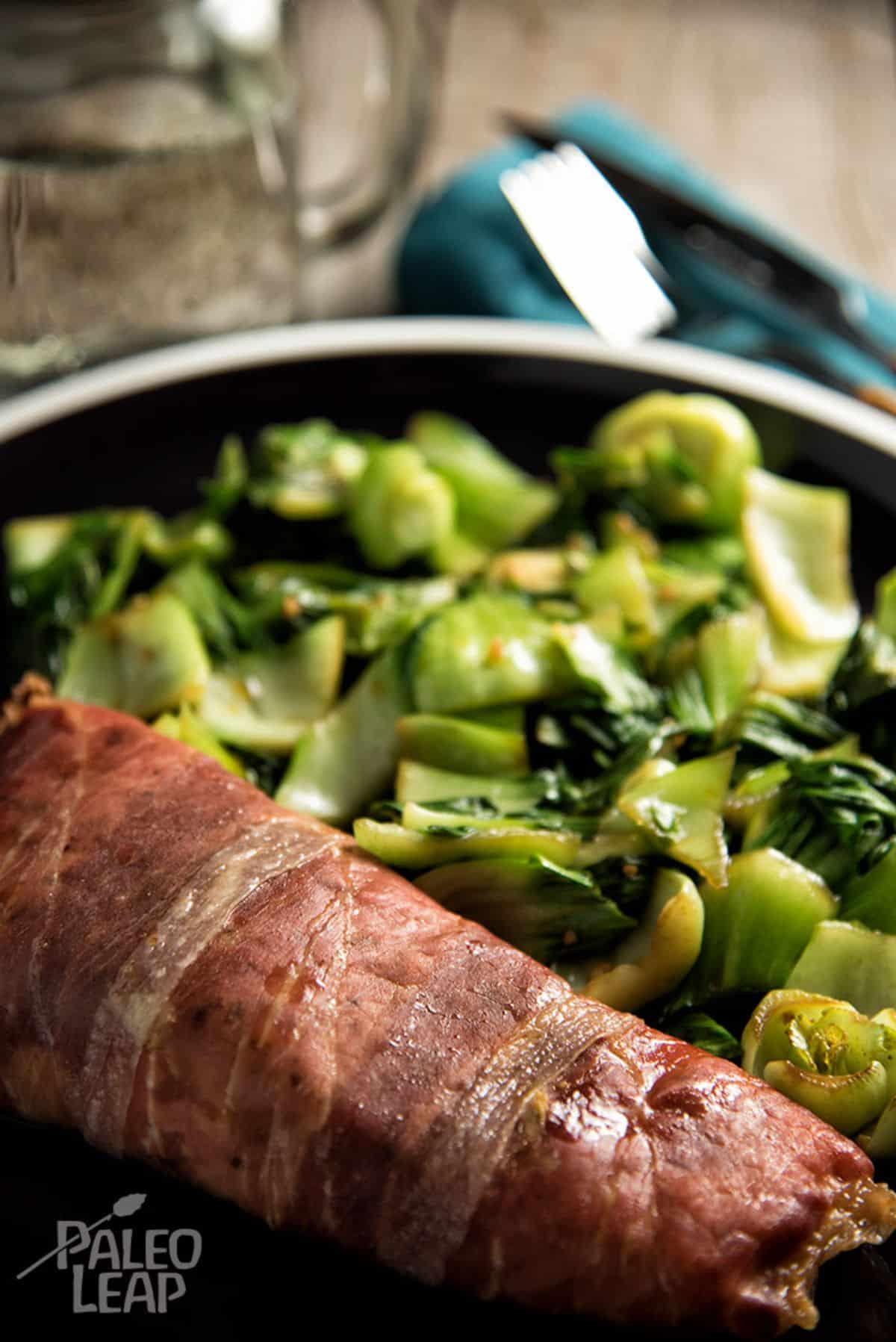 You can have your cake and eat it, too, so to speak. Now, keto isn't exactly cake-friendly, but there is such a keto lava cake (something to Google in your spare time) to keep your hopes up.
And keto chocolate almond butter fat bombs are just this - super delicious bites of scrumptious fatty coconut and almond. Enough said; save the dessert for later!
The keto connoisseur knows that in addition to fat intake, proteins are key to feeling vibrant and full of life. At the same time, we all know that salmon is good for us and that the best prosciutto comes from Italy, but what do we know about combining them together?
It is the perfect blend of unbelievable yum. Why haven't we thought about this before? Eating a keto diet should be fun and delicious, so get on with it and prepare your salmon fillets with a knife spread of Dijon and a wrap of the finest prosciutto.
As for the bok choy, it is enough to cover the leaves with olive oil and minced garlic for a side dish of epic proportions.
Keto Prosciutto-Wrapped Salmon with Garlic Bok Choy Recipe
Serves: 4 Prep: 10 min Cook: 15 min
Ingredients
4 salmon fillets
8 slices of prosciutto
¼ cup Dijon mustard
Salt and pepper to taste
Garlic Bok Choy Ingredients
8 cups fresh bok choy, chopped
1 tbsp. olive oil
2 garlic cloves, minced
Salt and pepper to taste
Preparation
Preheat oven to 375 F.
Sprinkle the salmon with salt and pepper.
Spread mustard on top of each fillet, then tightly wrap the salmon in prosciutto. You may find you need more or less prosciutto, depending on the size of the fillets.
Place fillets on a baking sheet and cook for approximately 15 minutes.
For garlic bok choy: Heat oil in a large skillet over medium heat. Add garlic and allow it to cook for approximately 1 minute.
Add bok choy to the skillet and season with salt and pepper. Cook for 3 to 5 minutes until the greens have wilted.
📖 Recipe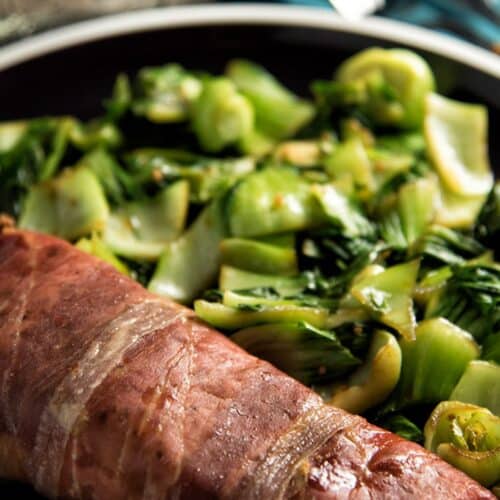 Keto Prosciutto-Wrapped Salmon with Garlic Bok Choy Recipe
A dish that is worthy of both a holiday or a weeknight meal? Keto salmon fillets wrapped with prosciutto and served with garlic bok choy have your back.
Ingredients
Garlic Bok Choy Ingredients
Instructions
Preheat oven to 375 F.

Sprinkle the salmon with salt and pepper.

4 salmon fillets,

Salt and pepper to taste

Spread mustard on top of each fillet, then tightly wrap the salmon in prosciutto. You may find you need more or less prosciutto, depending on the size of the fillets.

¼ cup Dijon mustard,

8 slices of prosciutto

Place fillets on a baking sheet and cook for approximately 15 minutes.

For garlic bok choy: Heat oil in a large skillet over medium heat. Add garlic and allow it to cook for approximately 1 minute.

2 garlic cloves,

1 tbsp. olive oil

Add bok choy to the skillet and season with salt and pepper. Cook for 3 to 5 minutes until the greens have wilted.

8 cups fresh bok choy,

Salt and pepper to taste
Nutrition
Calories:
371
kcal
Carbohydrates:
5
g
Protein:
39
g
Fat:
22
g
Saturated Fat:
4
g
Polyunsaturated Fat:
6
g
Monounsaturated Fat:
9
g
Trans Fat:
0.02
g
Cholesterol:
104
mg
Sodium:
443
mg
Potassium:
1247
mg
Fiber:
2
g
Sugar:
2
g
Vitamin A:
6340
IU
Vitamin C:
64
mg
Calcium:
181
mg
Iron:
3
mg