If you aren't sure what classy keto dish to serve at your next luncheon with close friends, then let us give you a little clue: there are no finger sandwiches involved, but there is a fabulous lemon and dill dressing.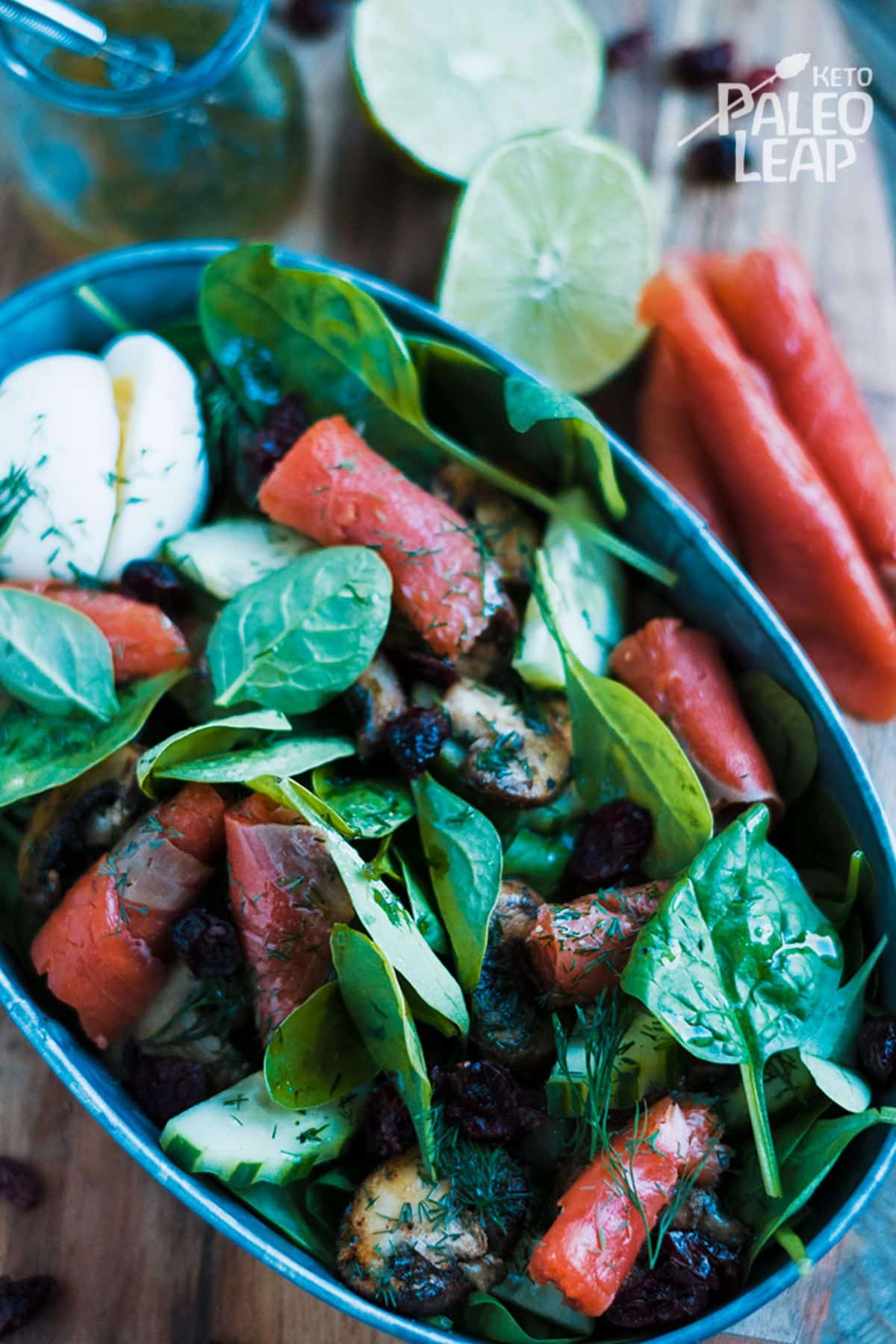 This salad is a sophisticated step up from a Cobb salad, so get ready to put on a show, or at least to make a stupendous impression. It may appear complex, yet it takes only about 20 minutes to prepare. No fuss, and lots of compliments. Just run with it and graciously accept the praise.
You can also be proud of yourself for serving a delicious and nutritious meal; after all, there is fresh cucumber, green onions, a bunch of baby spinach, and a boiled egg per plate.
The mushrooms (Portobello, button, crimini, oysters, or shiitake) work their magic by helping to protect your health via their proteins, minerals, amino acids, and antioxidants.
Never underestimate the power of a mushroom - and when they are combined with baby spinach, watch out, world! The best chefs know that mushrooms and spinach are meant to be together; just one bite, and you will believe that to be true as well.
Dried cranberries are entirely optional; just keep in mind, you will want to read the label for the sugar content, so as not to increase your daily carb intake. With the meal over, you can start planning your next get-together with baked lemon-garlic salmon and asparagus on the menu.
Keto Smoked Salmon Salad With Spinach And Mushrooms Recipe
Serves: 2 Prep: 15 min Cook: 8 min
Ingredients
6 to 8 oz. smoked salmon, thinly sliced
1 cup sliced mushrooms
2 boiled eggs, sliced
8 cups baby spinach
½ cucumber, sliced
1 green onion, sliced
¼ cup dried cranberries (optional)
¼ cup olive oil
1 tbsp. apple cider vinegar
2 tbsp. fresh lemon juice
2 tbsp. fresh dill, minced
2 tbsp. cooking fat
Sea salt and freshly ground black pepper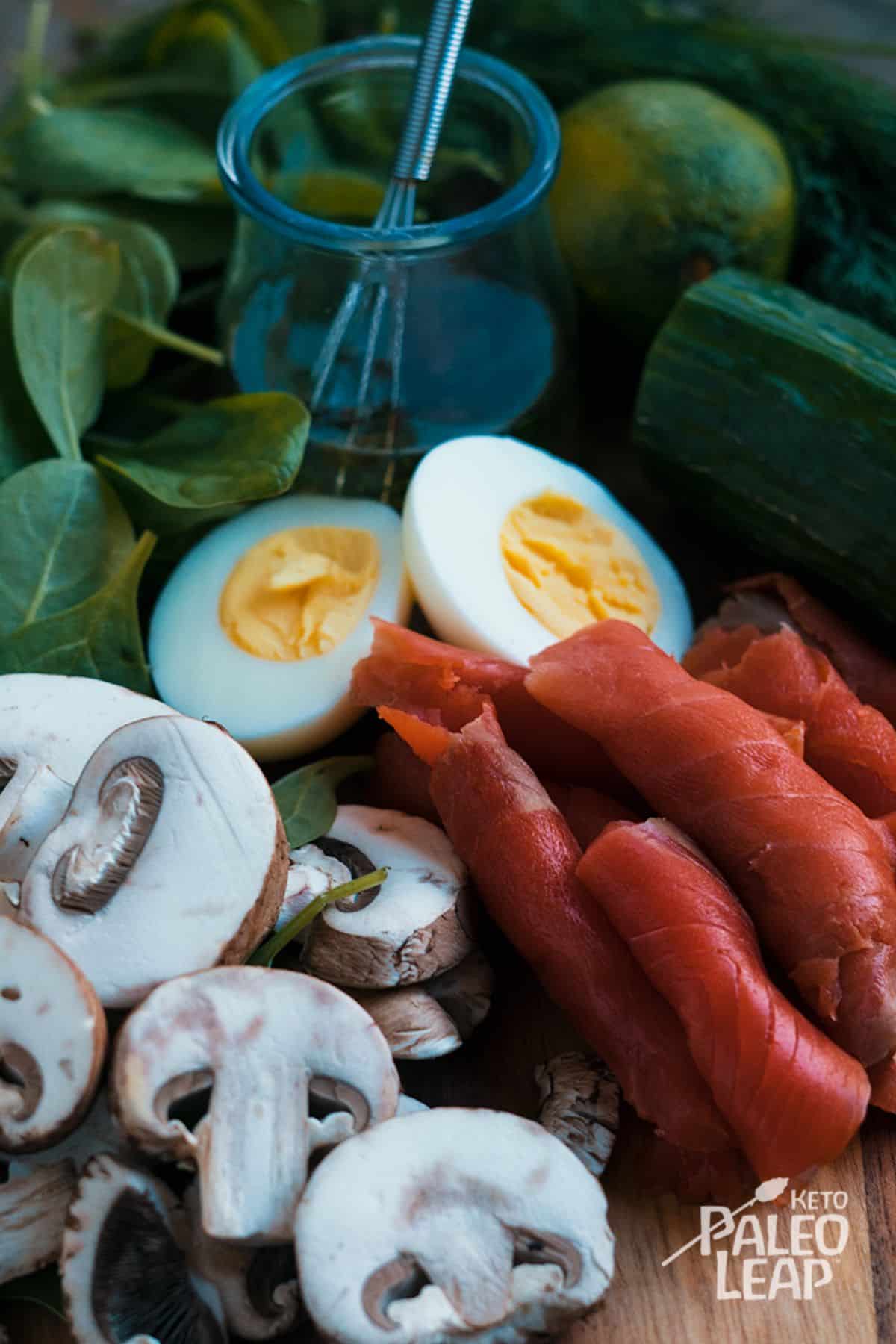 Preparation
Melt the cooking fat in a large skillet over medium heat.
Add the mushrooms and cook until soft, about 5 to 8 minutes, season to taste, and set aside.
In a small bowl, combine the olive oil, vinegar, lemon juice, dill, salt, and pepper.
In a salad bowl, toss the mushrooms, cucumber, green onions, cranberries, and spinach together.
Add the boiled eggs and smoked salmon, then drizzle with the dill vinaigrette.
📖 Recipe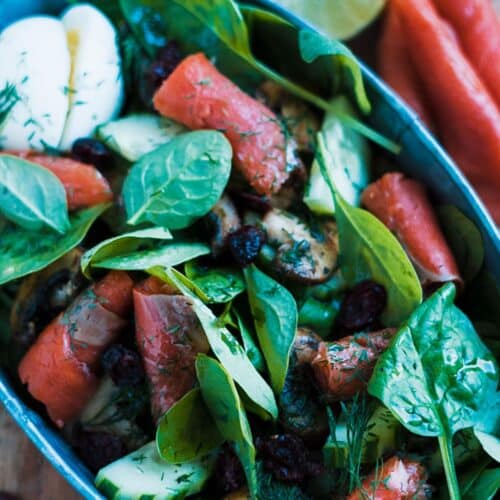 Keto Smoked Salmon Salad With Spinach And Mushrooms Recipe
Move over Cobb salad, there is a new runner-up for a lunchtime favorite, and keto smoked salmon with spinach and mushrooms is its name.
Instructions
Melt the cooking fat in a large skillet over medium heat.

Add the mushrooms and cook until soft, about 5 to 8 minutes, season to taste, and set aside.

In a small bowl, combine the olive oil, vinegar, lemon juice, dill, salt, and pepper.

¼ cup olive oil,

1 tbsp. apple cider vinegar,

2 tbsp. fresh lemon juice,

2 tbsp. fresh dill,

Sea salt and freshly ground black pepper

In a salad bowl, toss the mushrooms, cucumber, green onions, cranberries, and spinach together.

½ cucumber,

1 green onion,

¼ cup dried cranberries,

8 cups baby spinach

Add the boiled eggs and smoked salmon, then drizzle with the dill vinaigrette.

2 boiled eggs,

6 to 8 oz. smoked salmon
Nutrition
Calories:
653
kcal
Carbohydrates:
23
g
Protein:
28
g
Fat:
52
g
Saturated Fat:
9
g
Polyunsaturated Fat:
13
g
Monounsaturated Fat:
27
g
Trans Fat:
0.1
g
Cholesterol:
206
mg
Sodium:
839
mg
Potassium:
1290
mg
Fiber:
5
g
Sugar:
15
g
Vitamin A:
12842
IU
Vitamin C:
57
mg
Calcium:
203
mg
Iron:
6
mg