For breakfast or brunch, non-conventional lasagna is always a hit - and the Paleo crowd seems to know it best that any meal is game to get the day started.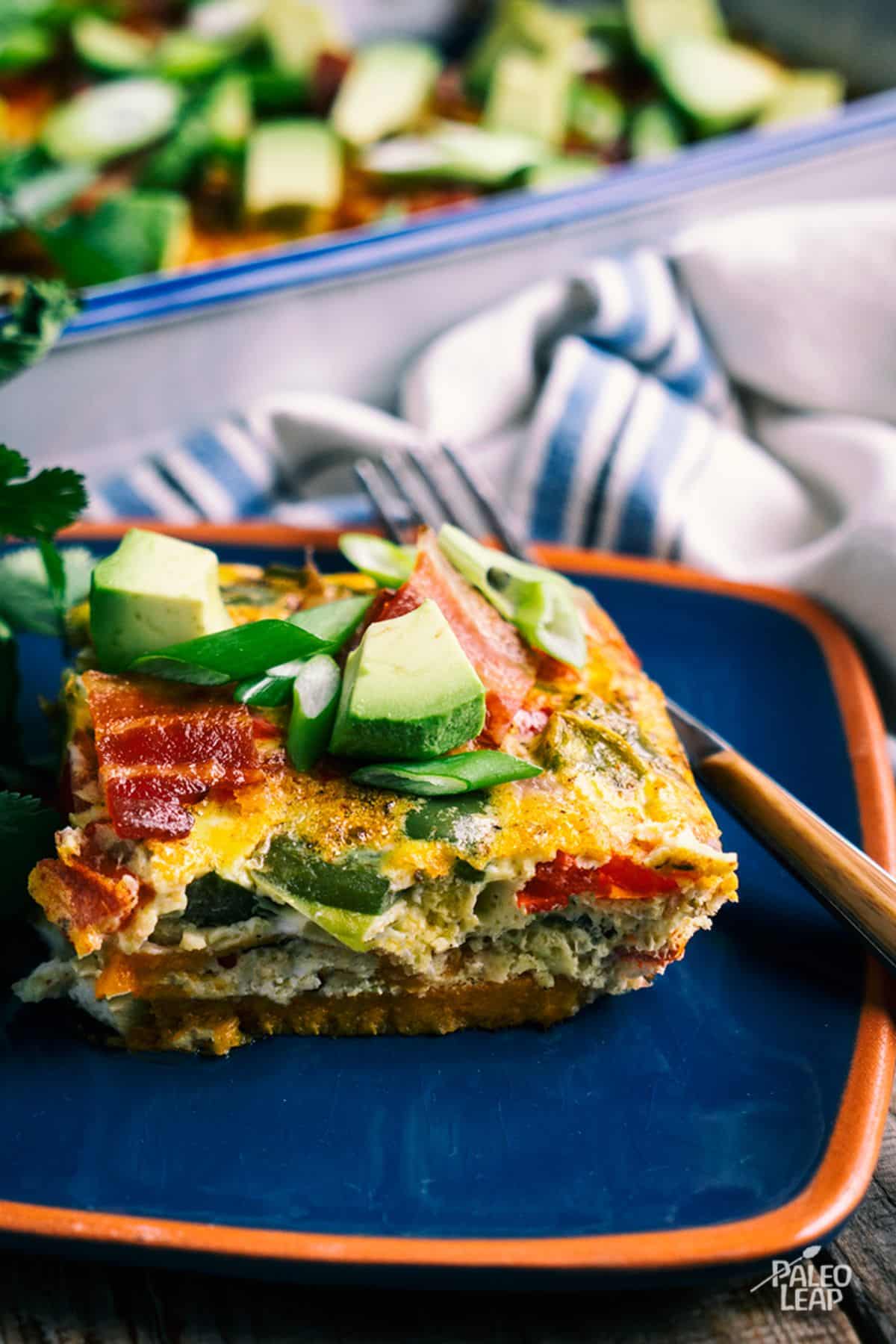 We need energy, and we need it now, so while a slow cooker breakfast casserole may be similar in its eggy, sliceable appearance, you won't always remember to cook while you are sleeping (i.e., to slow cook overnight so that breakfast is ready in the morning).
What you can do is prepare the chopped vegetables at night and store them in the fridge, so that you are ready to turn the oven on first thing in the morning. Weekends are best for breakfast lasagna!
There is no such thing as traditional here, though we know that in Mexican cuisine, cheese is hard to do without queso Blanco, panela, cotija... In the spirit of keeping this Mexican-style breakfast casserole dairy-free, we've added some coconut milk to keep the quiche-inspired texture intact.
It is really the spices, that remind us of the southern roots; chili powder, ground cumin, paprika, and oregano. Go heavy on those herbs, garnish with chopped hot pepper, and maybe even a dollop of Paleo sour cream with lime juice, and you'll soon be tempted to take another slice of lasagna.
Now it is time to get that slow cooker fired up. Toss in a pork shoulder along with plenty of spices, and get that Mexican-Style pulled pork ready for dinner. Tacos are on their way!
Mexican-Style Breakfast Lasagna Recipe
Serves: 4 Prep: 20 min Cook: 45 min
Ingredients
10 to 12 eggs
¼ cup coconut milk
1 bell pepper, diced
1 tomato, diced
1 zucchini, sliced
1 onion, diced
4 bacon slices, cooked and chopped
1 or 2 sweet potatoes, peeled and sliced
2 garlic cloves, minced
2 tsp. chili powder
1 tsp. ground cumin
½ tsp. paprika
½ tsp. oregano
2 tbsp. olive oil
1 avocado, chopped or sliced
3 green onions, sliced
Fresh cilantro, to garnish
Sea salt and freshly ground black pepper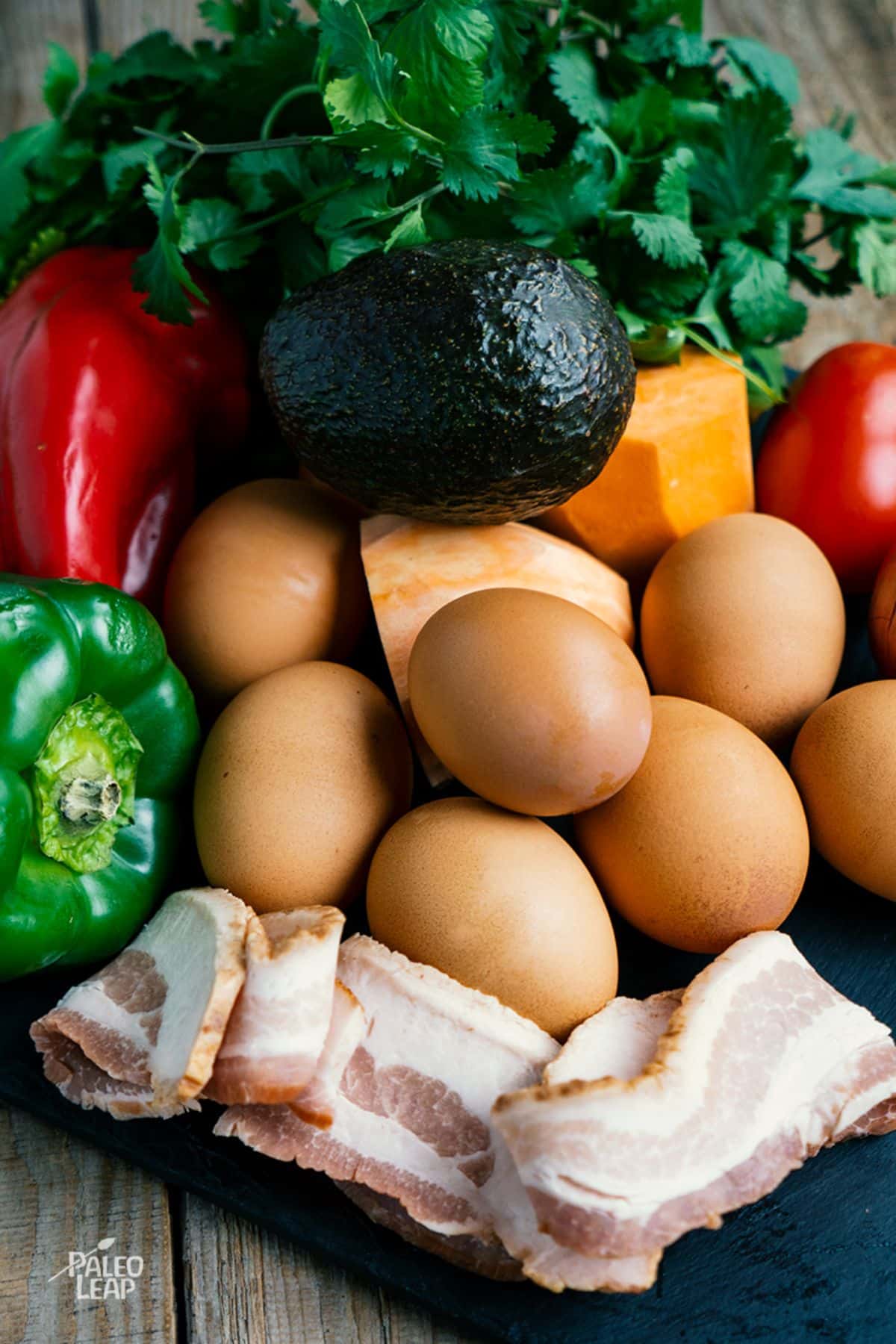 Preparation
Preheat oven to 375 F.
In a bowl, mix the bell pepper, tomato, zucchini, onion, garlic, oregano, salt, pepper, and olive oil.
In another bowl, combine eggs, coconut milk, chili powder, cumin, paprika, and season to taste.
Cover the bottom of an oven-safe baking dish with the sliced sweet potatoes and top with the mix of vegetables.
Pour the egg mixture over everything.
Bake in the oven for 40 to 45 minutes, or until the eggs are set.
Serve topped with bacon, avocado, green onions, and fresh cilantro.
📖 Recipe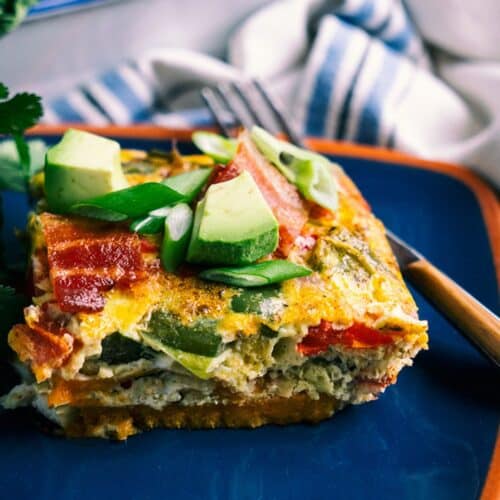 Mexican-Style Breakfast Lasagna Recipe
Meals with longer cooking times are not to be feared when they taste as incredible as this - why not have a slice, or two, of Mexican-style lasagna for breakfast?
Instructions
Preheat oven to 375 F.

In a bowl, mix the bell pepper, tomato, zucchini, onion, garlic, oregano, salt, pepper, and olive oil.

1 bell pepper,

1 tomato,

1 zucchini,

1 onion,

2 garlic cloves,

½ tsp. oregano,

Sea salt and freshly ground black pepper,

2 tbsp. olive oil

In another bowl, combine eggs, coconut milk, chili powder, cumin, paprika, and season to taste.

10 to 12 eggs,

¼ cup coconut milk,

2 tsp. chili powder,

1 tsp. ground cumin,

½ tsp. paprika,

Sea salt and freshly ground black pepper

Cover the bottom of an oven-safe baking dish with the sliced sweet potatoes and top with the mix of vegetables.

Pour the egg mixture over everything.

Bake in the oven for 40 to 45 minutes, or until the eggs are set.

Serve topped with bacon, avocado, green onions, and fresh cilantro.

4 bacon slices,

1 avocado,

3 green onions,

Fresh cilantro
Nutrition
Calories:
524
kcal
Carbohydrates:
28
g
Protein:
21
g
Fat:
38
g
Saturated Fat:
11
g
Polyunsaturated Fat:
6
g
Monounsaturated Fat:
19
g
Trans Fat:
0.1
g
Cholesterol:
424
mg
Sodium:
391
mg
Potassium:
1087
mg
Fiber:
9
g
Sugar:
8
g
Vitamin A:
11127
IU
Vitamin C:
62
mg
Calcium:
148
mg
Iron:
5
mg