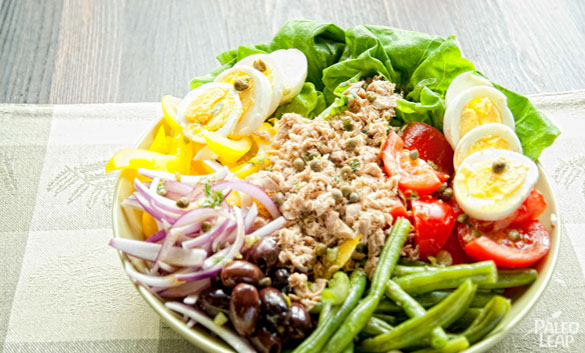 Sometimes, the regular lunchtime routine can start feeling a little drab, but you still don't feel like pulling together anything complicated. This colorful salad is the perfect antidote for those noontime blues: full of flavor, loaded down with fresh veggies of every color and texture, and easy to throw together on the fly. Nicoise salad is a traditional recipe from the south of France; it breaks free from the lettuce mold with a variety of fresh vegetables that keep the meal interesting without making it hard to prepare.
As well as being easy to whip up, this salad is also incredibly healthy. The eggs deliver all kinds of essential nutrients, as well as plenty of healthy fat (important because tuna is quite lean). Fish, of course, is one of the healthiest meats around, and all the different colors of vegetables round out the meal with a solid dose of vitamins, minerals, and antioxidants.
One of the best things about salads is how easy they are to customize, and this one is no exception. Nicoise salad usually features anchovies, but I decided to go with a fish that's easier for most people to enjoy (you could always just replace the tuna with anchovies, if you like). Canned fish is also fine; just watch out for the labels on canned tuna because a lot of brands contain soy or MSG. Any variety of olives is also fine; Nicoise olives are the traditional variety, but use whatever you had available. For a heartier meal, add some cold boiled potatoes to the salad as well.
Nicoise Salad Recipe
Values are per portion. These are for information only & are not meant to be exact calculations.
Ingredients
16 oz. grilled tuna steak or canned tuna (2-3 cans);
4 eggs, hard-boiled, peeled, and sliced;
2 Boston lettuce leaves, washed;
3 small ripe tomatoes, cored and cut into eighths;
1 small red onion, sliced very thinly;
8 ounces green beans, cooked, stem ends trimmed;
1/4-cup niçoise olives;
1 tbsp. capers, rinsed;
Sea salt and freshly ground black pepper to taste;
Vinaigrette ingredients
1/2 cup lemon juice;
3/4 cup extra-virgin olive oil;
1 medium shallot, minced;
1 Tbsp. fresh thyme leaves, minced;
2 Tbsp. fresh basil leaves, minced;
2 tsp. fresh oregano leaves, minced;
1 tsp. Dijon or homemade mustard;
Sea salt and freshly ground black pepper to taste;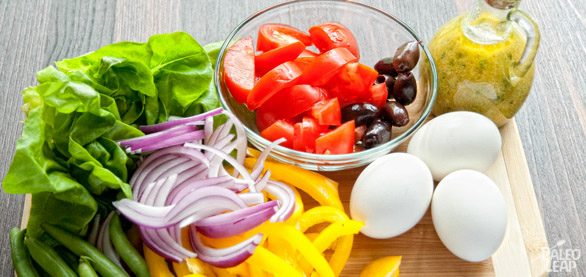 Preparation
In a bowl, combine all the ingredients for the vinaigrette. Whisk well and season to taste.
Arrange all the ingredients for the salad in a bowl. Be creative with the combination: this is a fun salad and all the colors create a gorgeous visual effect.
Sprinkle some capers all over the salad. Drizzle the vinaigrette over the salad and serve.