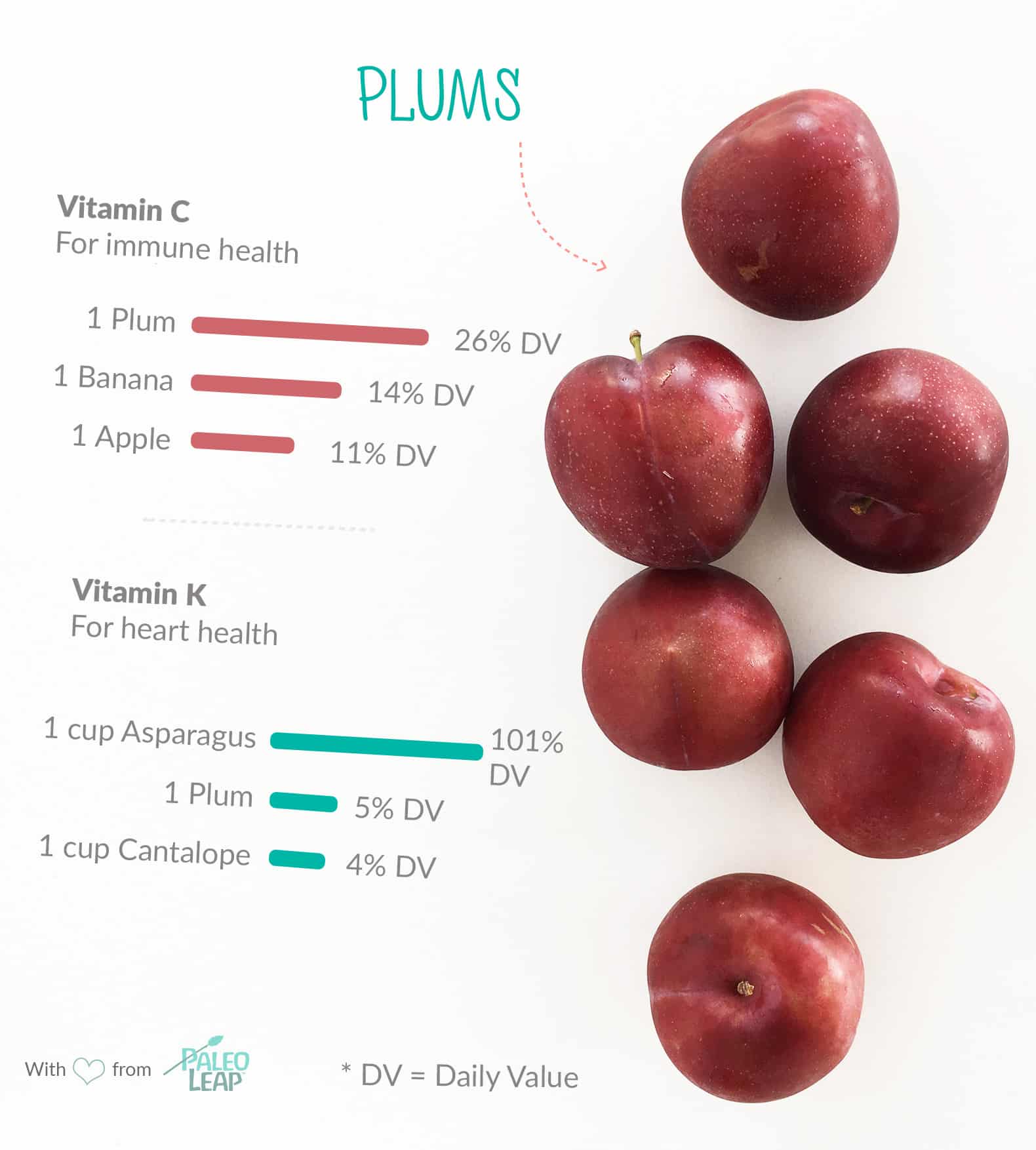 Also known as a stone fruit because of their solid pits, plums are a juicy, flavorful fruit mostly enjoyed through the summer and fall months. Plums come in many varieties - some sweet and some tart - yet all plums provide a good dose of Vitamin C.
Nutrition Details
*There is currently no %DV for choline.
Macros in Context
Here's how a serving of 1 cup of plums stacks up in the context of a typical Paleo meal:
Blue bars show the typical range in grams for a Paleo meal. For example, a Paleo meal usually includes 30-60 grams of fat, but where you personally fall in that range will depend on your preference.
Orange dots show how 1 cup of plums fit into the typical nutrient profile of a Paleo meal.

Buy It
Look for plums that are firm, yet have a slight amount of give when squeezed.
VARIETIES: There are over 200 varieties of plums. Colors can range from a dark purple-black to a light yellow-orange. Flavors vary from very sweet to tart.
DRIED: Dried plums are called prunes. Most prunes are made from a specific variety of European plum. Dried fruit can contain a large amount of sugar, prunes included.
SEASON: Plums can be found in stores and markets from May through the fall season.
Cook It
RAW
Slice a plum along its natural indentation line, twist the halves and pluck out the pit. Enjoy alone or diced up in a fruit salad.
OVEN
Dice plums, simmer down and use as a filling in a nut flour-based crumble or pie.
GRILL
Slice in half, grill flesh side down for 15-20 minutes and serve hot off the grill. Drizzle with honey or maple syrup, if desired.
STOVE
Boil down diced plums and create a sweet jam or a savory sauce to drizzle over chicken or pork.
Recipe Ideas