All you want is a burrito, and you want it now. Wait, stop for a moment and imagine that maybe it is really a veggie burrito bowl that your cravings are after.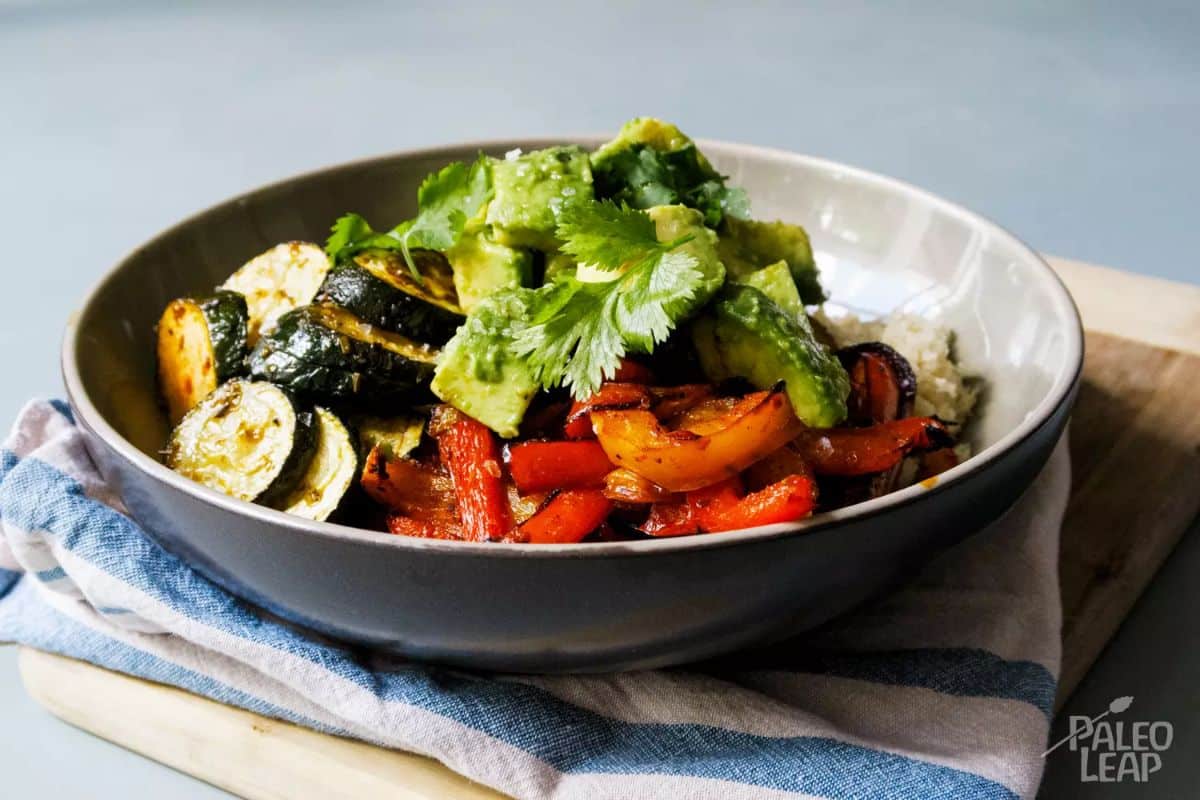 Your tongue is fixated on the roasted peppers and zucchini, and your mind is expecting the wrapper... only that element is unnecessary, not to mention impractical when you remove most grains from your life. In search of new solutions, and cooking in a more unique way, cauliflower rice was born.
And yes, you can make a tortilla from cauliflower, just in case you were wondering. Today, however, we are just going to enjoy our burrito in a bowl.
A vegetable burrito bowl is a wonderful meal for those times when you are catering to your beloved vegetarian and vegan friends - just remember to use vegetable stock instead of chicken stock in the cauliflower rice.
It's also a beautiful reminder that meat-free meals can be just as amazingly delicious, and it might even come in handy after you have just binge-eaten too much bacon. The meal is light, refreshing, and full of lemon and crushed garlic; what's not to love? Perhaps the best part is that it suits either breakfast, lunch or dinner, definitely no wrong time of day to eat it.
If you happen to be serving this burrito bowl on a hot summer day, why not add a lovely appetizer of tomato and cucumber gazpacho to complement the dish?
Paleo Vegetable Burrito Bowls Recipe
Serves: 4 Prep: 30 min Cook: 35 min
Ingredients
1 red bell pepper, de-seeded and sliced
1 yellow bell pepper, de-seeded and sliced
3 medium zucchinis, sliced
2 cups mushrooms, halved
3 tbsp. olive oil
1 tsp. dried oregano
½ tsp. smoked paprika
Juice of half a lemon
Pinch of red pepper flakes
Sea salt and pepper, to taste
Cubed avocado, for serving
Fresh cilantro, for serving
Cauliflower Rice Ingredients
1 tbsp. coconut oil
1 onion, diced
2 garlic cloves, crushed
2 cups cauliflower, riced
1 cup chicken or vegetable stock
Sea salt & pepper, to taste
Preparation
Preheat oven to 400 F.
Place the bell peppers, zucchini, and mushroom on a baking sheet, but keep them divided. Drizzle with olive oil.
Season the mushrooms and zucchini with dried oregano, lemon juice, salt, and pepper.
Season the peppers with smoked paprika, red pepper flakes, and salt and pepper.
Coat the vegetables with the seasoning, still keeping them divided; place in the oven.
Roast for 25 minutes or until the vegetables are done to your liking.
For the cauliflower rice, fry the onion and garlic in coconut oil until soft and translucent.
Add the riced cauliflower and fry for a minute before adding a few tablespoons of the chicken stock. Allow the stock to be absorbed, then add more, and allow to cook until cauliflower is softened to your liking.
Season to taste.
Serve the roasted vegetables on top of the cauliflower rice, and top it with cubed avocado and fresh cilantro.
📖 Recipe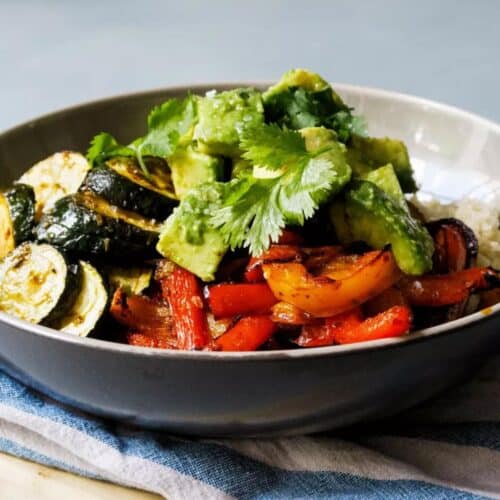 Paleo Vegetable Burrito Bowls Recipe
Not your ordinary burrito. Not your ordinary veggie bowl. Our Paleo vegetable burrito bowl will change the way you look at breakfast, lunch, and dinner.
Ingredients
1

red bell pepper

de-seeded and sliced

1

yellow bell pepper

de-seeded and sliced

3

medium zucchinis

sliced

2

cups

mushrooms

halved

3

tbsp.

olive oil

1

tsp.

dried oregano

½

tsp.

smoked paprika

Juice of half a lemon

Pinch

of red pepper flakes

Sea salt and pepper

to taste

Cubed avocado

for serving

Fresh cilantro

for serving
Cauliflower Rice Ingredients
1

tbsp.

coconut oil

1

onion

diced

2

garlic cloves

crushed

2

cups

cauliflower

riced

1

cup

chicken or vegetable stock

Sea salt & pepper

to taste
Instructions
Preheat oven to 400 F.

Place the bell peppers, zucchini, and mushroom on a baking sheet, but keep them divided. Drizzle with olive oil.

1 red bell pepper,

1 yellow bell pepper,

3 medium zucchinis,

2 cups mushrooms,

3 tbsp. olive oil

Season the mushrooms and zucchini with dried oregano, lemon juice, salt, and pepper.

1 tsp. dried oregano,

Juice of half a lemon,

Sea salt and pepper

Season the peppers with smoked paprika, red pepper flakes, and salt and pepper.

½ tsp. smoked paprika,

Pinch of red pepper flakes,

Sea salt and pepper

Coat the vegetables with the seasoning, still keeping them divided; place in the oven.

Roast for 25 minutes or until the vegetables are done to your liking.

For the cauliflower rice, fry the onion and garlic in coconut oil until soft and translucent.

1 onion,

2 garlic cloves,

2 cups cauliflower,

1 tbsp. coconut oil

Add the riced cauliflower and fry for a minute before adding a few tablespoons of the chicken stock. Allow the stock to be absorbed, then add more, and allow to cook until cauliflower is softened to your liking.

1 cup chicken or vegetable stock

Season to taste.

Serve the roasted vegetables on top of the cauliflower rice, and top it with cubed avocado and fresh cilantro.

Cubed avocado,

Fresh cilantro
Nutrition
Calories:
213
kcal
Carbohydrates:
17
g
Protein:
5
g
Fat:
16
g
Saturated Fat:
5
g
Polyunsaturated Fat:
2
g
Monounsaturated Fat:
8
g
Sodium:
273
mg
Potassium:
870
mg
Fiber:
6
g
Sugar:
8
g
Vitamin A:
1735
IU
Vitamin C:
146
mg
Calcium:
84
mg
Iron:
6
mg