Supercharge your day by consuming iron rather than lifting it. And let your grandma's liver-and-onions recipe gently slip your mind, as you won't be needing it anymore after you try this slightly spicy, full-on-flavor plateful of garlic chicken livers.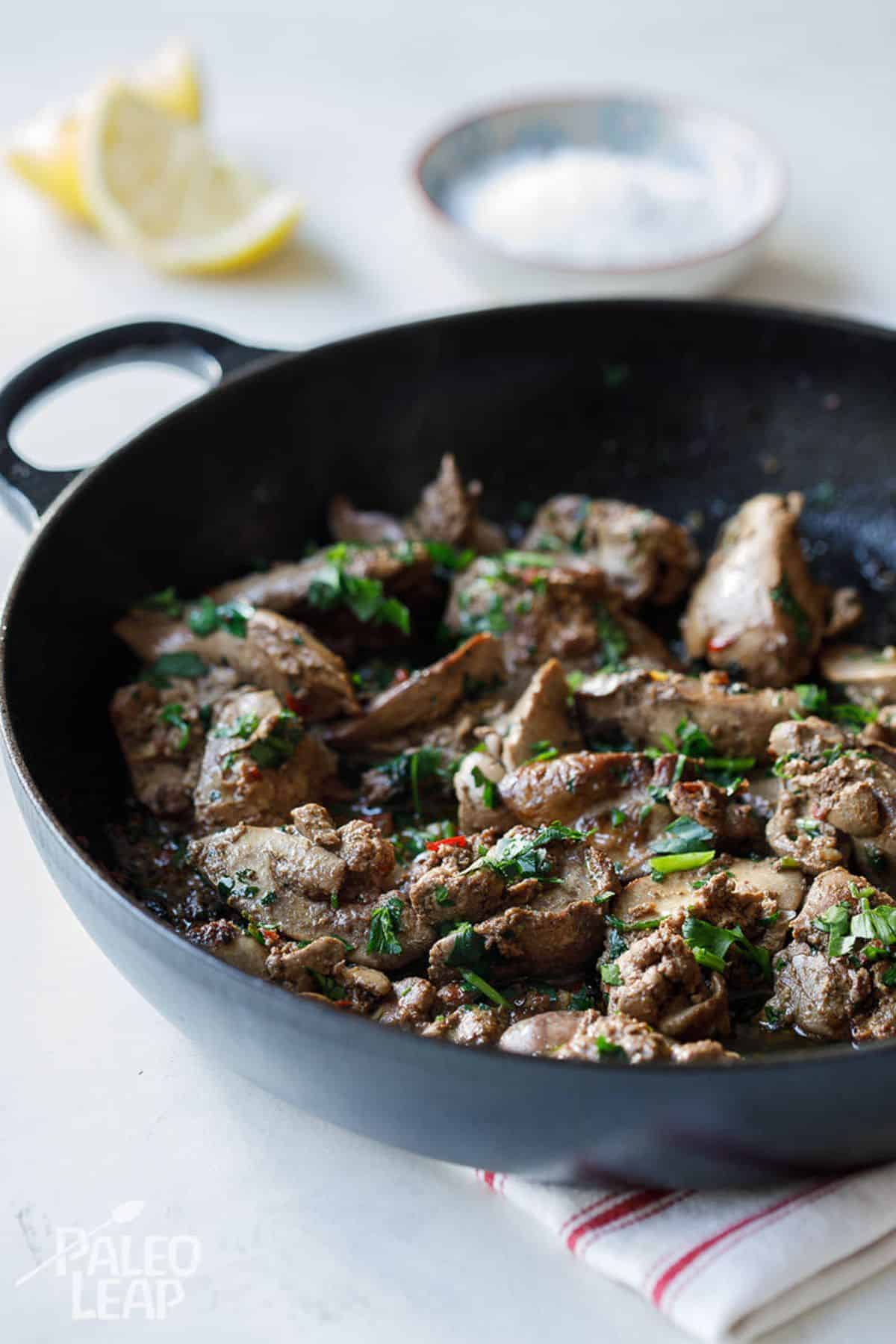 The Liver is indeed a superhero, and while chicken livers aren't nearly as strong flavored as beef or turkey liver, they certainly pack a punch.
Chicken livers are loaded with B12, B6, folate, iron, and vitamin A, making them the ideal food to combat anemia and improve red blood cell formation.
In traditional cultures, organ meats were revered for their nutrients, and it was often the first solid (super)food fed to babies; it was also an important food for pregnant mothers and the elderly.
As long as you are eating organ meats from pasture-raised animals, grown without hormones or antibiotics, you are doing your body good.
The liver is excellent any way you cook it, and if you are an explorative chef, keep adding spices till you find the right combination that tastes good for you. You may want to add these delicately fried garlic chicken livers to a grilled eggplant and sun-dried tomato salad.
We also recommend eating abundant greens with liver, and you can do this easily by adding half a pound of chicken liver to a Bacon, Broccoli, and Chicken Casserole. If you really love liver, then dive into a liver pâté, which can be enjoyed any time of day, midnight snacking included.
Pan-Fried Chili and Garlic Chicken Livers Recipe
Serves: 4 Prep: 5 min Cook: 10 min
Ingredients
2 tbsp. Paleo cooking oil
1 lb. chicken livers, trimmed and cleaned
1 tbsp. ghee or grass-fed butter
2 garlic cloves, crushed
½ - 1 red chili, finely chopped
Juice of ½ lemon
3 tbsp. fresh chopped parsley
Sea salt and pepper to taste
Preparation
Heat a large frying pan over high heat.
Add the oil and chicken livers and fry until golden brown on both sides.
Add the ghee, garlic, chili, and lemon and allow to fry for another minute or two, then season to taste.
Serve with a scattering of fresh parsley.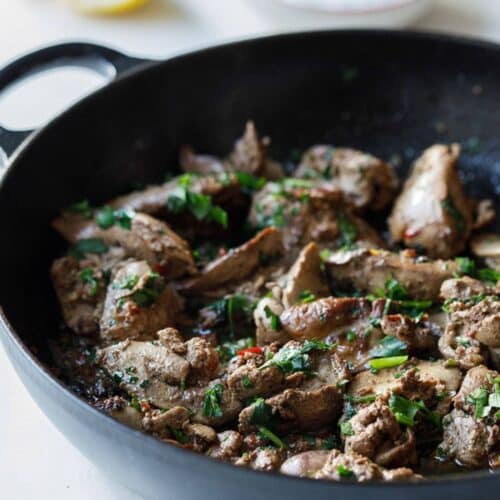 Pan-Fried Chili and Garlic Chicken Livers Recipe
Searching for a nutrient-dense meal that is anything but ordinary? Garlic chicken livers with chili will surprise and tantalize your taste buds.
Ingredients
2

tbsp.

Paleo cooking oil

1

lb.

chicken livers

trimmed and cleaned

1

tbsp.

ghee or grass-fed butter

2

garlic cloves

crushed

½

– 1 red chili

finely chopped

Juice of ½ lemon

3

tbsp.

fresh chopped parsley

Sea salt and pepper to taste
Instructions
Heat a large frying pan over high heat.

Add the oil and chicken livers and fry until golden brown on both sides.

2 tbsp. Paleo cooking oil,

1 lb. chicken livers

Add the ghee, garlic, chili, and lemon and allow to fry for another minute or two, then season to taste.

1 tbsp. ghee or grass-fed butter,

2 garlic cloves,

½ – 1 red chili,

Juice of ½ lemon,

Sea salt and pepper to taste

Serve with a scattering of fresh parsley.

3 tbsp. fresh chopped parsley
Video
Nutrition
Calories:
241
kcal
Carbohydrates:
3
g
Protein:
20
g
Fat:
17
g
Saturated Fat:
5
g
Polyunsaturated Fat:
4
g
Monounsaturated Fat:
7
g
Trans Fat:
0.1
g
Cholesterol:
401
mg
Sodium:
88
mg
Potassium:
346
mg
Fiber:
0.5
g
Sugar:
0.4
g
Vitamin A:
13550
IU
Vitamin C:
44
mg
Calcium:
28
mg
Iron:
11
mg