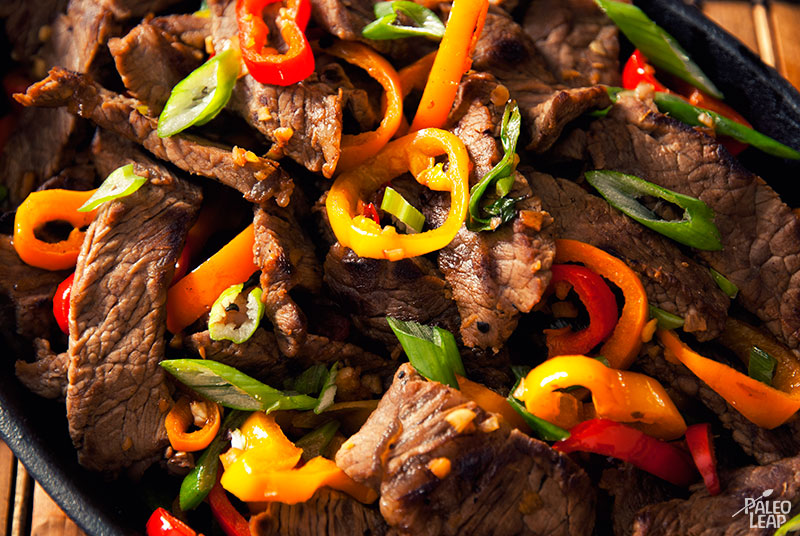 This recipe is a real celebration of all things pepper: the steak is first marinated in a peppery vinaigrette, and then stir-fried with sweet pepper slices and Asian-inspired spices to create a zippy, tingly stir-fry with pleasantly crunchy vegetables complementing the thin strips of meat.
The marinade in this recipe uses coconut aminos – a Paleo-friendly replacement for soy sauce – and vinegar to really add a nice tang to the meat. You can get coconut aminos at most health food stores or Whole Foods; just look in the aisle with the soy sauce and other ethnic foods. Soaking the beef in the marinade gets the flavor to really sink all the way in, but if you're really in a rush, you don't have to use it: just season the meat and throw it in the pan.
You can use either sirloin or flank steak for this one; it's equally tasty with either. And you can also substitute two regular-sized peppers for the mini-peppers if you can't get any of the small ones. Mini sweet peppers are incredibly convenient for cooking: they're almost seedless, so they're a lot easier to slice up and use, and the rounds are conveniently bite-sized without a lot of extra chopping. But they don't taste any different, so thin-sliced regular peppers are just as delicious.
Needless to say, with such a heavy focus on peppers, this is not a recipe for anyone on the Paleo autoimmune protocol! But for pepper-lovers of all stripes, it's a quick and easy way to celebrate such a diverse and delicious food.
Pepper Steak Recipe

SERVES: 4

PREP: 10+15min.

COOK: 15 min.

Values are per portion. These are for information only & are not meant to be exact calculations.
Ingredients
1 lb. sirloin steak, cut into thin strips;
2 tbsp. olive oil;
12 mini sweet peppers, thinly sliced;
3 scallions, sliced diagonally, with the green and white parts separated;
2 tbsp. fresh ginger, minced;
4 cloves garlic, minced;
Ingredients for the marinade
¼ cup coconut aminos;
1/3 cup water;
2 tbsp. white wine vinegar;
¼ tsp. coarsely ground black pepper;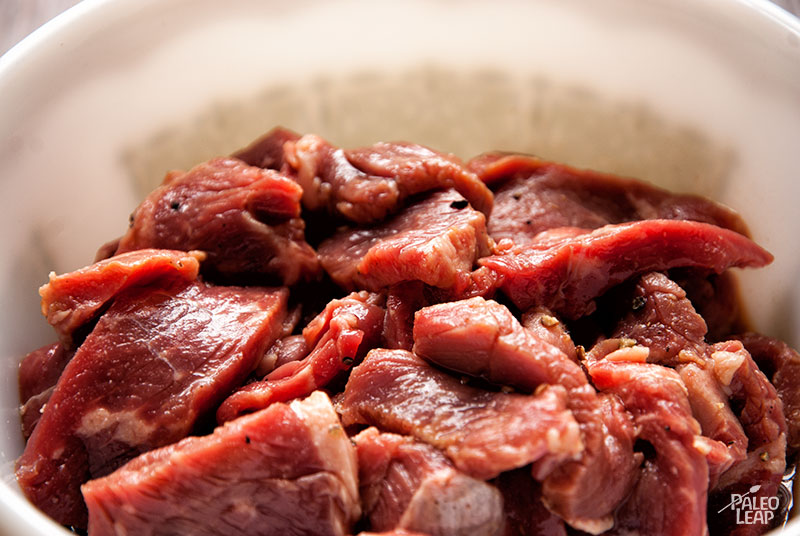 Preparation
In a large bowl, combine all the ingredients for the marinade.
Add the sliced steak to the marinade, toss to coat, and refrigerate for at least 15 min.
Add some cooking fat to a skillet placed over a medium-high heat.
Add the bell peppers, the whites of the scallions, the ginger, and the garlic, and sauté for 3 to 4 minutes. Transfer to a plate.
Remove the steak from the marinade and add to the same skillet. Sauté until brown (about 2-3 minutes), stirring occasionally.
Return the vegetables to the skillet, add the green parts of the scallions, cook for another minute, and serve.