Snacking can be very important to help stick to a healthy diet and finding healthy Paleo-friendly snacks can sometime seem somewhat difficult. After all, most of them have to be prepared at home because there is almost no good healthy snack options at grocery stores. Everything that's already prepared and packaged seems to contain so many ingredients that are toxic to our health like refined sugar, vegetable seeds oils or grains like corn or wheat. I choose to completely stay away from packaged stuff, as I've become used to preparing big batches of my favorite snacks and I now much prefer the taste and the enjoyment of eating something that I know will taste good and be good for me.
Pickled eggs have been around for so long and they are such a great and tasty quick bite. I try to always have a large jar of them in my fridge so that it's easy enough to grab at. There is some misconceptions that they are difficult to prepare, but it's actually extremely simple. The only thing that takes some patience is that they require about 2 to 3 weeks of "pickling" time before being perfect. I also highly recommend you make a few big batches when the summer comes and when your dill is at its prime in your herb garden.
We already know that eggs, especially their yolk are highly nutritious and a powerhouse of nutrients. In addition to that, they are most often pretty cheap compared to an equivalent of meat, even the good quality eggs produced from healthy cage-free chickens. In this recipe, I chose to use apple cider vinegar as the pickling vinegar, but many other choices would be just as good. Here I really like the taste that the apple cider vinegar gives to the eggs. Combined with the taste of fresh dill, garlic, mustard seeds and onion, the resulting mixture is very tasty and can always be changed depending on your preferences or on what you have available.
Many people wonder if consuming vinegars is a healthy practice since our ancestors were probably not consuming a great deal of them. This is where it serves us to not only look at anthropology when it comes to deciding what's best for us, but also looking at biochemistry and what the food does to our body exactly. Trying to simply imitate what our ancestors did can lead to many mistakes. Most vinegars are in fact very healthy to consume and can even bring about some nice health benefits. Helping in re-establishing a proper stomach acidity would be one of them. In nature, most sources of acids are also great sources of vitamin C, which is a very essential nutrient so this is probably why most people tend to enjoy the acidic taste. Lets not forget either about the healthy lactic acid produced by probiotic bacteria when lacto-fermenting vegetables. Furthermore, acids like lemon juice, apple cider vinegar or wine vinegar offer a great and simple way to enhance the flavors of a dish and pair very well with fatty ingredients.
In the end, plain old hard boiled eggs are great and healthy on their own and offer a simple snack option, but these pickled eggs are a way to change it up a little bit and to enjoy something different. They are easy to bring just about everywhere and they can quickly satisfy any hunger. I often enjoy mine cut in half and seasoned lightly with sea salt and freshly cracked black pepper.
Pickled eggs recipe
Serves 6

Values are per portion. These are for information only & are not meant to be exact calculations.
Ingredients
12 large eggs;
1 red onion, sliced;
Small bundle of fresh dill;
½ tsp mustard seeds;
1 clove garlic, halved;
1 ¼ cup apple cider vinegar;
¾ cup water;
2 tsp salt;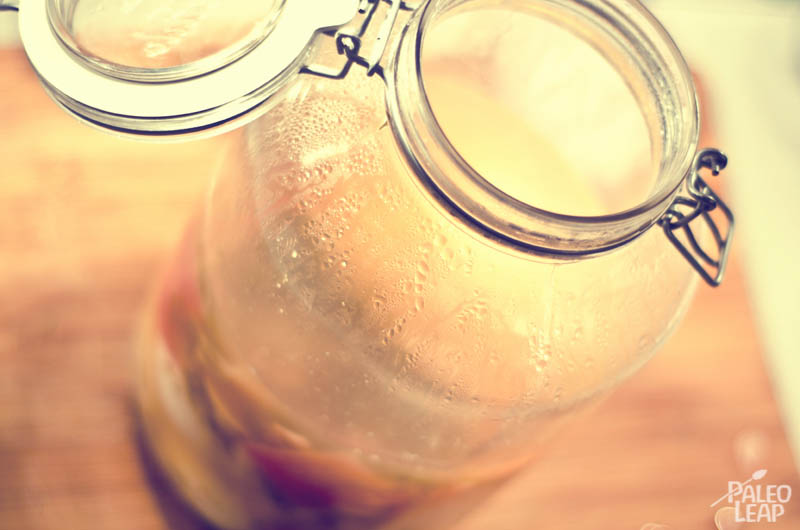 Preparation
Cook your eggs. For perfect hard boiled eggs, place the eggs in a pot with cold water and gently bring to a boil. When the water boils, cover the pot, turn off the heat and let stand for exactly 7 minutes. After 7 minutes, drain the hot water and rinse with icy cold water for a minute to stop the cooking and prevent a grey ring from forming around the yolk.
Once the eggs are cool enough to handle, peel off their shell and set them aside.
You will need a large clean jar ready to place your fresh hard boiled eggs in. Make absolutely sure that this jar will fit in your fridge, the worst thing would be to have to transfer everything into something smaller.
In a medium saucepan over a medium-high heat, bring all the ingredients aside from the eggs to a boil. Once boiling, reduce the heat to medium-low and allow it to simmer for 5 to 7 minutes. The mixture is ready when your kitchen is filled with a strong dill aroma.
Pour the mixture into the jar, add the hard-boiled eggs and allow it to cool for several minutes. Once cool enough, refrigerate. Your eggs will need anywhere from 2 to 3 weeks time to pickle. Once ready though, they will stay good for quite a long time.