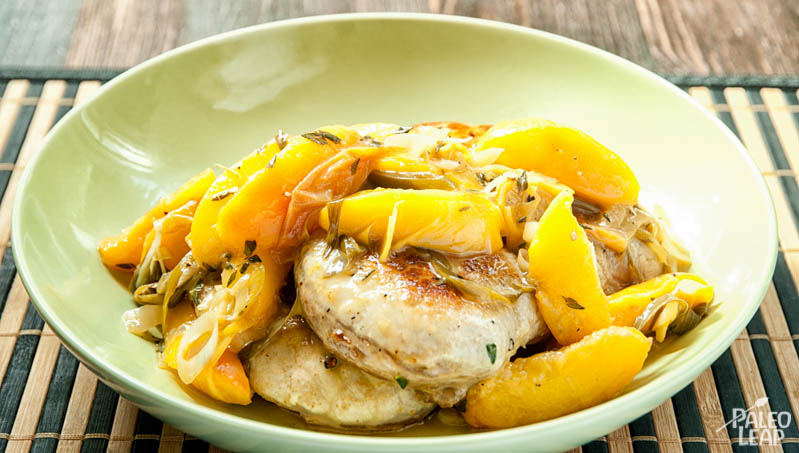 Pork and apples is a classic. But did you know you could get the same delicious effect by using peaches instead? Fresh herbs and a white wine sauce really bring out the natural sweetness of the fruit in this recipe, making a perfect dressing for the savory meat. And to top it all off, peaches are in season right now, so they should be available fresh from the market, without the heartbreak of getting a wooden or mushy grocery-store fruit. So hold the applesauce, and try this slightly different combination for a fresh new look at what your pork chops can do.
This recipe calls for some white wine to make the sauce. Cooking with wine is perfectly safe even if you avoid alcoholic drinks, since all the alcohol will evaporate during the cooking process. On the other hand, even cooked white wine contains sulfites, so anyone with a sensitivity to sulfites will still want to steer clear.
As well as being delicious, these chops are actually a very healthy dinner choice. We don't usually think of meat as adding micronutrients to a meal, but one pork chop contains very substantial amounts of B vitamins, as well as several different minerals like phosphorus, potassium, and selenium. Peaches round it off with a healthy dose of Vitamin C, and even the bone broth used to make the sauce is nutritious in its own ways. It's a dinner you can really feel good about enjoying – which is fortunate, because once you taste it, you'll want to make it again and again.
Pork Chop With Peaches Recipe

SERVES: 4

PREP: 5 min.

COOK: 15 min.

Values are per portion. These are for information only & are not meant to be exact calculations.
Ingredients
4 boneless pork chops;
2 green onions, thinly sliced;
1 tbsp. fresh thyme, chopped;
2 peaches, cut into 8 pieces;
1/2 cup dry white wine;
½ cup chicken stock;
2 tsp. ghee (or other Paleo cooking fat);
2 tsp. olive oil;
Sea salt and freshly ground black pepper;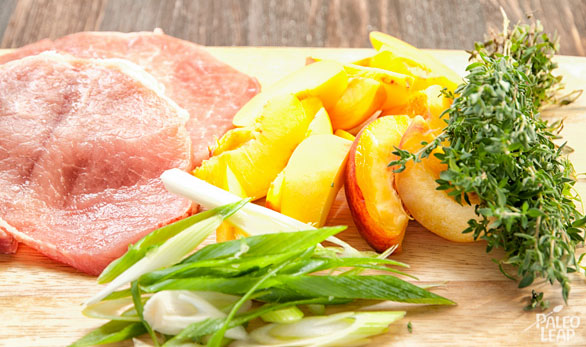 Preparation
Heat a large skillet over a medium-high heat and add the olive oil.
Season the chops with sea salt and freshly ground black pepper, and add them to the skillet. Cook on both sides until done (about 6 minutes total, 3 minutes on each side).
Remove the chops from the pan, and keep them warm.
Add the green onions, thyme, peaches to the pan, and cook for about 2 minutes.
Stir in the wine and bring to a boil until reduced by almost half.
Stir in the chicken stock and bring to a boil. Simmer until reduced by half once again.
Remove the pan from the heat and stir in the ghee until dissolved.
Drizzle the sauce over the chops and serve.