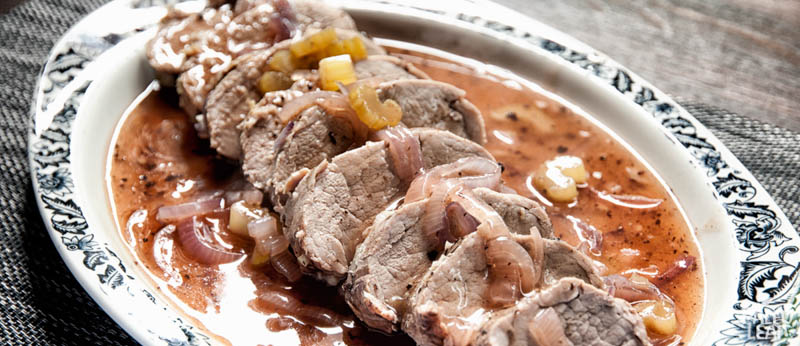 Burgundy (a region in central France famous for its local vineyards) gives its name both to the wine traditionally used in this sauce, and to the dark red color that sets it apart. You don't have to use real burgundy wine to make a tasty sauce, but it is important to pick something you wouldn't mind drinking.
If you don't normally drink wine, it can be tempting to go for the bottle labeled "cooking wine," but this is one product to skip completely. Cooking wine can legally be sold even to people under 21 because it's full of additives added specifically in order to make it undrinkable, usually an enormous amount of salt (which can throw off the taste of your recipe unless you plan for it) and often other additives as well. Especially since the wine is a big part of the flavor here, pick something that tastes good to you, not something that sits on the shelf next to the vinegar!
Even with the wine, this is a very simple recipe, but a dish that looks quite impressive once you plate it up. Once the tenderloin is out of the oven, you're almost ready to go, with just a little tapioca starch to thicken up the sauce and a final taste-test for salt and pepper. To keep with the French theme, serve up a side of ratatouille (or ratatouille-stuffed zucchini, if you want a shortcut), or maybe just a bowl of cream of tomato soup for a simple but delicious meal.
Pork Tenderloin With Burgundy Sauce Recipe

SERVES: 4

PREP: 15 min.

COOK: 1h.
Add to Meal Plan
Ingredients
2 lb. pork tenderloin;
2 red onions, thinly sliced;
1 stalk celery, chopped;
4 garlic cloves, minced;
1 cup of red wine;
1 cup of water;
2 tbsp. tapioca starch;
Sea salt and freshly ground black pepper to taste;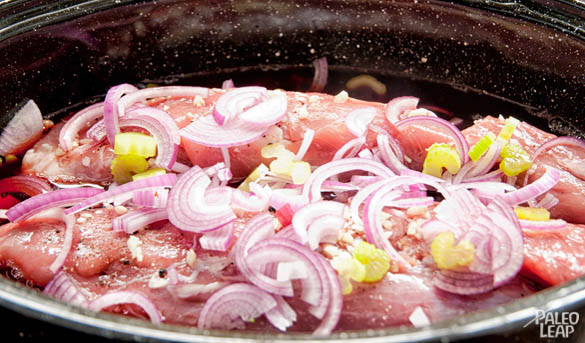 Preparation
Preheat your oven To 350 F.
Season the pork tenderloin with sea salt and black pepper on both sides.
Place the pork in a baking dish. Sprinkle garlic over the pork, top with the onion and celery, and pour the wine and water over everything.
Bake in the oven for 45 to 50 minutes.
When the cooking is done remove the pork from the dish and add everything else from the baking dish  into a saucepan over a medium heat.
Bring the sauce to a boil. Slowly whisk in the tapioca starch until it thickens, and season to taste with salt and pepper.
Slice the tenderloin, pour the sauce over it, and serve.