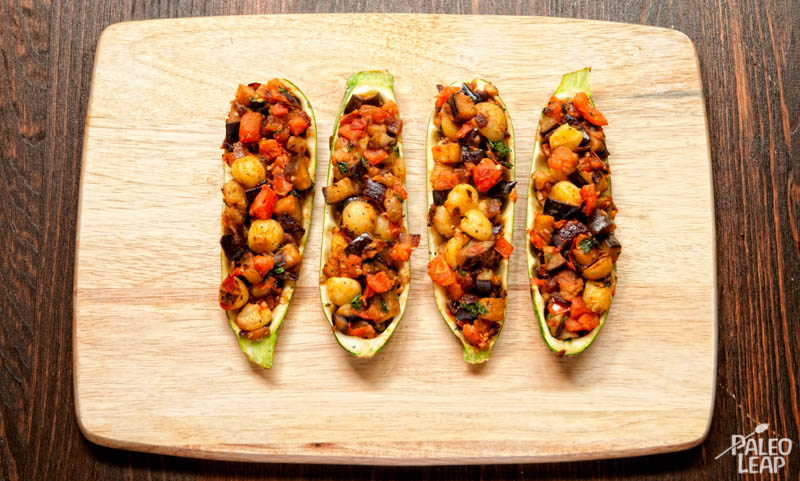 The classic recipe for ratatouille is fairly time-consuming to make, but this version simplifies the stew quite a bit by using fewer different vegetables (although it still does rely heavily on nightshades, so if you react to them you'll want to pick a different recipe). Don't serve it if you have a French chef over for dinner, but for the rest of us, it's a perfectly tasty shortcut that still delivers the rich tomato flavor of the original.
Serving the ratatouille inside hollowed-out zucchini is surprisingly easy, but very creative and entertaining – and as a bonus, it saves on clean-up, since you can eat the bowl along with the stew! This would be a delicious vegetable side for pretty much any savory main dish, or use miniature zucchini instead and plate up a few for party snacks.
To scoop out the flesh of the zucchini and make room for the ratatouille to fill them, I used a parisienne scoop, but you could also use a melon baller or even a teaspoon if you're very careful. Just make sure to leave enough flesh so that the zucchini "bowl" doesn't fall apart while you're grilling it. The only downside to using a regular spoon is that you don't end up with very visually attractive pieces of zucchini, but it tastes just as good, and serving the stew inside the zucchini is impressive enough even without the balls.
Ratatouille Stuffed Zucchini Recipe
Values are per portion. These are for information only & are not meant to be exact calculations.
Ingredients
2 zucchinis, halved lengthwise;
2 tomatoes, chopped;
1 small eggplant, cubed;
1 onion, chopped;
2 garlic cloves, minced;
3 tbsp. olive oil;
Sea salt and freshly ground black pepper;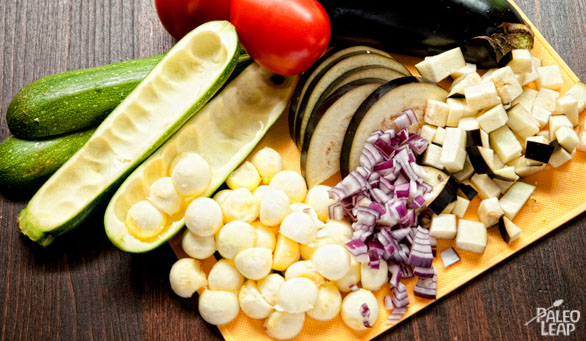 Preparation
Using a parisienne scoop, remove balls of flesh from the zucchinis until only the shells are left. Keep the zucchini balls aside.
Preheat a grill to medium high.
On a large skillet over a medium-high heat, warmup 1 tbsp. of the olive oil and cook the onions in it for 3 to 4 minutes.
When the onions are soft, add the garlic and cook for a minute. Add the remaining olive oil, the cubed eggplant, and the zucchini balls. Cover and cook for around 8 to 10 minutes.
Add the tomatoes and cook for another 5 minutes, stirring frequently. Stir in the parsley and season with salt and pepper to taste.
Fill each zucchini shell with the ratatouille. Grill for 2 to 3 minutes (or until the zucchini shells get soft) and serve hot.