Looking for something new and original to do with stewing beef? Despite the name, you don't only have to use it in stews; why not try frying it up in a salty, crunchy wrapper and then drizzling it with a rich coconut sauce?
It's a great recipe for kids since the small pieces of meat are perfectly sized for little fingers (like a miniature version of veal paupiettes!), but even adults will enjoy the unique presentation and the delicious combination of crispy, chewy, and savory flavors in every bite.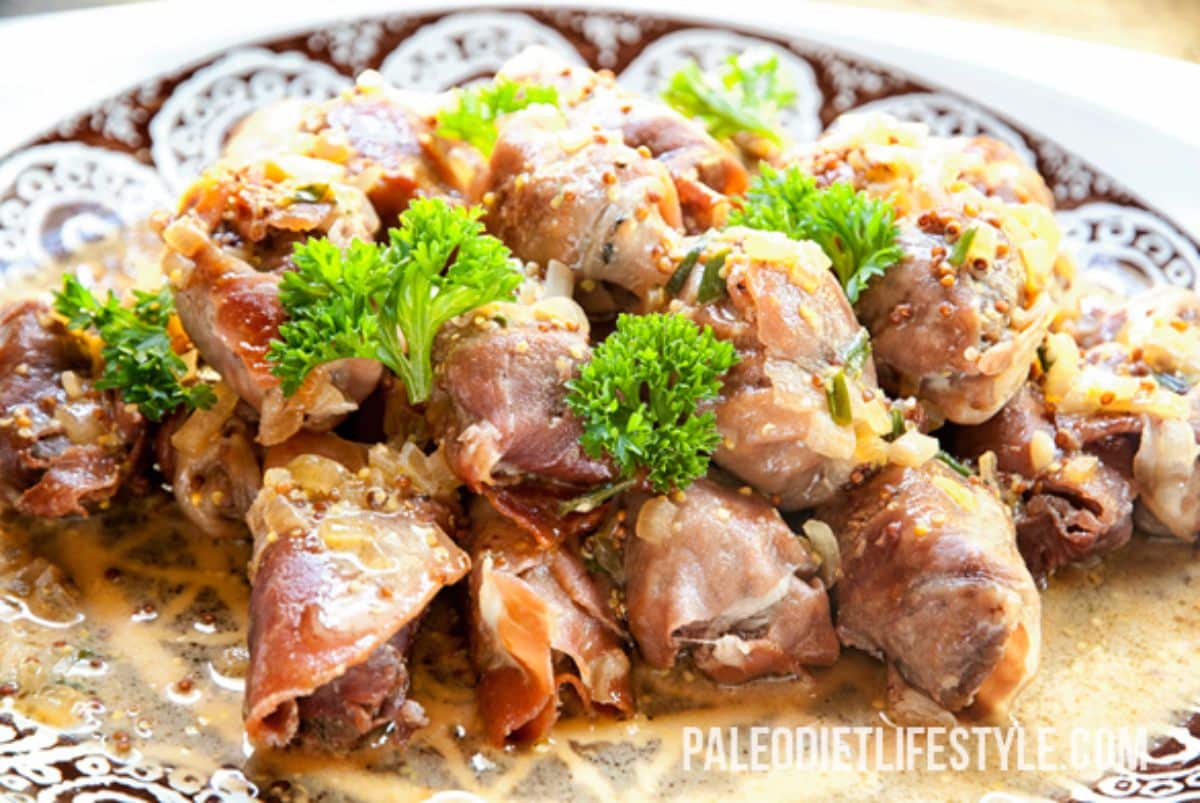 The prosciutto is what really sets this recipe apart – it makes the meat inside especially tender and adds prosciutto is a type of cured meat traditionally made from just ham and salt.
While there's absolutely nothing wrong with eating cured meat as part of a Paleo diet (especially used as a condiment like this, rather than the main event), make sure that the prosciutto you buy is Paleo-friendly.
The traditional recipe of ham and salt is nothing to worry about, but never underestimate the power of food companies to add junk where no junk was ever necessary!  
These little "packages" of meat would make a surprising replacement for meatballs (on top of some Paleo spaghetti, of course), or stick a toothpick through each one and serve them as mini appetizers.
In the unlikely event that you have any leftovers, they'd also be delicious served cold on top of a salad or tucked into a lunchbox for a back-to-school treat.
Prosciutto-Wrapped Beef Cubes Recipe
SERVES: 4 PREP: 15 min COOK: 15 min
Ingredients
1 lb. tender cut beef, cut into small cubes;
¼ lb. prosciutto;
1 French shallot, minced (you can also use regular onion);
½ cup chicken stock;
1 tablespoon coarse-grain mustard;
2 tbsp. full-fat Coconut milk;
2 tbsp. fresh parsley leaves, chopped;
1 tbsp. Paleo cooking fat;
Freshly ground black pepper;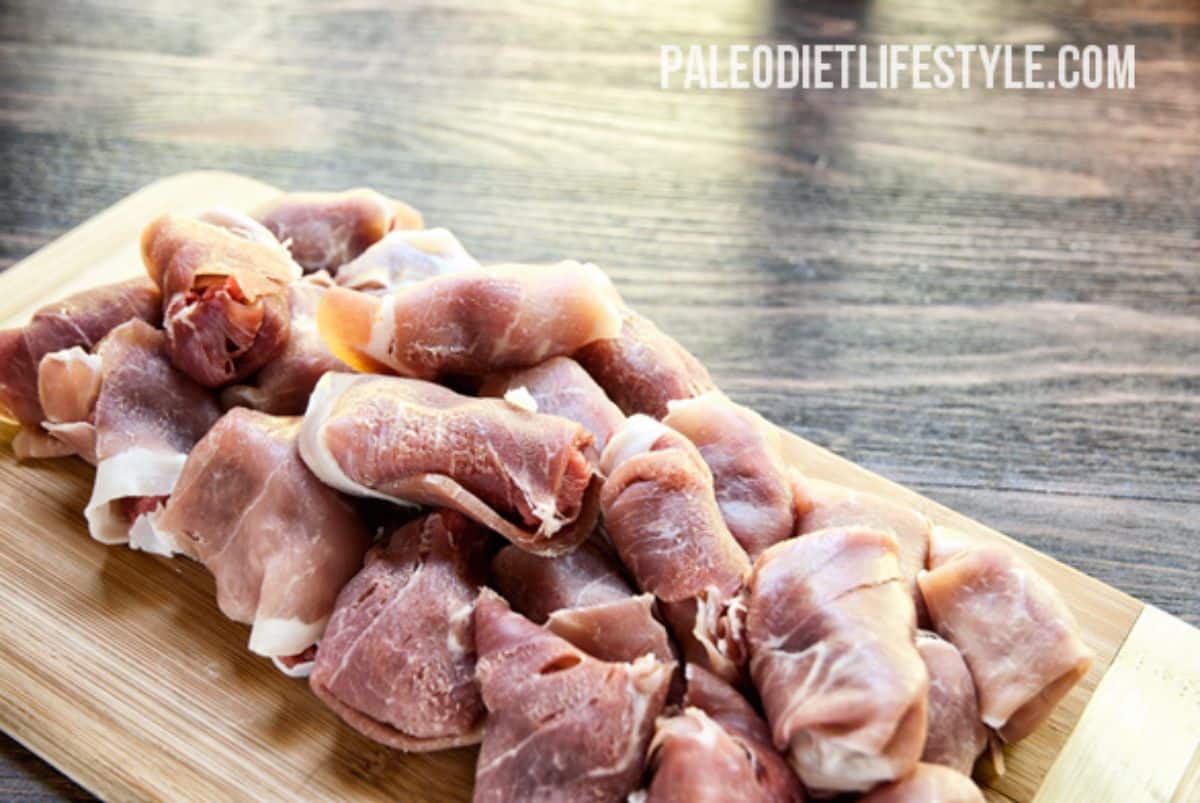 Preparation
Season each beef cube with black pepper to taste.
Wrap each beef cube with enough prosciutto to cover it completely; try not to overlap more than once.
Add the cooking fat to a skillet placed over medium-high heat.
When the cooking fat is warm enough, place all the prosciutto-wrapped beef cubes in the skillet and cook until crisp on all sides, about ten minutes for medium rare.
Remove the beef cubes from the pan and rest.
In the same pan, now over medium heat, add the shallots and cook until soft, about 1 minute.
Add the chicken stock and whisk in the mustard and coconut milk. Cook for another minute.
Pour the sauce over the cubes and garnish with fresh parsley.
📖 Recipe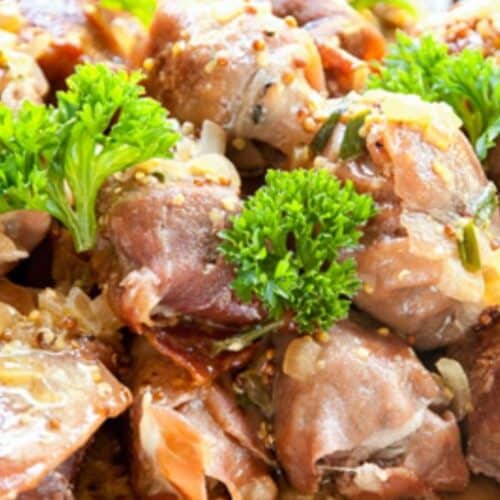 Prosciutto-Wrapped Beef Cubes Recipe
Wrap up tender cubes of beef in a crispy prosciutto "skin" for a tasty new take on bite-sized food.
Ingredients
1

lb.

tender cut beef

cut into small cubes

¼

lb.

prosciutto

1

French shallot

minced (you can also use regular onion)

½

cup

chicken stock

1

tablespoon

coarse-grain mustard

2

tbsp.

full-fat Coconut milk

2

tbsp.

fresh parsley leaves

chopped

1

tbsp.

Paleo cooking fat

Freshly ground black pepper
Instructions
Season each beef cube with black pepper to taste.

1 lb. tender cut beef,

Freshly ground black pepper

Wrap each beef cube with enough prosciutto to cover it completely try not to overlap more than once.

Add the cooking fat to a skillet placed over medium-high heat.

1 tbsp. Paleo cooking fat

When the cooking fat is warm enough, place all the prosciutto-wrapped beef cubes in the skillet and cook until crisp on all sides, about ten minutes for medium rare.

Remove the beef cubes from the pan and rest.

In the same pan, now over medium heat, add the shallots and cook until soft, about 1 minute.

Add the chicken stock and whisk in the mustard and coconut milk. Cook for another minute.

½ cup chicken stock,

2 tbsp. full-fat Coconut milk,

1 tablespoon coarse-grain mustard

Pour the sauce over the cubes and garnish with fresh parsley.

2 tbsp. fresh parsley leaves
Nutrition
Calories:
474
kcal
Carbohydrates:
3
g
Protein:
24
g
Fat:
40
g
Saturated Fat:
14
g
Polyunsaturated Fat:
4
g
Monounsaturated Fat:
18
g
Trans Fat:
1
g
Cholesterol:
100
mg
Sodium:
354
mg
Potassium:
478
mg
Fiber:
1
g
Sugar:
1
g
Vitamin A:
637
IU
Vitamin C:
10
mg
Calcium:
39
mg
Iron:
3
mg