Bone marrow is a prized and creamy food that we find in the middle of long bones like the femur or the humerus.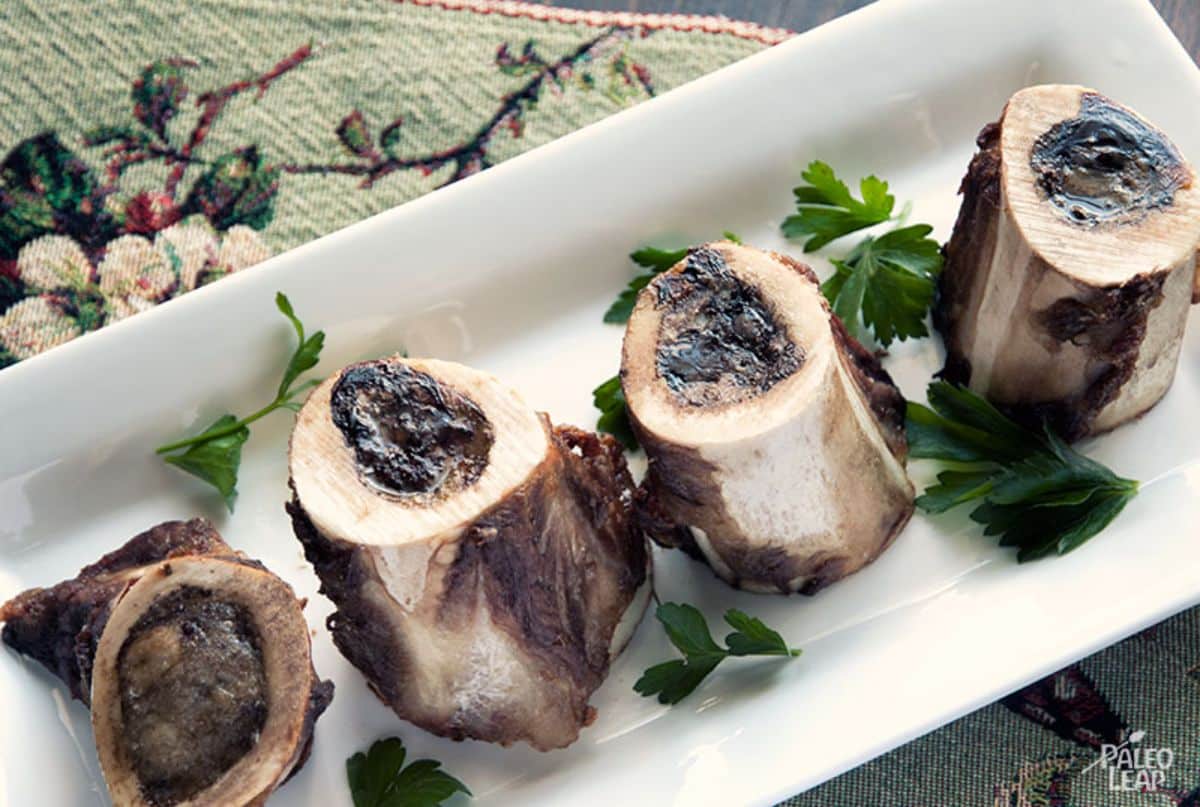 It's composed mostly of fat with a high amount of fat-soluble vitamins and is an item that is really highly valued by all traditional cultures over the world. If you give marrow to your cat or your dog, he'll go crazy for it.
The taste is very pleasing, and most people like it right away. Most kids also enjoy it very much. A lot of people in Paleo circles talk about cooking with bones by making stock or eating the marrow, but most people don't really know what to buy and how to prepare it.
It's actually one of the simplest things to prepare and a good choice to impress guests while being sure you won't mess it up because it's so quick and simple.
I suggest you serve it with a light salad with a lemon-based vinaigrette to cut through the richness of the marrow. The most popular animal for its marrow is beef because of the big size of its bones, but if you have access to wild game meat like deer, elk, or caribou, they're also excellent choices.
Your butcher or local farmer should already make it easy for you since they don't expect you to start using a saw in your kitchen. They will basically cut it to make 3-inch long pieces.
Roasted Bone Marrow Recipe
Serves: 4
Ingredients
4 three-inch long beef marrow bones;
Salt and pepper to taste;
Preparation
Preheat your oven to 400 F.
Put the marrow, cut side up, in a baking dish and sprinkle with salt and pepper.
Roast for about 15 minutes. It's ready when it starts to bubble around the edges.
Simply serve with a simple salad on the side with a small spoon to scoop it off. It might be hard to get it all off because of the porous nature of the bone, but you can use your mouth and apply some old-fashioned suction, and it'll do the trick.
📖 Recipe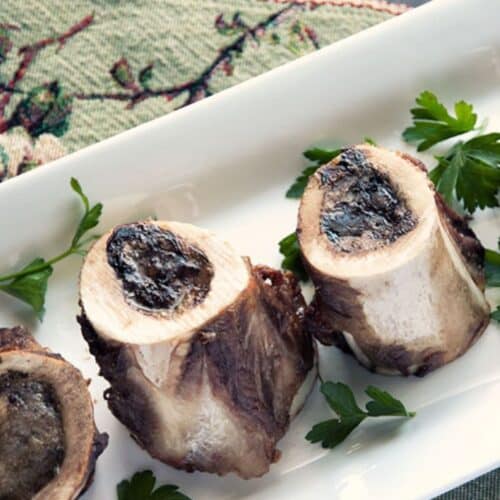 Roasted Bone Marrow Recipe
Learn how to simply roast marrow bones to prepare that creamy and rich nutrient dense food. Empress your guests by serving them bone marrow.
Ingredients
4

three-inch long beef marrow bones;
Instructions
Preheat your oven to 400 F.

Put the marrow, cut side up, in a baking dish and sprinkle with salt and pepper.

4 three-inch long beef marrow bones;

Roast for about 15 minutes. It's ready when it starts to bubble around the edges.

Simply serve with a simple salad on the side with a small spoon to scoop it off. It might be hard to get it all off because of the porous nature of the bone, but you can use your mouth and apply some old-fashioned suction, and it'll do the trick.

Salt and pepper to taste;
Nutrition
Calories:
320
kcal
Protein:
3
g
Fat:
34
g
Vitamin A:
98
IU
Iron:
2
mg