Paleo vegetables that are as filling as they are nutritious? Cauliflower is but one of them; in fact, you can eat as much of it as you want, just as much as makes you feel full!
It makes for an excellent base for a grain-free pizza or a creamy roasted cauliflower and sweet potato soup. It can also become a spice-filled side dish to serve alongside your protein of choice - it is such a versatile vegetable.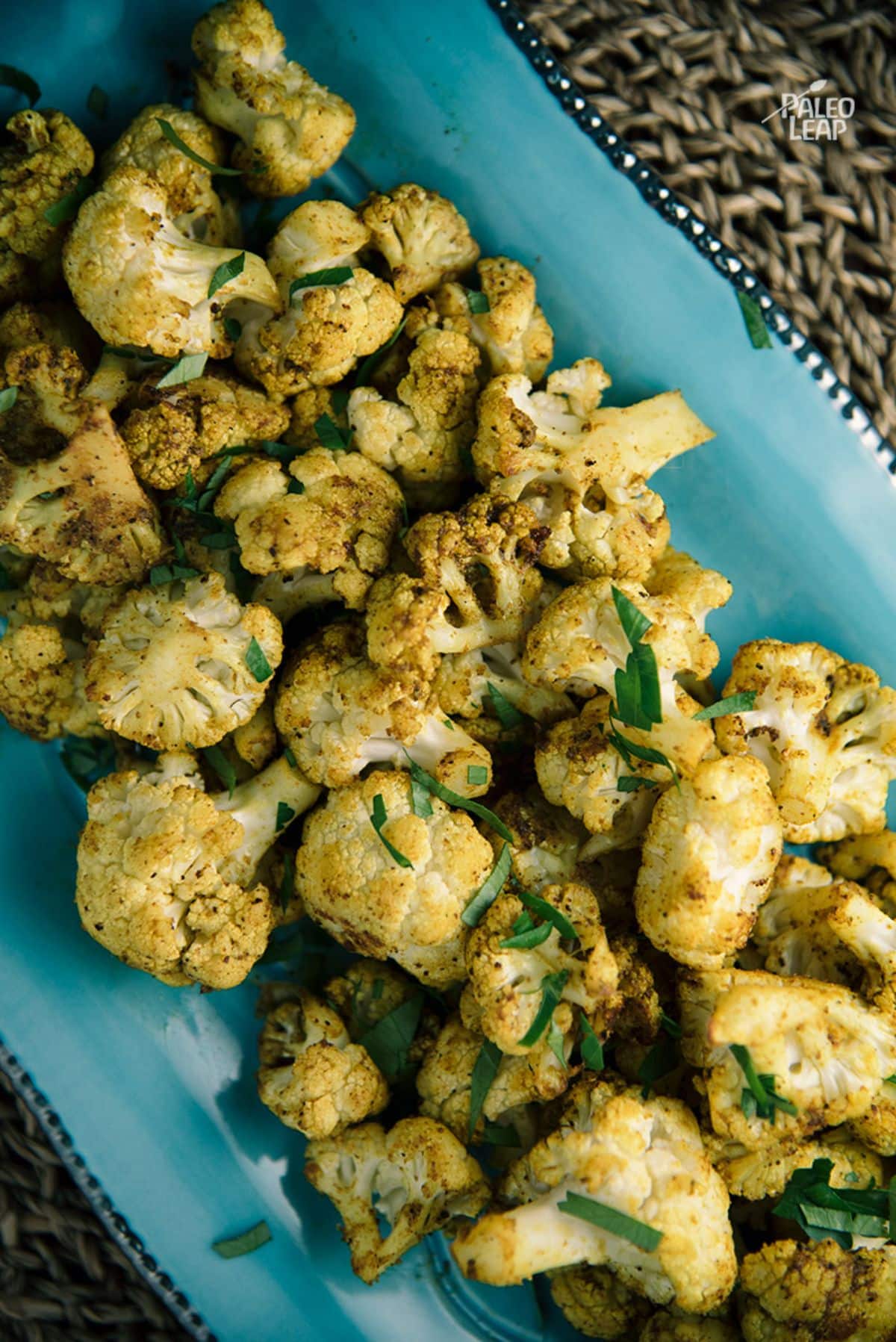 The benefits of cauliflower may surprise you, and it is not only found in white; you can sometimes find green, purple and orange cauliflower as well, each with its own additional array of nutrients.
The florets have potent antioxidants that help our bodies survive the stresses of managing a healthy work-life balance, and the abundant phytochemicals stimulate cancer-blocking enzymes.
No matter how you cook it, your body will thank you. With these curry spices, you will be adding ginger, cinnamon, coriander, and cumin, as well as turmeric, which is highly anti-inflammatory and full of gut-healing power.
This immune-boosting meal also calls for ¼ tsp. of sumac, an essential spice used in Middle Eastern and Mediterranean cooking, and if you don't have any on hand, you are free to omit it. If you can find it, though, we highly recommend it as you can also use it to spice the most aromatic pomegranate-roasted chicken.
Roasted Curry Cauliflower Recipe
Serves: 4 Prep: 15 min Cook: 30 min
Ingredients
1 cauliflower, cut into florets
1 garlic clove, minced
1 tsp. lemon zest
1 tsp. ground coriander
½ tsp. ground cumin
½ tsp. turmeric
½ tsp. ground ginger
¼ tsp. ground cinnamon
¼ tsp. sumac
¼ cup olive oil
Fresh cilantro (to garnish)
Sea salt and freshly ground black pepper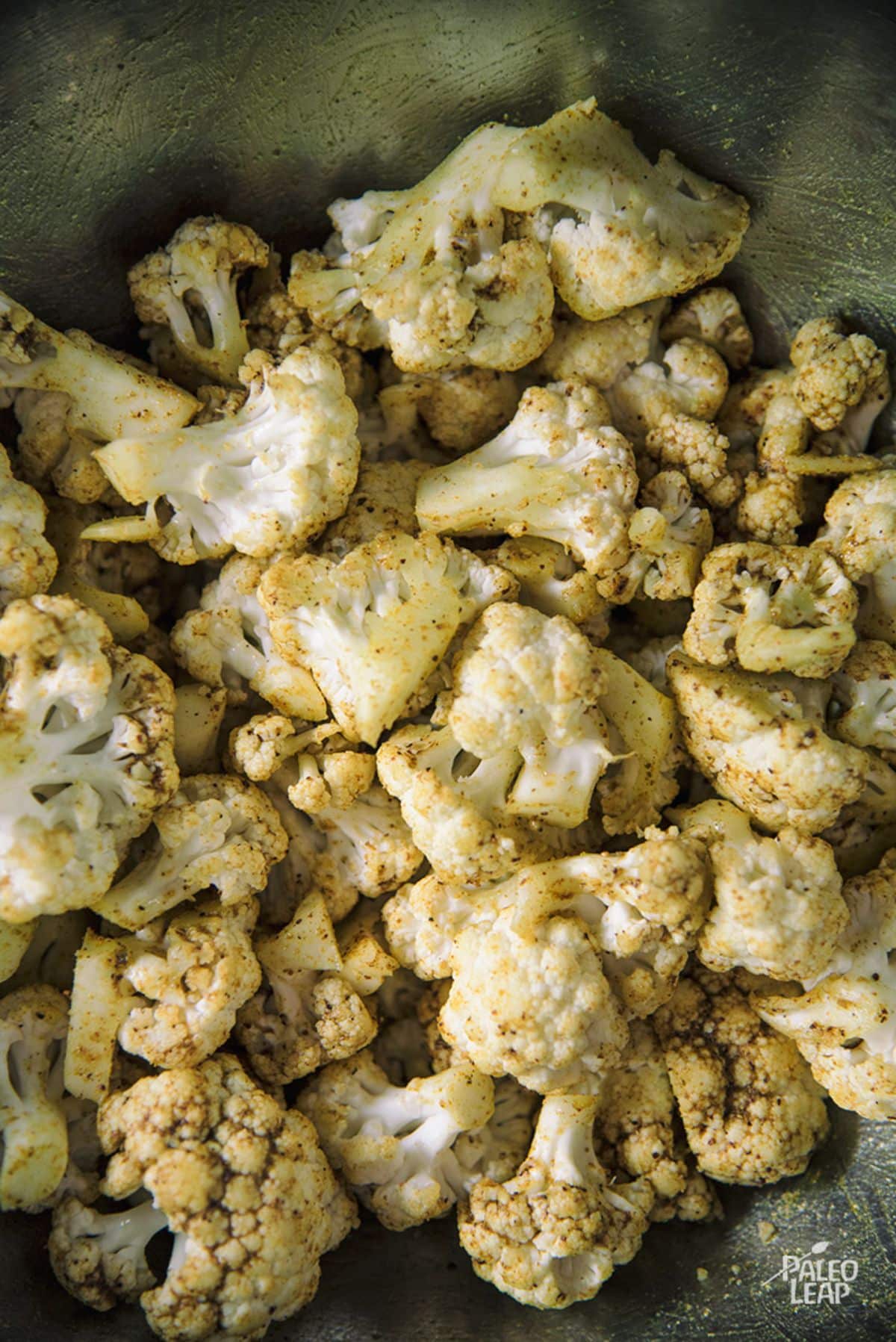 Preparation
Preheat oven to 400 F.
In a bowl, combine the spices, lemon zest, lemon juice, and olive oil, and season to taste with salt and pepper.
Whisk everything until well emulsified; add more olive oil if the mixture is too pasty.
Place the cauliflower in a large bowl and pour the curry sauce over the vegetables; mix until well coated.
Place florets on a baking sheet and bake in the oven for 30 to 40 minutes, tossing and turning at the halfway point.
Adjust the seasoning and serve with freshly chopped cilantro.
📖 Recipe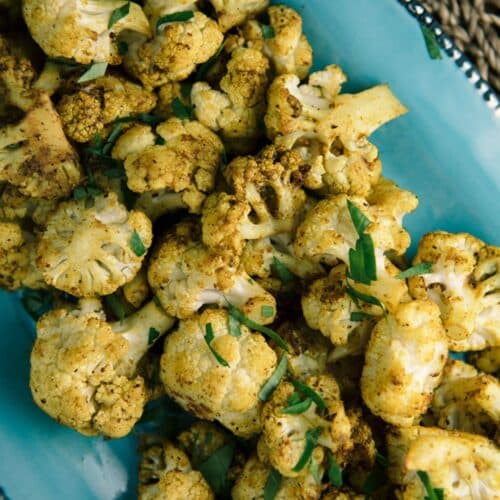 Roasted Curry Cauliflower Recipe
When you crave a little ethnic spice, make a Paleo roasted cauliflower curry for your side dish tonight, with a hint of sumac to make it extra special.
Instructions
Preheat oven to 400 F.

In a bowl, combine the spices, lemon zest, lemon juice, and olive oil, and season to taste with salt and pepper.

1 garlic clove,

1 tsp. lemon zest,

1 tsp. ground coriander,

½ tsp. ground cumin,

½ tsp. turmeric,

½ tsp. ground ginger,

¼ tsp. ground cinnamon,

¼ tsp. sumac,

¼ cup olive oil,

Sea salt and freshly ground black pepper

Whisk everything until well emulsified; add more olive oil if the mixture is too pasty.

Place the cauliflower in a large bowl and pour the curry sauce over the vegetables; mix until well coated.

Place florets on a baking sheet and bake in the oven for 30 to 40 minutes, tossing and turning at the halfway point.

Adjust the seasoning and serve with freshly chopped cilantro.

Sea salt and freshly ground black pepper,

Fresh cilantro
Nutrition
Calories:
167
kcal
Carbohydrates:
9
g
Protein:
3
g
Fat:
14
g
Saturated Fat:
2
g
Polyunsaturated Fat:
2
g
Monounsaturated Fat:
10
g
Sodium:
45
mg
Potassium:
471
mg
Fiber:
4
g
Sugar:
3
g
Vitamin A:
10
IU
Vitamin C:
71
mg
Calcium:
53
mg
Iron:
1
mg