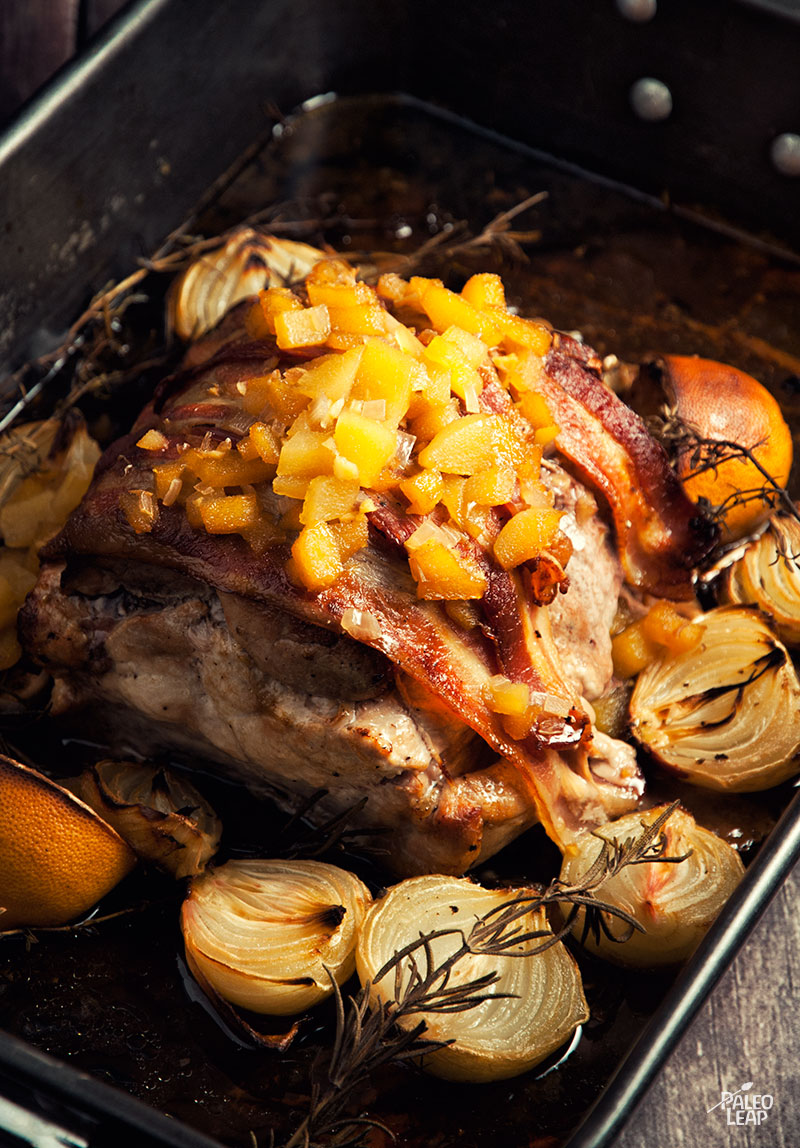 This simple, rustic recipe is a delicious way to make a pork loin really shine. Such a lean cut of pork can be tricky to roast, but wrapping it in bacon helps keep it juicy and tender, and the sweet pear sauce adds a nice touch of sweetness on top of the savory meat. For extra flavor, you even get to use the sauce twice: some of it is cooked with the pork, and the rest is reserved for serving.
With the seasonings all coming from herbs, this recipe is also autoimmune-approved! Just make sure to find an autoimmune-friendly brand of bacon (or make your own with AIP-approved seasonings). It really does go to show that there's no reason to sacrifice flavor on an autoimmune diet!
For an ultra-easy side, pop a tray of broccoli into the oven when you take the pork out the first time and you'll have roasted broccoli finished at the same time as the meat. Alternately, try some baked potatoes or maybe a winter vegetable salad – and don't forget about those onions in the roasting pan: they're just as good as the pork!
Roasted Pork Loin With Pear Sauce Recipe

SERVES: 6

PREP: 25 min.

COOK: 2 h.
Values are per portion. These are for information only & are not meant to be exact calculations.
Ingredients
1 pork loin, about 4 to 5 lbs.
5 slices bacon;
5 onions, peeled and halved;
2 lemons, halved;
1 head garlic, halved;
4 sprigs fresh rosemary;
4 sprigs fresh sage;
4 sprigs fresh thyme;
Sea salt and freshly ground black pepper;
Ingredients for the pear sauce
2 cups beef stock;
2 cup fresh apple juice;
¼ cup maple syrup; (optional)
1-inch fresh ginger, minced;
1 shallot, thinly sliced;
1 cinnamon stick;
2 pears, peeled and diced;
Sea salt and freshly ground black pepper;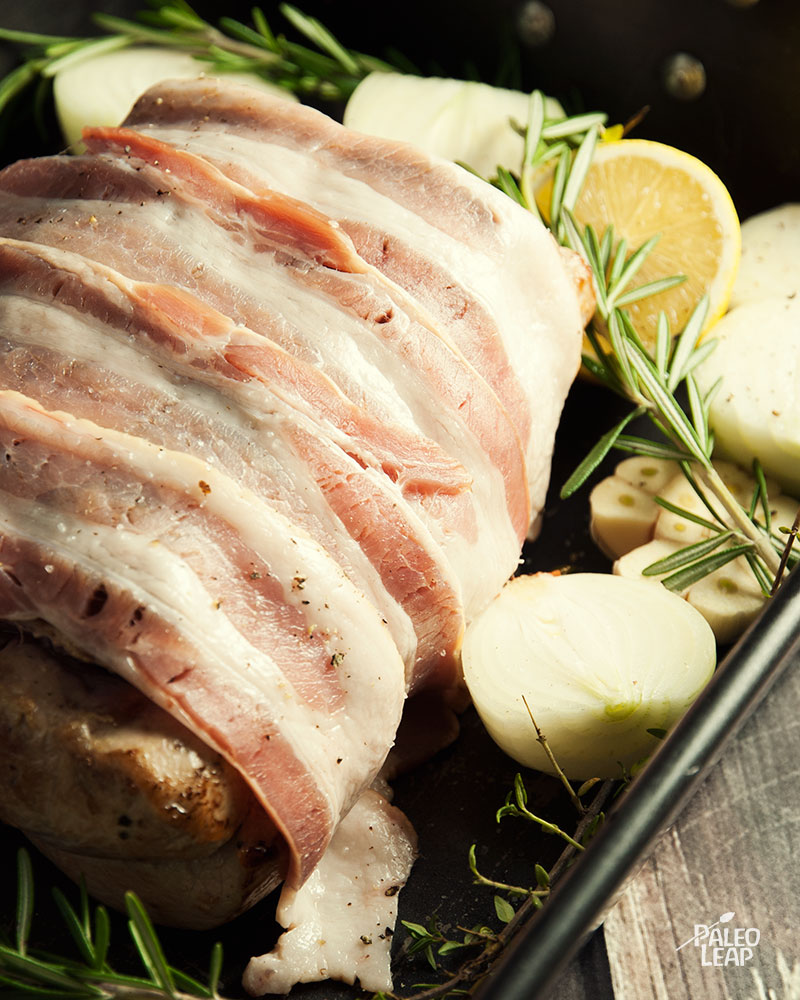 Preparation
Preheat your oven to 375 F.
Melt some cooking fat in a large skillet and brown the pork on all sides over a high heat.
Place the browned pork in a roasting pan and wrap with the bacon slices.
Pack in the remaining ingredients all around the roast.
Place the roasting pan in the oven and roast for 1 hour.
In a saucepan, combine all the ingredients for the pear sauce. Season to taste and bring to a boil; then let simmer until reduced by half.
Pour half of the sauce over the pork roast now, and reserve the rest for later.
Return the roast to the oven and cook for another 30 minutes, basting every 10 minutes.
Serve the roast with the remaining sauce.