The season for Paleo butternut squash pie is just around the corner. Or at least that's what we are hoping to hear, for it means that butternuts are ripe and ready for harvest.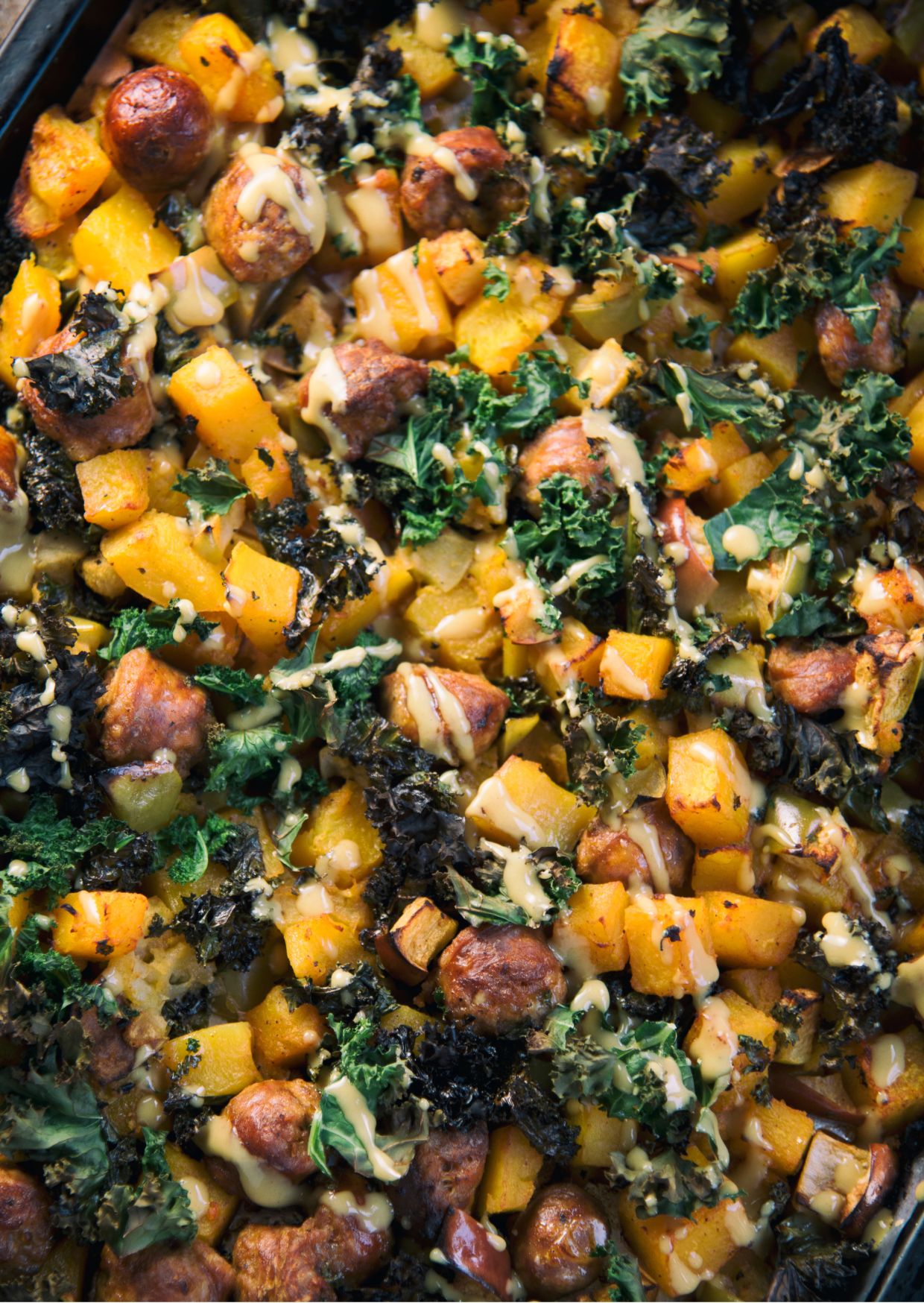 Luckily, they are destined for more than just dreamy slices of pie with hints of cinnamon and clove. Take this roasted squash and sausage sheet pan, for instance. It is a wonderful dish to take into autumn and winter months, for it is savory, filling, and nutritious.
Loaded with apple, onion, kale, and your favorite Paleo sausages, this meal is destined to please the toughest crowd. Joy comes in the sweetness of the squash and in the mouthwatering bites of homemade sausage that combine so well together.
Best of all, it only takes one pan, so prep and cleanup are super simple. Perfect for a weeknight meal, or for the weekend rush, it is great to have an uncomplicated recipe at hand. And it sure beats the potato craze, which seems to be everyone's go-to when they don't know what to eat.
Butternut squash is loaded with Vitamin A, which is ultra-important for your eyesight; it also contains significant levels of manganese which allows your body to maintain healthy bones.
That being the case, you may want to add it to your next batch of bone broth for added benefits. Of course, if you have extra time and more squash on your hands, a batch of slow-cooker butternut squash and apple soup is definitely on order.
Roasted Squash And Sausage Recipe
Serves: 4 Prep: 20 min Cook: 25 min
Ingredients
4 sausages, sliced
1 apple, diced
1 onion, diced
1 butternut squash, peeled, seeded, and cut into chunks
4 cups kale, shredded
1 tsp. paprika
¼ tsp. ground nutmeg
1 tbsp. red wine vinegar
1 tbsp. maple syrup
2 tsp. Dijon mustard
Sea salt and freshly ground black pepper
Preparation
Preheat oven to 425 F.
Toss the squash, olive oil, paprika, and nutmeg in a bowl, arrange on a baking sheet, and season to taste.
Roast in the oven for 10 to 12 minutes. Add the apple, sausages, and onion.
Place in the oven and bake for another 20 minutes.
Sprinkle the kale on top of everything and bake for another 2 to 3 minutes.
Remove the pan from the oven and add the red wine vinegar, maple syrup, and mustard, then season to taste with salt and pepper.
📖 Recipe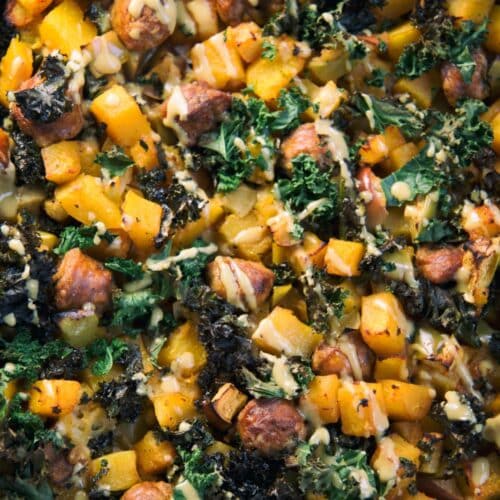 Roasted Squash And Sausage Recipe
A one-pan meal that can feed the entire family without all the fuss? Pizza is one way to fix that, another is sweet-savory roasted squash and sausage.
Instructions
Preheat oven to 425 F.

Toss the squash, olive oil, paprika, and nutmeg in a bowl, arrange on a baking sheet, and season to taste.

1 butternut squash,

1 tsp. paprika,

¼ tsp. ground nutmeg,

Sea salt and freshly ground black pepper

Roast in the oven for 10 to 12 minutes. Add the apple, sausages, and onion.

4 sausages,

1 apple,

1 onion

Place in the oven and bake for another 20 minutes.

Sprinkle the kale on top of everything and bake for another 2 to 3 minutes.

Remove the pan from the oven and add the red wine vinegar, maple syrup, and mustard, then season to taste with salt and pepper.

1 tbsp. red wine vinegar,

1 tbsp. maple syrup,

2 tsp. Dijon mustard,

Sea salt and freshly ground black pepper
Nutrition
Calories:
414
kcal
Carbohydrates:
36
g
Protein:
17
g
Fat:
24
g
Saturated Fat:
8
g
Polyunsaturated Fat:
4
g
Monounsaturated Fat:
10
g
Trans Fat:
0.2
g
Cholesterol:
61
mg
Sodium:
620
mg
Potassium:
1227
mg
Fiber:
9
g
Sugar:
12
g
Vitamin A:
27322
IU
Vitamin C:
107
mg
Calcium:
282
mg
Iron:
4
mg