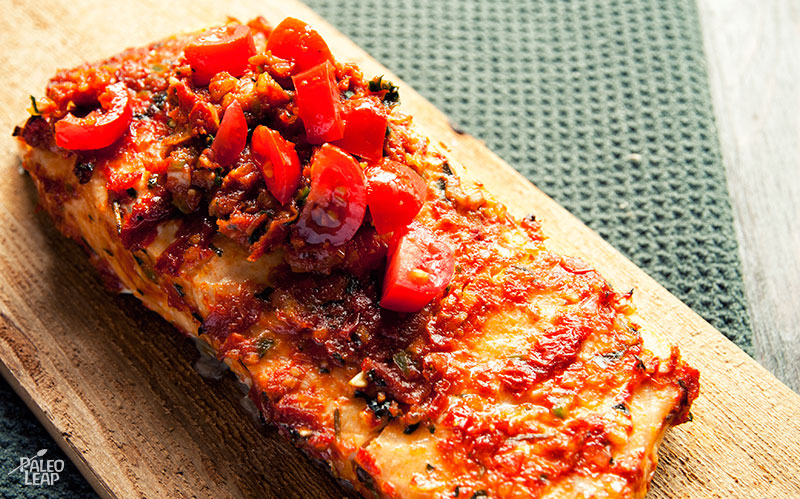 You've made pesto with basil – maybe even with asparagus. But have you ever tried it with tomatoes? It's a new and different taste, but just give it a shot; you might like it! Tomatoes have a delicious natural sweetness that fits perfectly with grilled salmon, and pesto is a very healthy way to get more high-quality fat into your diet, so whether you're judging on taste or nutrition, it's definitely a win.
There's also another flavor champion in this recipe: the cedar plank. If you've never grilled with a wooden plank, you're really missing out; it adds an incredible flavor and also slows down the cooking process, all but guaranteeing you perfectly tender, flaky fish. Just remember to soak it for at least an hour before throwing it on the grill: your goal is to get smoke-flavored salmon, not salmon flambé. Leave the plank to soak right up until you're ready to start cooking; you'll get the maximum smoky flavor that way.
If you don't have one already, you can usually get a cedar plank fairly easily (and without breaking the bank) at most hardware or cooking stores. In a pinch, you can  leave it out altogether; just follow the directions as written ignoring all the instructions about the plank. The fish will still be delicious; it just won't have quite the same woodsy, smoky overtones.
Whether or not there's any plank involved, grilling the pesto right on the fish adds a very rich flavor, perfect topped with just a few raw tomatoes for contrast. Try it with some asparagus, or maybe a simple dish of sauteed spinach – and if you have any leftovers, it would make a unique and delicious addition to a frittata for breakfast the next day.
Salmon with Tomato Pesto Recipe

SERVES: 4

PREP: 15 min.

COOK: 15 min.

Values are per portion. These are for information only & are not meant to be exact calculations.
Ingredients
1 cedar grilling plank;
4 salmon fillets, skin on;
1 tbsp. bell pepper, chopped;
½ cup dried tomatoes, roughly chopped;
2 garlic cloves, minced;
1 shallot, finely chopped;
2 tbsp. fresh basil;
½ cup cherry tomatoes, quartered;
3 tbsp. olive oil;
Sea salt and freshly ground black pepper;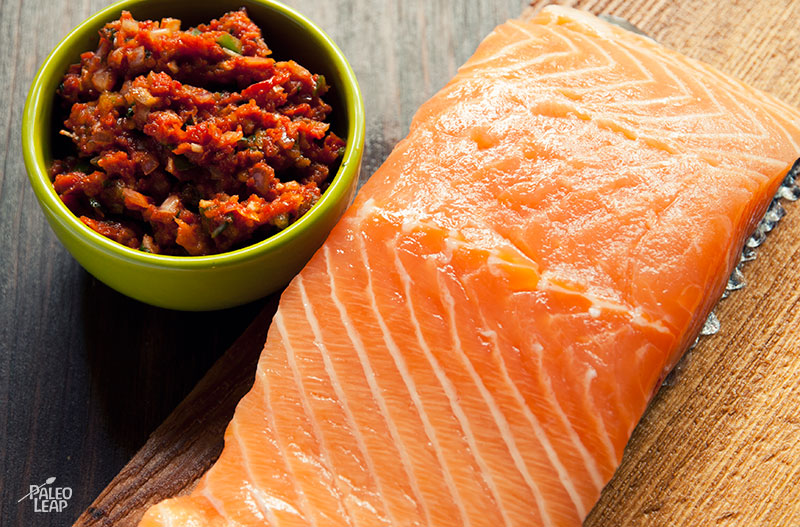 Preparation
Soak the plank in water 1 to 2 hours.
Preheat your grill to a medium-high heat, for indirect cooking.
In a food processor combine the dried tomatoes, garlic, shallots, olive oil, basil, and season to taste with salt and pepper. Process until smooth.
Season the salmon fillets to taste, and rub some tomato pesto over them.
Place the plank over the heat until warm; then arrange the salmon on top.
Reduce the heat to medium. Move the plank to indirect heat (where it isn't directly over the flame) and cook for 12 to 15 min.
Serve the salmon with tomato pesto and cherry tomatoes on top.