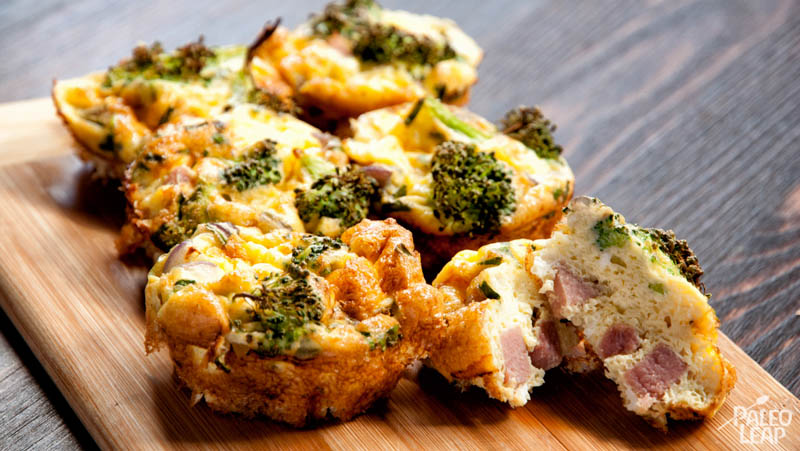 Is your muffin tray getting a little lonely since you switched to Paleo? Give it some much-needed attention with these adorable mini frittatas: they're like personal egg cupcakes, perfectly sized for little hands, and much easier to customize than one big frittata for the whole family. If you have one non-broccoli-eater, just leave out the broccoli from some of the muffin cups, or substitute with another vegetable. Or if you're cooking for a family brunch, leave the meat out of some so the vegetarians can enjoy them too.
In fact, you don't even have to use ham and broccoli at all (especially if you can't find a good quality ham); feel free to play around with the ingredients and add whatever sounds tasty. The great thing about eggs is how well they go with just about any vegetable, so this is the perfect home for any leftover odds and ends hanging around the fridge. What about Indian frittatas, with curry powder and spices? Or Italian frittatas, with olives and sun-dried tomatoes? Give your curiosity free reign and you're sure to think of something interesting and delicious.
Because this recipe calls for 4 egg whites on top of 6 full eggs, it's very high in protein, and also gives you 4 egg yolks left over to make mayonnaise or another egg yolk-centric recipe. The yolk is the most nutritious part of the egg, so definitely don't throw out those leftover yolks: if you really can't think of any other way to use them, just toss them into a pot of soup for some valuable added nutrition.
A last note about the muffin tray: you'll need a tray to make the mini frittatas. But if you don't have one, you can still enjoy the recipe. Just replace the individual cups with a full-size frying pan for a big frittata that's just as tasty (if a little less easy to customize).
Mini Ham And Broccoli Frittatas Recipe
Values are per portion. These are for information only & are not meant to be exact calculations.
Ingredients
1 cup fully cooked ham, cut into cubes;
1 cup broccoli, chopped into small pieces;
1 red onion, minced;
6 eggs;
4 egg whites;
3 tbsp. chives, minced;
2 tbsp. full-fat coconut milk;
Sea salt and freshly ground black pepper to taste;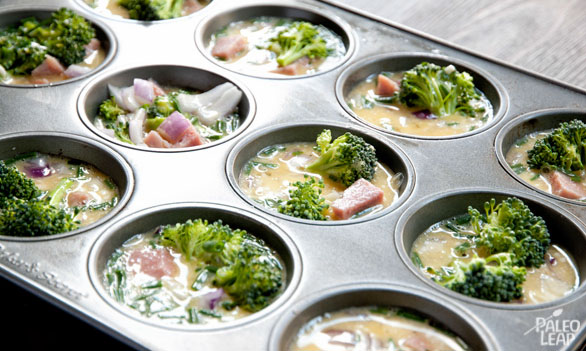 Preparation
Preheat your oven to 375 F.
Oil each cup on the muffin tray with some melted Paleo cooking fat.
Divide the ham, broccoli, and onion equally among the muffin cups.
In a bowl, whisk together the egg whites, eggs, chives, coconut milk, and salt and pepper to taste.
Pour the egg mixture into each muffin cup. Fill the cups almost to the top but not completely.
Place the muffin tray in the oven and cook 20 to 22 minutes or until golden.
Carefully remove the mini frittatas from the muffin tray and serve.