You have to admit, one of the best things about eating fish is that you can cook it up pretty quickly, turning something so elementary into a marvelous dish. Like an act of unbelievable magic, you can transform an ordinary salmon fillet into a remarkable meal within 15 minutes.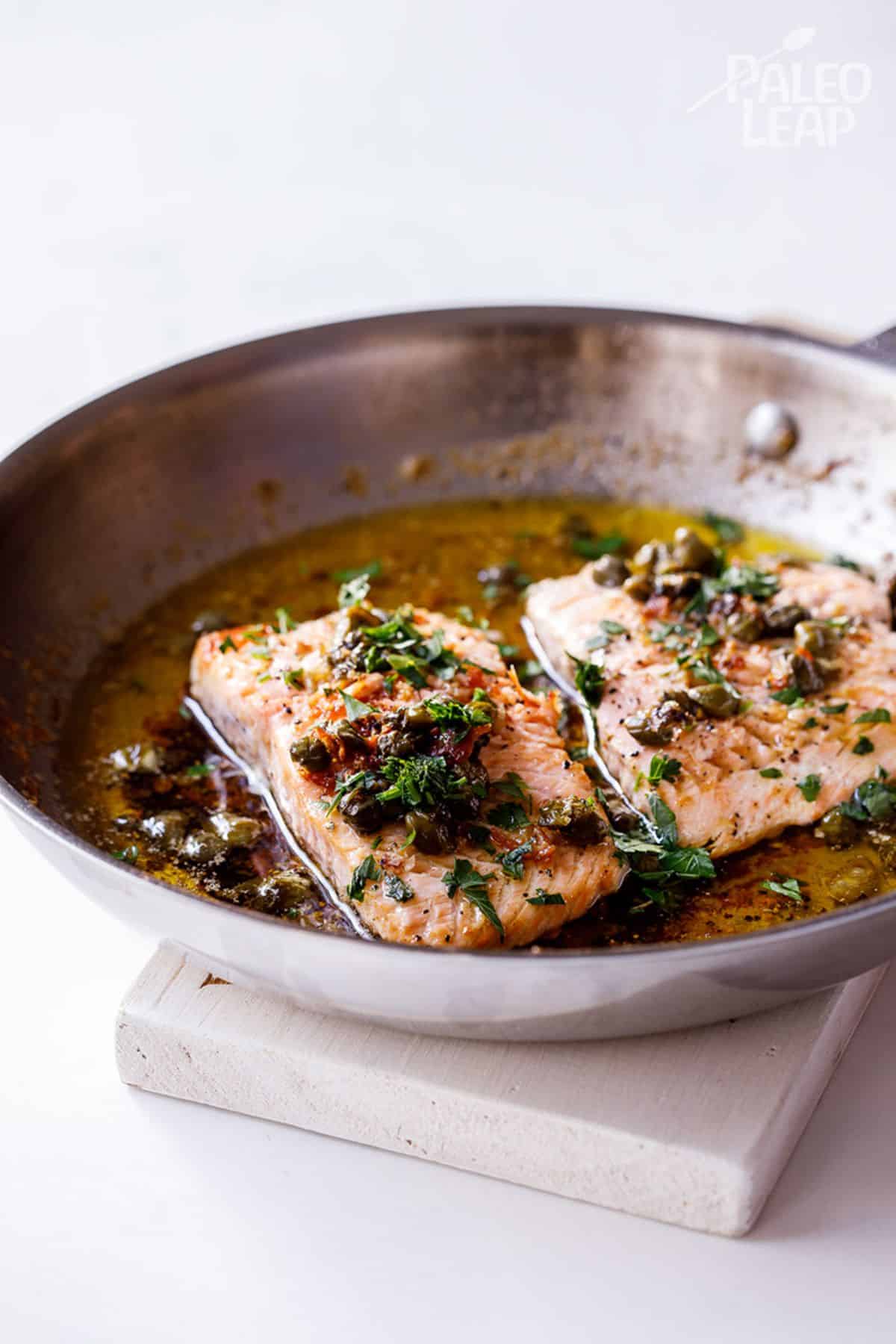 All it takes is the addition of quality grass-fed butter and tangy, lemony capers. Wait a moment, did we just say creamy, delicious butter? Yes, if your body can handle it, there are plenty of reasons you should be eating butter or ghee, plus it makes food taste incredible.
And the addition of fresh salmon to the lemon butter and capers is what makes this dish particularly special. Some sources state that salmon is one of the world's healthiest foods, but we will just say it is one food necessary from time to time in your diet.
Salmon is rich in B12, selenium, and vitamin D, all of which are essential for proper development and growth.
If you have children at home, know that this is a very grown-up dish, but if their developing taste buds can acquire unique flavor combinations from a young age, then the world really is their oyster, even if they don't dare try that one yet.
A pecan and endive salad would suit this fish dish nicely, as the homemade mayo dressing allows fat-soluble vitamins, such as D and K, to be readily absorbed in your body.
Or if you are wanting to tone down the zest and strength of the tiny capers, you may want to take refreshing nourishment in a radish, cucumber, and apple salad.
Salmon with Lemon-Butter and Capers Recipe
Serves: 2 Prep: 5 min Cook: 10 min
Ingredients
2 skinless salmon fillets
1 tbsp. avocado oil
3 tbsp. grass-fed butter or ghee, cubed
2 garlic cloves, crushed
1-2 tbsp. fresh lemon juice
2-3 tbsp. capers, rinsed
1-2 tbsp. chopped parsley
Salt & pepper to taste
Preparation
Heat the avocado oil in a frying pan, then add the salmon fillets.
Fry until cooked on both sides, about 3-4 minutes per side, and remove from the pan.
Add the butter, garlic, lemon juice, and capers into the frying pan and allow to cook for a minute.
Add the salmon gently back into the pan and spoon over the lemon butter. Season to taste.
Serve with finely chopped parsley.
📖 Recipe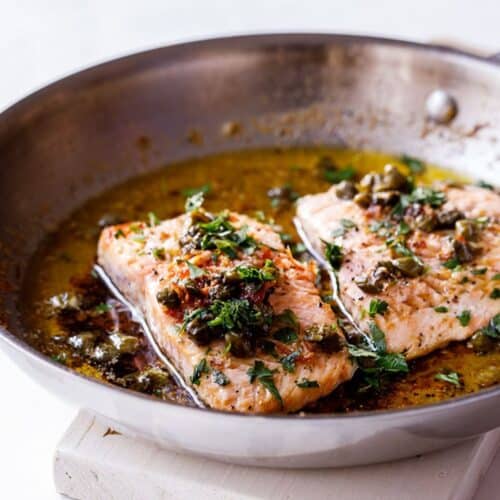 Salmon with Lemon-Butter and Capers Recipe
Indulge in the elegance of salmon and capers in a lemony-butter sauce and impress your guests with a surprisingly simple to prepare meal.
Instructions
Heat the avocado oil in a frying pan, then add the salmon fillets.

1 tbsp. avocado oil,

2 skinless salmon fillets

Fry until cooked on both sides, about 3-4 minutes per side, and remove from the pan.

Add the butter, garlic, lemon juice, and capers into the frying pan and allow to cook for a minute.

3 tbsp. grass-fed butter or ghee,

2 garlic cloves,

1-2 tbsp. fresh lemon juice,

2-3 tbsp. capers

Add the salmon gently back into the pan and spoon over the lemon butter. Season to taste.

Serve with finely chopped parsley.

1-2 tbsp. chopped parsley
Video
Nutrition
Calories:
478
kcal
Carbohydrates:
3
g
Protein:
35
g
Fat:
36
g
Saturated Fat:
14
g
Polyunsaturated Fat:
6
g
Monounsaturated Fat:
13
g
Trans Fat:
1
g
Cholesterol:
141
mg
Sodium:
631
mg
Potassium:
905
mg
Fiber:
1
g
Sugar:
0.4
g
Vitamin A:
1266
IU
Vitamin C:
14
mg
Calcium:
48
mg
Iron:
2
mg