What's a soup-lover to do when the weather gets too warm for big crock pots full of piping-hot broth?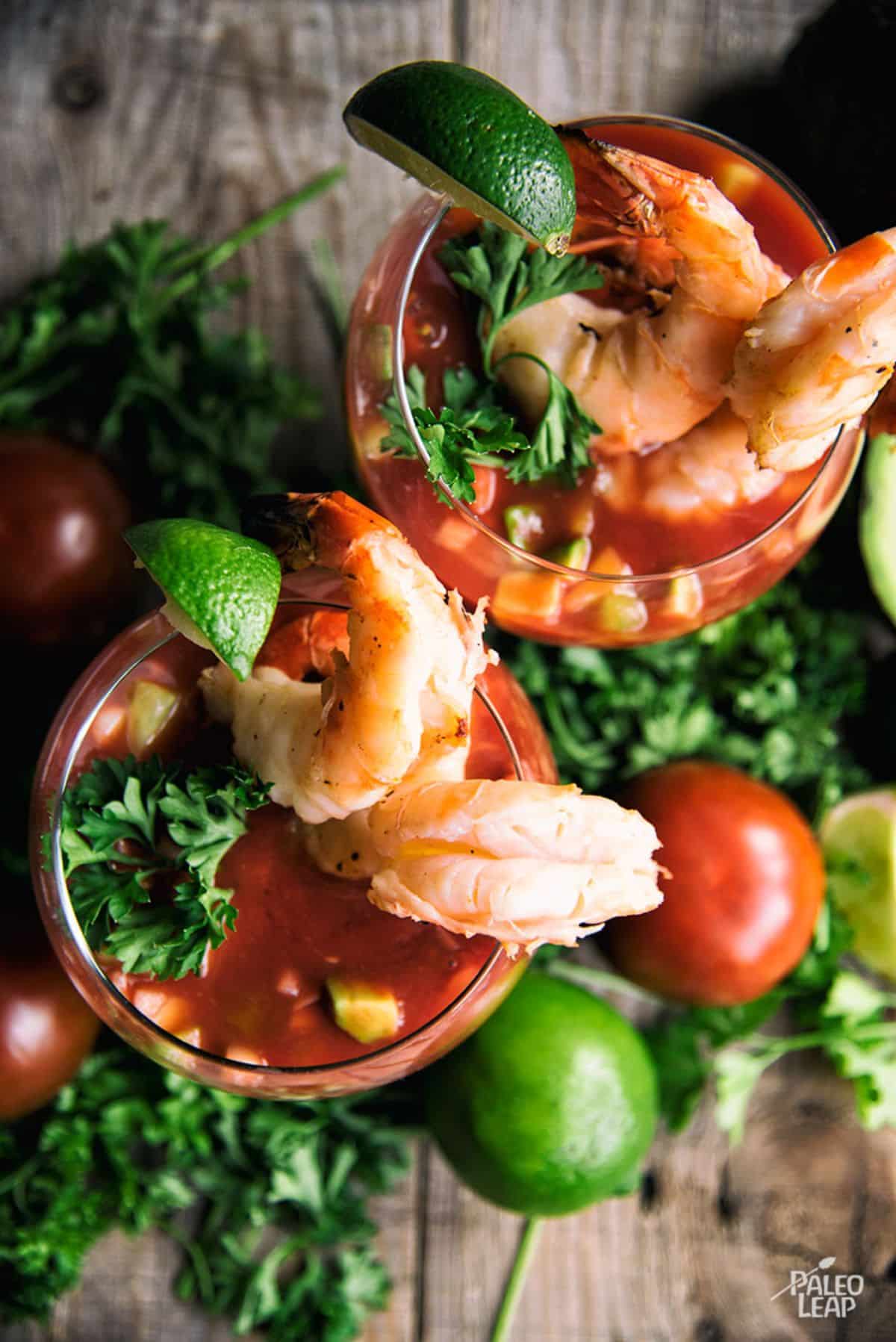 Cold soup! Gazpacho is a Spanish soup traditionally served cold, so it's perfect for the hot months. It has a bunch of different variations, but all of them center around some kind of tomato broth with fresh vegetables. Here, the soup itself is full of summer produce, with plenty of lime and fresh herbs for flavor.
Each bowl of soup is topped off with a few grilled shrimp to add some protein and extra nutrition. Gazpacho is traditionally an appetizer; this would be great as the starting course for any variety of kabobs, grilled steak, or any kind of fresh fish to keep up the Mediterranean theme.
Shrimp And Gazpacho Bowls Recipe
SERVES: 4 PREP: 20 min. COOK: 8 min.
Ingredients
1 lb or 8 large shrimp, peeled and deveined
4 cups tomato juice
1 avocado, chopped
1 cucumber, peeled and chopped
1 bell pepper, chopped
½ red onion, minced
1⁄2 bunch fresh cilantro, chopped
1 tablespoon fresh lime juice
1 lime, quartered
Sea salt and freshly ground black pepper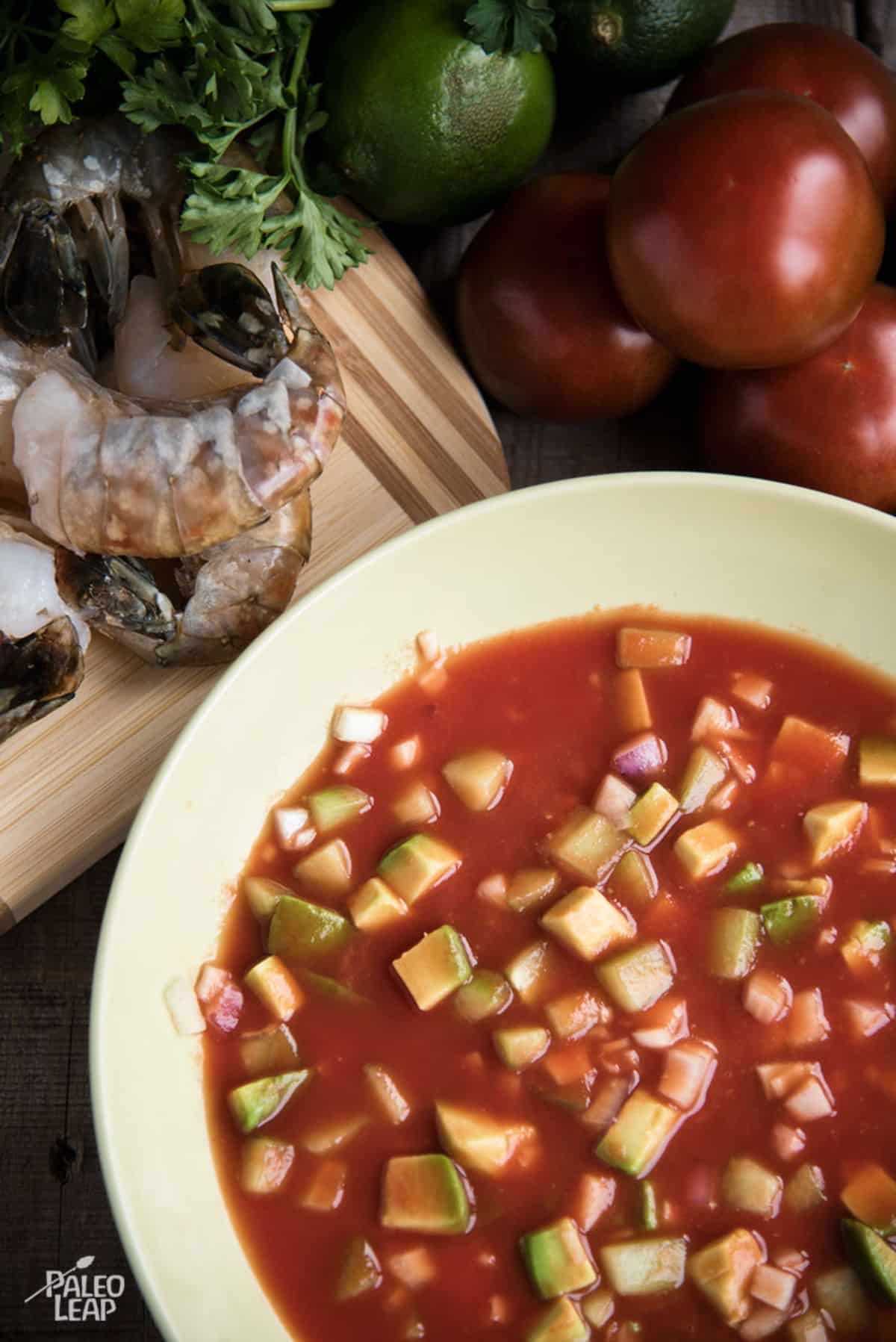 Preparation
In a large bowl, combine the tomato juice, lime juice, avocado, cucumber, bell pepper, and salt and pepper to taste.
Give the soup a gentle stir and refrigerate until cold.
Preheat a grill to medium-high heat.
Season the shrimp to taste and grill for 3 to 4 minutes per side.
Fill four bowls with the cold gazpacho soup, and top each bowl with grilled shrimp and fresh cilantro.
📖 Recipe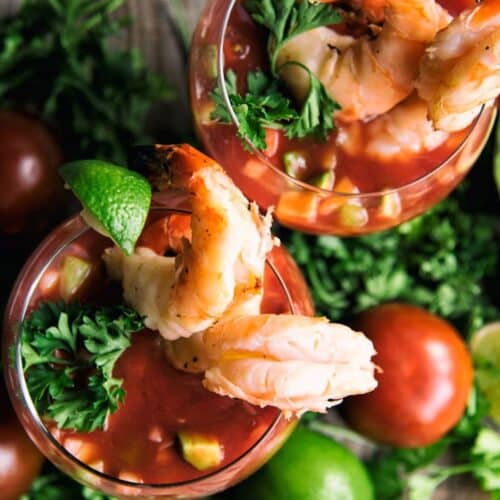 Shrimp And Gazpacho Bowls Recipe
Who says soup is a cold-weather food? This chilled soup is the perfect appetizer for anything on the grill.
Instructions
In a large bowl, combine the tomato juice, lime juice, avocado, cucumber, bell pepper, and salt and pepper to taste.

4 cups tomato juice,

1 avocado,

1 cucumber,

1 bell pepper,

½ red onion,

1 tablespoon fresh lime juice,

Sea salt and freshly ground black pepper,

1 lime

Give the soup a gentle stir and refrigerate until cold.

Preheat a grill to medium-high heat.

Season the shrimp to taste and grill for 3 to 4 minutes per side.

Fill four bowls with the cold gazpacho soup, and top each bowl with grilled shrimp and fresh cilantro.

1 ⁄2 bunch fresh cilantro
Nutrition
Calories:
246
kcal
Carbohydrates:
21
g
Protein:
27
g
Fat:
8
g
Saturated Fat:
1
g
Polyunsaturated Fat:
1
g
Monounsaturated Fat:
5
g
Trans Fat:
0.01
g
Cholesterol:
183
mg
Sodium:
167
mg
Potassium:
1308
mg
Fiber:
6
g
Sugar:
12
g
Vitamin A:
2197
IU
Vitamin C:
97
mg
Calcium:
125
mg
Iron:
2
mg