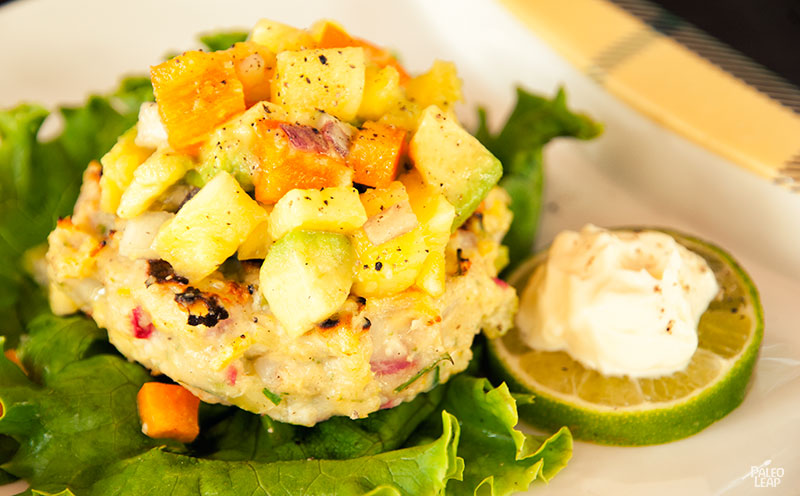 Need a break from beef in your burger? Tuna burgers are one option, but here's another idea: enjoy all the nutritional advantages of shrimp in a new and interesting form with shrimp burgers. These tiny crustaceans are packed with selenium, iodine, magnesium, B vitamins, and other good stuff from the sea – and don't forget to save the shells to make a joint-healing seafood stock that you can use in all kinds of soups (or just eat straight).
Using shrimp as the main protein makes for very light-tasting burgers; they're wonderful if you're going to be eating outside while it's hot. "Light-tasting" isn't just a euphemism for "bland," though: the patties are packed with plenty of fresh herbs and lemon for a nice zip, and you could even add a little bit of hot pepper if you like them spicy.
You wouldn't want to slather these burgers with ketchup or mustard, but that doesn't mean condiments are off the table. A fruity salsa tops off the burgers with a tropical touch: top them off with a scoop of salsa and wrap them up in a lettuce bun, or just serve them over a big plate of salad as a tasty Paleo meal.
Shrimp Burgers with Pineapple-Avocado Salsa Recipe

SERVES: 4

PREP: 20 min.

COOK: 15 min.

Values are per portion. These are for information only & are not meant to be exact calculations.
Ingredients
1 ½ lb. shrimp (any size), peeled, and deveined;
2 tbsp. cilantro, coarsely chopped;
2 tbsp. fresh chives;
1 garlic clove, minced;
¼ cup radishes, minced;
¼ cup celery, minced;
1 tsp. fresh lemon zest;
1 tbsp. lemon juice;
1 egg, beaten;
¼ cup almond meal;
Sea salt and freshly ground black pepper;
Ingredients for the pineapple-avocado salsa
1 cup fresh pineapple, finely chopped;
1 avocado, pitted, peeled, and diced;
¼ cup bell peppers, finely chopped;
2 tbsp. red onion, finely diced;
1 tbsp. fresh lime juice;
1 tbsp. chopped cilantro;
Sea salt and freshly ground black pepper;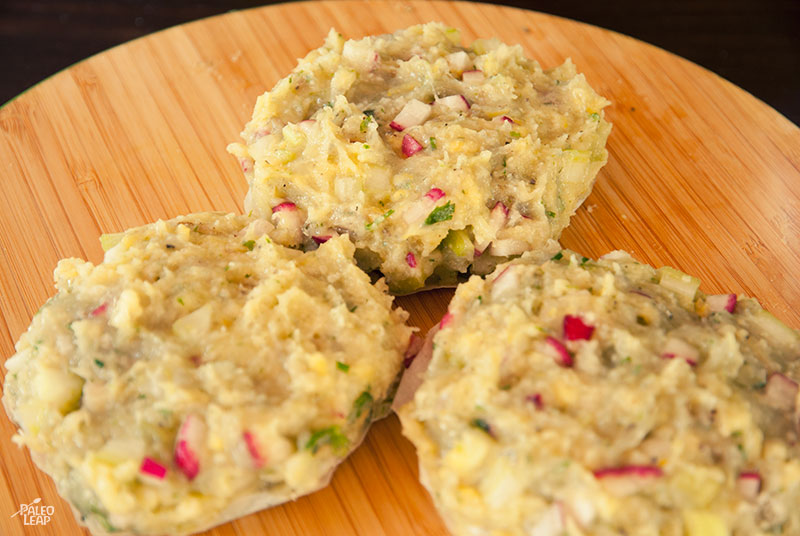 Preparation
Combine all the ingredients for the salsa in a bowl and refrigerate.
Preheat your grill to a medium-high heat.
Combine the shrimp, cilantro, chives, and garlic in a food processor. Pulse until the shrimp are finely chopped.
In a large bowl,  combine the shrimp mixture with the radish, celery, almond meal, beaten egg, lemon zest, and lemon juice. Season to taste with salt and pepper.
Shape the mixture into 4 burger patties.
Grill each burger for 4 to 5 minutes per side, or until cooked through.
Serve the burgers with salsa spooned over top.