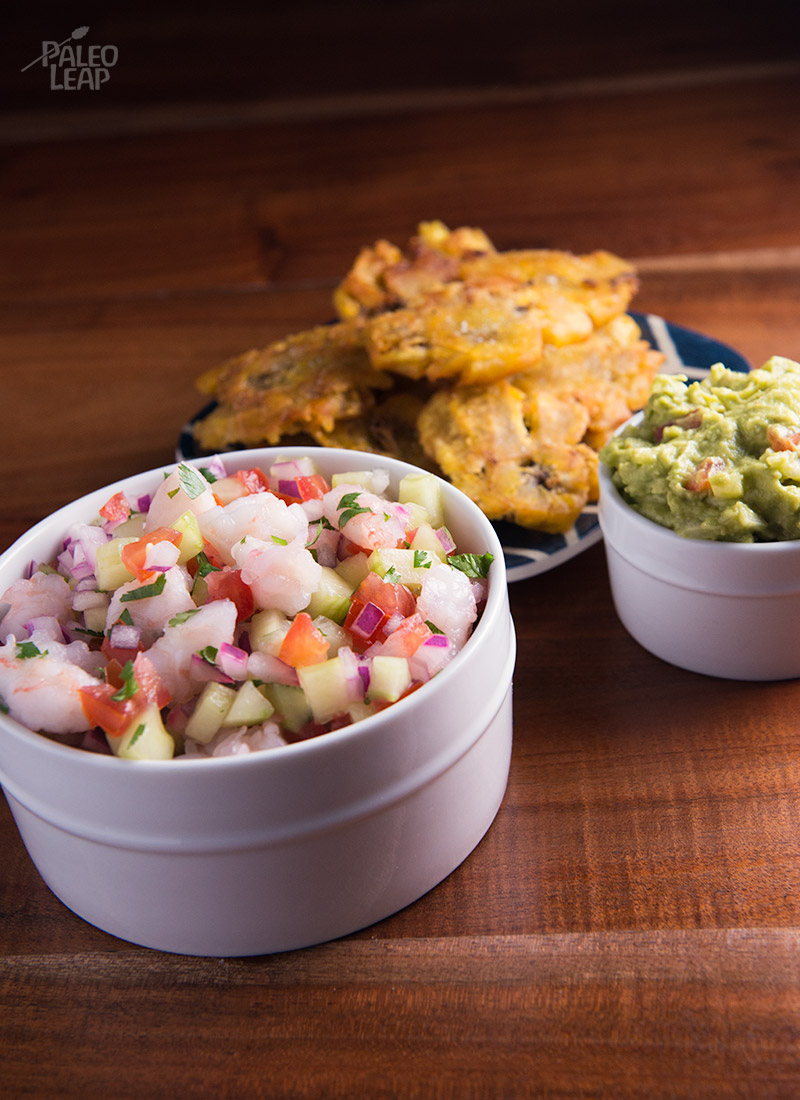 Last weekend we were looking for a new recipe to whip up as an appetizer for a dinner party we were having. We often over-plan and end up with way too much food so we were looking for something light, fresh, and fairly simple to prepare. Instead of scouring the Internet, we decided to look through a few cookbooks and that's when we decided on this shrimp ceviche with tostones from The Ancestral Table cookbook by Russ Crandall. It had everything we were looking for and sounded delicious, so we couldn't wait to try it!
Russ was kind enough to send us a copy of his book and we really like how he covers a wide array of traditional cuisines from all over the world. He focuses on how staple dishes from many cultures naturally follow the basic principles of Paleo. It's a great way to expand your palate and bring new flavorful meals into your regular cooking routine. We also enjoy the quick blurbs Russ included with each recipe on the history behind each dish. The Ancestral Table does follow the Perfect Health Diet version of Paleo so there are many dishes that include white rice, potatoes, and dairy, but there are substitutions given when possible if you're avoiding these for any reason. We asked him if it was okay to share this recipe with everyone and thankfully he said yes.
We've made ceviche before, but never tostones so we were excited to see how they turned out. The recipes are both very easy to follow and you can prepare the tostones while the ceviche is in the refrigerator "cooking". Once starting the prep we realized that the recipe for the ceviche called for a little too much onion for our taste so instead of using 1 whole red onion, we only used 1⁄3 cup. We also changed the cilantro to 1 1⁄2 tablespoons. That's what's nice about this kind of recipe, you can easily adjust the ingredients to your taste. Our favorite part about making the tostones was crushing them in-between a brown paper bag. We served the ceviche and tostones alongside some guacamole just as Russ suggests and it was huge hit! Everyone loved it. This will definitely be a staple recipe for us this summer.
Ancestral Table's Shrimp Ceviche with Tostones Recipe

SERVES: 4

PREP: 20 min.

COOK: 40 min.

Values are per portion. These are for information only & are not meant to be exact calculations.
Ingredients
1/2 lb shrimp, peeled & deveined
1/3 cup red onion, finely chopped
1 cup lime juice
1 small cucumber (Lebanese or Persian), peeled, seeded, and finely diced
2 tomatoes, seeded and finely diced
1 1/2 tbsp fresh cilantro, chopped
Tabasco or homemade Sriracha sauce to taste
Sea salt to taste
Ingredients for the Tostones
3-4 green plantains
1/4 cup coconut oil
Sea salt to taste
Preparation
Place the onions in ice cold water and allow them to soak for about 5 minutes. Drain and set aside.
While the onions are soaking chop the shrimp into 1⁄2-inch pieces and place them into a nonreactive bowl.
Add the lime juice and onion and mix well.
Cover and refrigerate for 40 minutes, or until the shrimp turns opaque and looks cooked. Remove from the refrigerator and drain all but 1⁄4 cup of the lime juice.
Stir in the cucumber, tomatoes, cilantro, and season to taste with the Tabasco or Sriracha sauce and salt.
While the ceviche is in the refrigerator start making the tostones.
Using a sharp knife slice away the peel from the plantains, then cut the plantains into 1-inch slices.
Heat a large sauté pan with the coconut oil over a medium-high heat.
Once hot, about 3 minutes, add the plantains and lightly fry them on all sides, turning every 30 – 60 seconds, until they are bright yellow but not golden brown. Cook them in batches if needed.
Using a slotted spoon or tongs remove the plantains from the pan and transfer them to paper towels to drain. Reserve the coconut oil in the pan.
Allow the plantains to cool then place them in-between 2 brown paper bags, using the bottom of a plate or cutting board put pressure on the plantains to smash them. You don't need to use too much pressure so they are paper thin, you just want them squished.
Once all the plantain slices have been smashed, reheat the oil in the sauté pan over a medium-high heat. Add extra oil if needed.
Add the smashed plantains and fry on each side until golden brown, about 2 minutes per side. Again, if needed cook them in batches.
Remove from the pan and place on paper towels to drain, immediately season with salt to taste.
Once all the tostones are made, serve alongside the ceviche.