Mexican shrimp. Lime juice. 1 chipotle in adobo sauce. Wait, that last ingredient is clearly not in the recipe; our minds have a tendency to wander back to that thick, smoky sauce.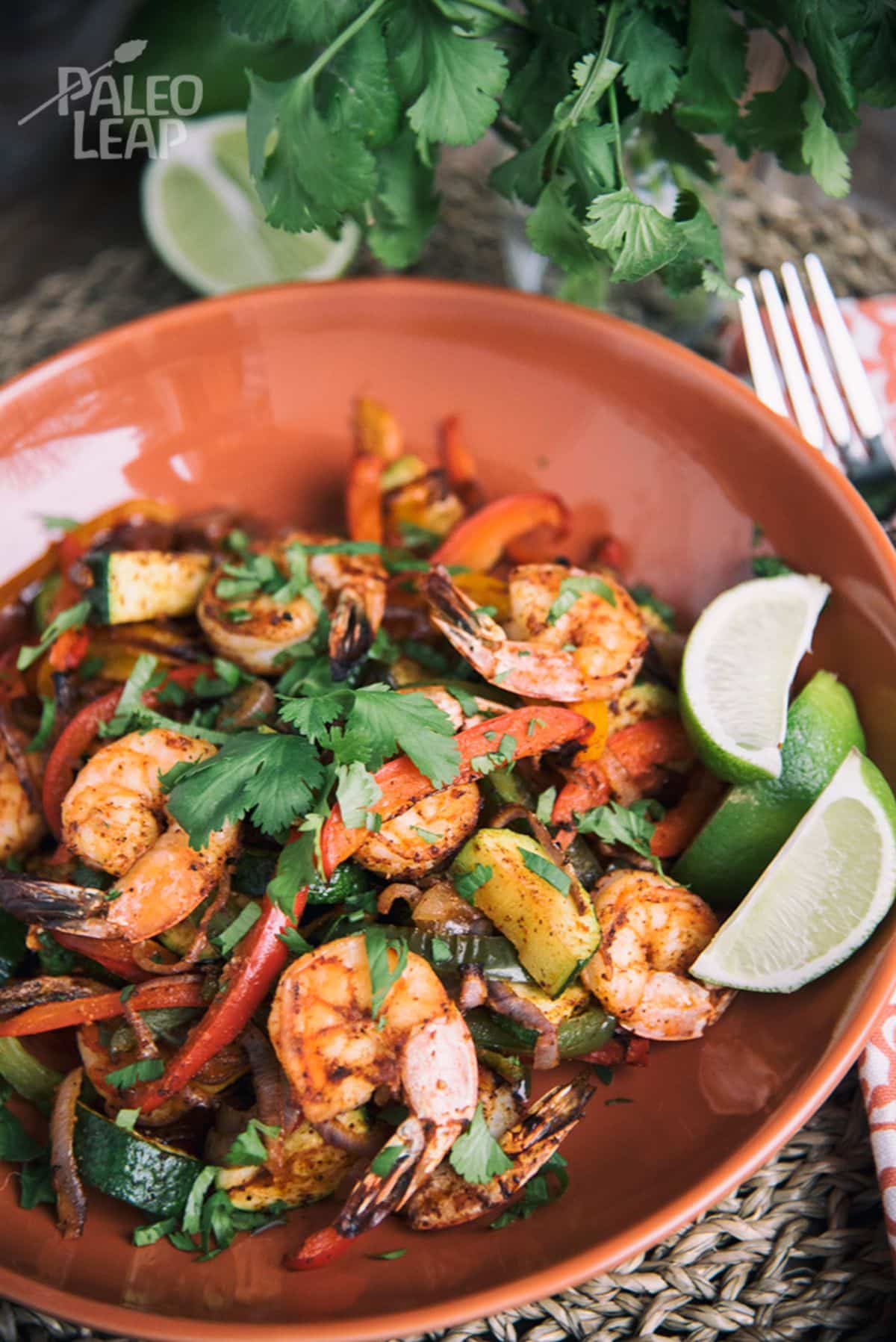 However, if you can make it Paleo, why not add a little more unexpected spice to a shrimp fajita pan? Or let the chili powder, paprika, cumin, garlic, and onion powders work their wondrous magic as they have been doing for eons.
There is something so captivating, even alluring, about Mexican spices that always keep us coming back for more; they even make a beef cabbage skillet all that more enticing.
Spices are essential to keep the love of food and eating alive. Even the humble salt crystal keeps us entertained with various colors and textures from the earth.
Yet, the real star of this meal is the shrimp. One of our favorite seafood dishes is a simple 5-minute spicy shrimp. It is mouthwateringly beautiful, just as these pan-baked shrimp fajitas are.
However, it's not nice to choose sides when there are so many healthy options loaded with incredible flavor, so choose one for now, and make the other recipe later. Trust us; there are plenty of options in between; the only requirement is that you love shrimp.
And we believe that you do, for you are already here. So, let us suggest another shrimp option that you may not have tried yet: how about Paleo hoisin shrimp with mango slices? Sounds delish to us!
Shrimp Fajita Bake Recipe
Serves: 4 Prep: 10 min Cook: 15 min
Ingredients
15 to 20 shrimp, peeled and deveined
1 green bell pepper, thinly sliced
1 red bell pepper, thinly sliced
1 orange bell pepper, thinly sliced
1 red onion, thinly sliced
¼ cup olive oil
2 tsp. chili powder
½ tsp. ground cumin
½ tsp. paprika
½ tsp. garlic powder
½ tsp. onion powder
Juice of ½ lime
Sea salt and freshly ground black pepper
Fresh cilantro and lime wedges to garnish
Preparation
Preheat oven to 450F.
In a large bowl, toss the bell peppers, onion, shrimp, olive oil, and spices. Season to taste.
Grease a baking sheet and spread the shrimp and vegetable mixture in a single layer.
Bake for 12 to 15 minutes, turning halfway.
Serve with lime wedges and fresh cilantro.
📖 Recipe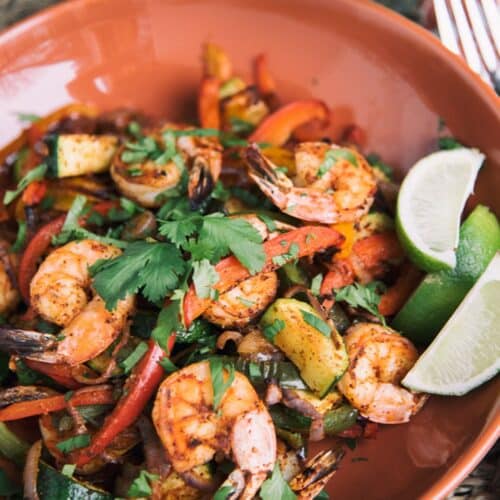 Shrimp Fajita Bake Recipe
Mexican spices are delicately sprinkled over shrimp, tossed together with red, green, and orange bell pepper, and baked for 15 minutes.
Instructions
Preheat oven to 450F.

In a large bowl, toss the bell peppers, onion, shrimp, olive oil, and spices. Season to taste.

15 to 20 shrimp,

1 green bell pepper,

1 red bell pepper,

1 orange bell pepper,

1 red onion,

¼ cup olive oil,

2 tsp. chili powder,

½ tsp. ground cumin,

½ tsp. paprika,

½ tsp. garlic powder,

½ tsp. onion powder,

Sea salt and freshly ground black pepper,

Juice of ½ lime

Grease a baking sheet and spread the shrimp and vegetable mixture in a single layer.

Bake for 12 to 15 minutes, turning halfway.

Serve with lime wedges and fresh cilantro.

Fresh cilantro and lime wedges to garnish
Nutrition
Calories:
179
kcal
Carbohydrates:
10
g
Protein:
5
g
Fat:
14
g
Saturated Fat:
2
g
Polyunsaturated Fat:
2
g
Monounsaturated Fat:
10
g
Cholesterol:
43
mg
Sodium:
179
mg
Potassium:
304
mg
Fiber:
4
g
Sugar:
5
g
Vitamin A:
3016
IU
Vitamin C:
102
mg
Calcium:
47
mg
Iron:
2
mg