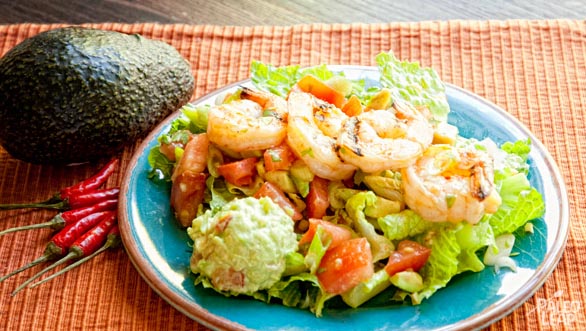 Shrimp aren't very flavorful on their own, but jazzed up with a spicy hot sauce and served on a crunchy salad base, they're anything but boring. They're also full of health benefits, especially their excellent ratio of Omega-3 to Omega-6 fats, and their high level of selenium, an important mineral and antioxidant. As always with seafood, try to get shrimp that are sustainably harvested (look for the Marine Stewardship Council's emblem on the package).
The level of heat in this recipe depends on what kind of hot sauce you like. The easiest way to get any kind of healthy sauce is to make it at home yourself, but if you're OK with a tiny amount of sugar (or if you're willing to spend the time finding a totally sugar-free brand, which is possible but takes some hunting), you can use whatever store-bought kind you like. Alternately, add some minced red pepper instead of the hot sauce for the same spicy kick.
Despite their ratio of O3:O6 fats, shrimp don't have a lot of fat overall, so adding some guacamole to this recipe is a simple way to make it more satisfying and hearty. Especially if you have some avocado leftovers, you can whip up a quick and simple batch of guacamole with more of the same ingredients that you used for the salad – save the extras to snack on later.
Shrimp-topped Mexican Salad Recipe
Values are per portion. These are for information only & are not meant to be exact calculations.
Ingredients
1 lb. shrimp, peeled and deveined;
½ cup green onions, chopped;
1 cup romaine lettuce, chopped;
¼ cup avocado, diced;
1 big tomato, diced;
¼ cup fresh cilantro, minced;
Spicy Vinaigrette Ingredients
3 tbsp.  extra-virgin olive oil;
¼ cup lime juice;
2 tsp. garlic, minced;
1 tsp. ground cumin;
2 tsp. of your favorite hot sauce;
Sea salt and freshly ground black pepper to taste;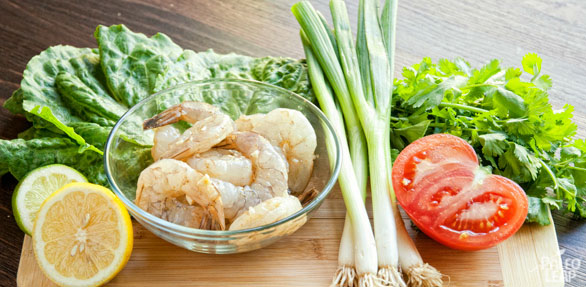 Preparation
Preheat your grill to a medium-high heat.
In a bowl, combine all the ingredients for the vinaigrette and mix well.
Coat all the shrimp with 1 tablespoon of the vinaigrette, and place on the grill. If you skewer the shrimp before grilling them, they'll be easier to handle, but it's not required that you do so. Cook for 6 to 8 minutes, turning them once. Remove from the grill and set aside.
In a salad bowl, add all the ingredients except for the cooked shrimp. Add the remaining vinaigrette and toss gently.
Serve the shrimp on top of the salad with some fresh homemade guacamole if desired.