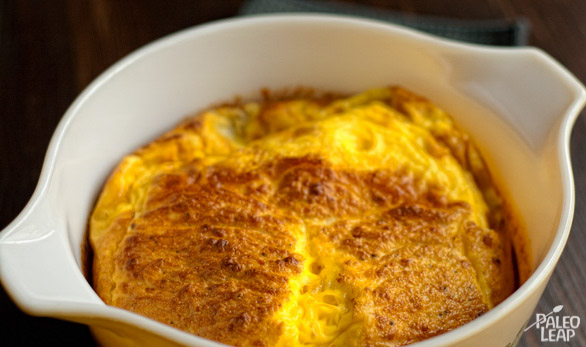 In this simple breakfast recipe, eggs and coconut milk make for an endlessly versatile base that's easy to customize with any kind of meat or vegetables. Cheese is a traditional companion to eggs if you tolerate dairy well, but it's not necessary and there are plenty of delicious options without. Try ham, spinach, and onions for a classic breakfast omelet taste, add some starch to a post-workout breakfast with sweet potato baked in, or get creative with basil and tomatoes for an Italian touch.  Jalapeno peppers or chili powder would add a spicy kick to start the morning, and bacon cooked right into the eggs is a new way to include a favorite Paleo treat.
Some people are wary of almond flour because of the high amount of O6 PUFA in almonds. In this recipe, the amount of almond flour is so small that it barely matters, but you could just as easily make the soufflé with coconut flour, tapioca starch, or any other Paleo-friendly flour.
This is a perfect easy breakfast for a lazy Saturday morning, but it works just as well as an alternative to takeout pizza after a long day at work. And if you can't think of what to put in it, just open up the fridge – it's a great way to use up any leftovers that aren't quite enough to make a meal.
Simple egg soufflé recipe

SERVES: 4

PREP: 10 min.

COOK: 30 min.

Values are per portion. These are for information only & are not meant to be exact calculations.
Ingredients
12 large eggs;
1 cup of coconut milk;
1 tsp. onion powder;
1 tsp. baking powder;
1 ½ tbsp. Almond flour;
Cooking fat;
Sea Salt and freshly ground black pepper;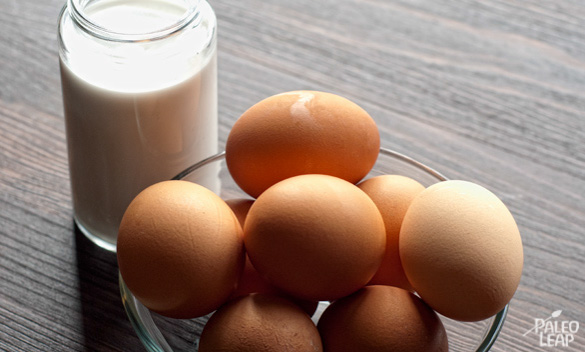 Preparation
Preheat your oven to 375 F.
Apply cooking fat on the bottom of an oven ready cooking round dish of about 9 inches in diameter.
In a small bowl, combine the almond flour, baking powder, and onion powder.
In a big bowl, break all the eggs and add the coconut milk, then mix them well together.
Incorporate the mixture of almond flour with the eggs, and use an electric mixer or a hand whisker to mix it all until smooth.
Pour the mixture in the cooking dish and place in the oven.
Cook the eggs for about 30 minutes, or until the top gets a nice golden color.