It's a weekend afternoon and I am hosting the guys, it can only mean one thing of course, ribs will be served. By no means am I insinuating that ribs are exclusively a men's thing, but the ladies seem to not favor the idea of the "finger food" as much as their counterparts. But ladies, don't runaway from this recipe too quickly, just don't expect to have clean fingers while enjoying those delicious ribs. The dirty finger factor from eating those ribs is one reason more why kids will enjoy those as well.
The slow-cooker has come out for this one. I have so many other things on the go that the idea of just throwing a bunch of stuff and some meat in a big pot for the day to self cook is so attractive! So this is what I have done. As much as it was a quick decision to make, I did take the time to really consider what I was going to blend together to make the ribs super tasty. From experience, I know that this particular group is quite fond of the sweet and sour combination, so I used homemade ketchup on one side of the spectrum and then countered that with some apple cider vinegar. It can be quite an experiment if you don't have your portions right, but in the end it really worked out for the better.
I personally love cooking ribs in the slow-cooker, because the meat truly falls off the bone when its finished. There's limited fuss and lots of flavor. Also, so long as you are good to not overcook the meat, this method of cooking really works well to retain the moisture and keep the meat really juicy.
I used spare ribs for this recipe, but baby back ribs could also be used instead. Compared to baby back ribs, spare ribs have more meat and are also fattier, so the end result is usually more tender. If you decide to prepare baby back ribs instead, the cooking time will probably be reduced because of the fact that they contain less meat. If uncertain about the type of ribs you're buying, simply ask your butcher and he'll be able to explain it all.
Those slow cooked ribs are excellent when served with a simple coleslaw, like one of those found in the cookbook. The beet and walnut salad is also a great choice to go along that dish.
Slow cooked pork ribs recipe
Serves 4

Values are per portion. These are for information only & are not meant to be exact calculations.
Ingredients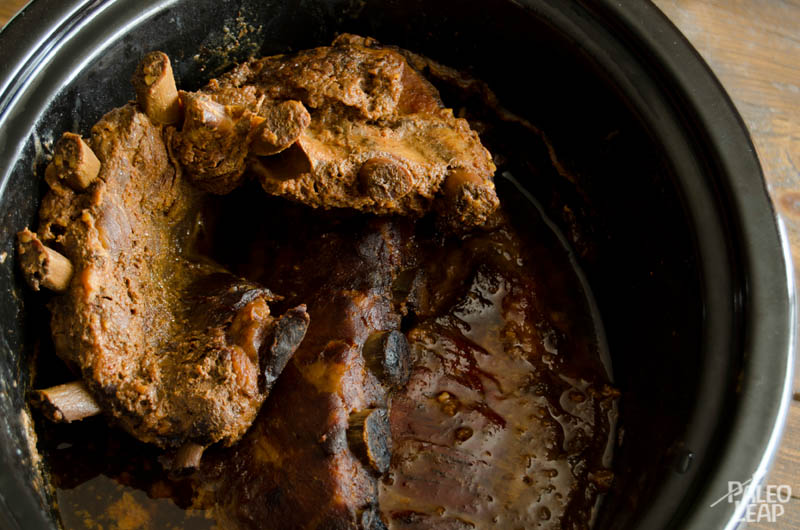 Preparation
It's really quite easy to get this recipe started. In the slow-cooker pot, combine all the ingredients except for the ribs.
Give it a real good mix, because when you cook this way, you don't have to stop and stir; therefore you want to make sure the sauce is consistent and you don't get flavors in one bite that you won't get in another.
Once everything is combined, give the ribs a good rub with the sauce, place them in the pot, cover and cook on low heat for 8 hours. The cooking time may be long, but the reward is well worth it.
Serve the ribs with the cooking liquid as a sauce.