If you have a slow cooker and use it often, perhaps you also adore Mexican food; then you are going to love this recipe! With a prep time of just 25 minutes or less, it can't be beaten - all ingredients go into the pot at once, and in a matter of hours, dinner is ready.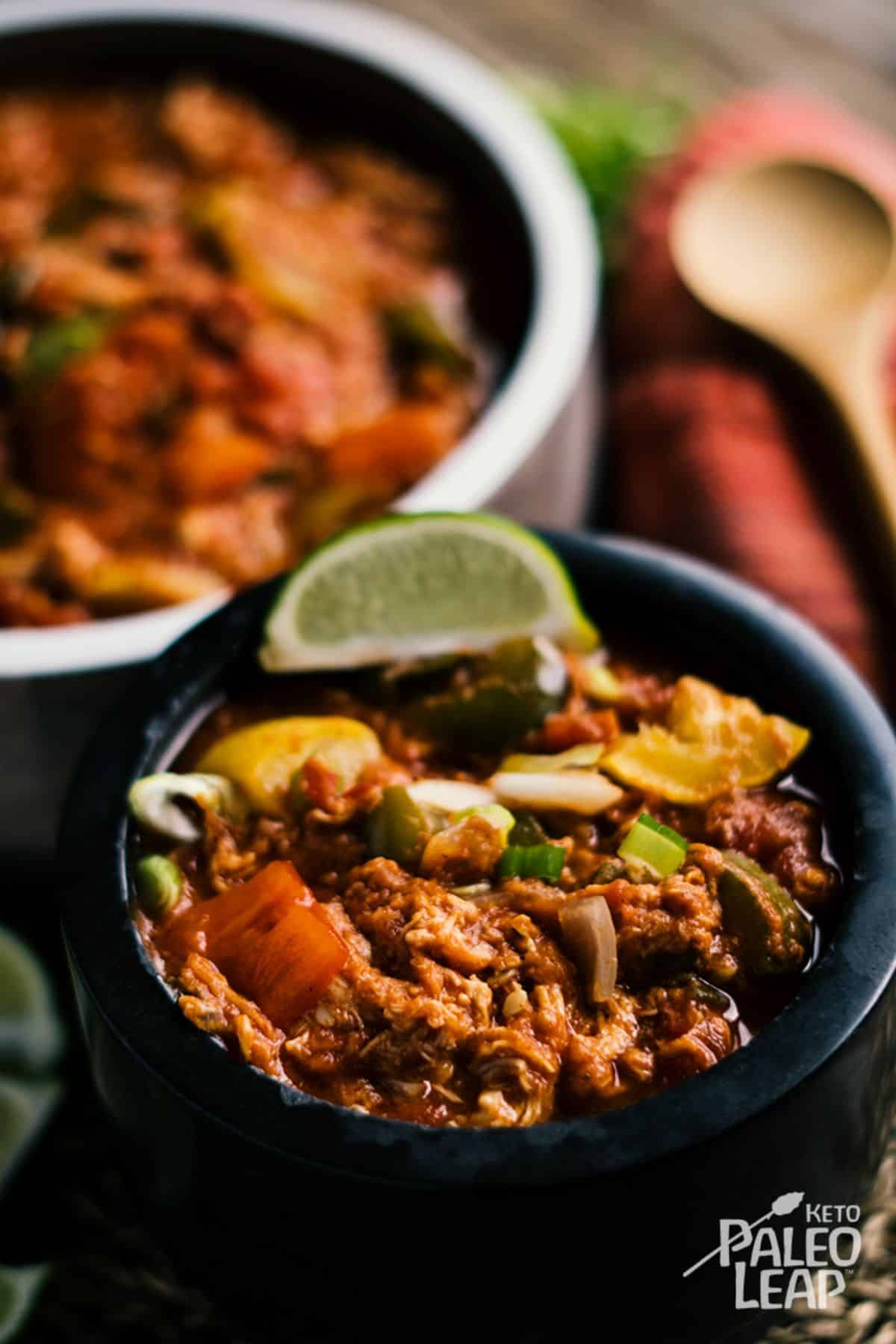 There is no need to do anything else except prepare a fresh salad right before eating. That leaves you free to work, play, shop, and live life, all the while being productive. You have to love the freedom of efficiency on some days!
Slow-cooker chicken is a lifesaver when it comes to preparing weekday lunches, but sometimes it takes a myriad of spices and vegetables to really give the chicken a burst of character. As far as we know, Mexican food always hits the spot when it comes to blends of spices.
Indulge in a large dollop of Paleo sour cream (potatoes aren't Keto, but the full-fat coconut milk certainly is!) on top of your Mexican chicken, and add a squeeze of fresh lime for the ultimate tang.
If you are in need of a few more healthy bites of fat, feel free to include your favorite cheese or ripe avocados if you have them on hand.
As always, adjust the spiciness to your family's liking by holding back on the jalapeño or chili powder. However, if you believe that "spice is nice", then don't hold back; add some freshly chopped hot pepper just before serving.
Keto Slow-Cooker Mexican Chicken Recipe
Serves: 4 Prep: 25 min Cook: 6 h
Ingredients
1 lb. boneless, skinless chicken breasts
1 bell pepper, sliced
1 zucchini, chopped
½ red onion, diced
1 jalapeño, minced (optional)
1.5 cups tomatoes, diced
2 garlic cloves, minced
1-2 tbsp. chili powder, or to taste
2 tbsp. ground cumin
1 tsp. paprika
1 cup tomato sauce
1 cup chicken or beef stock
Fresh cilantro (to garnish)
Sea salt and freshly ground black pepper
2 avocados, sliced (to serve)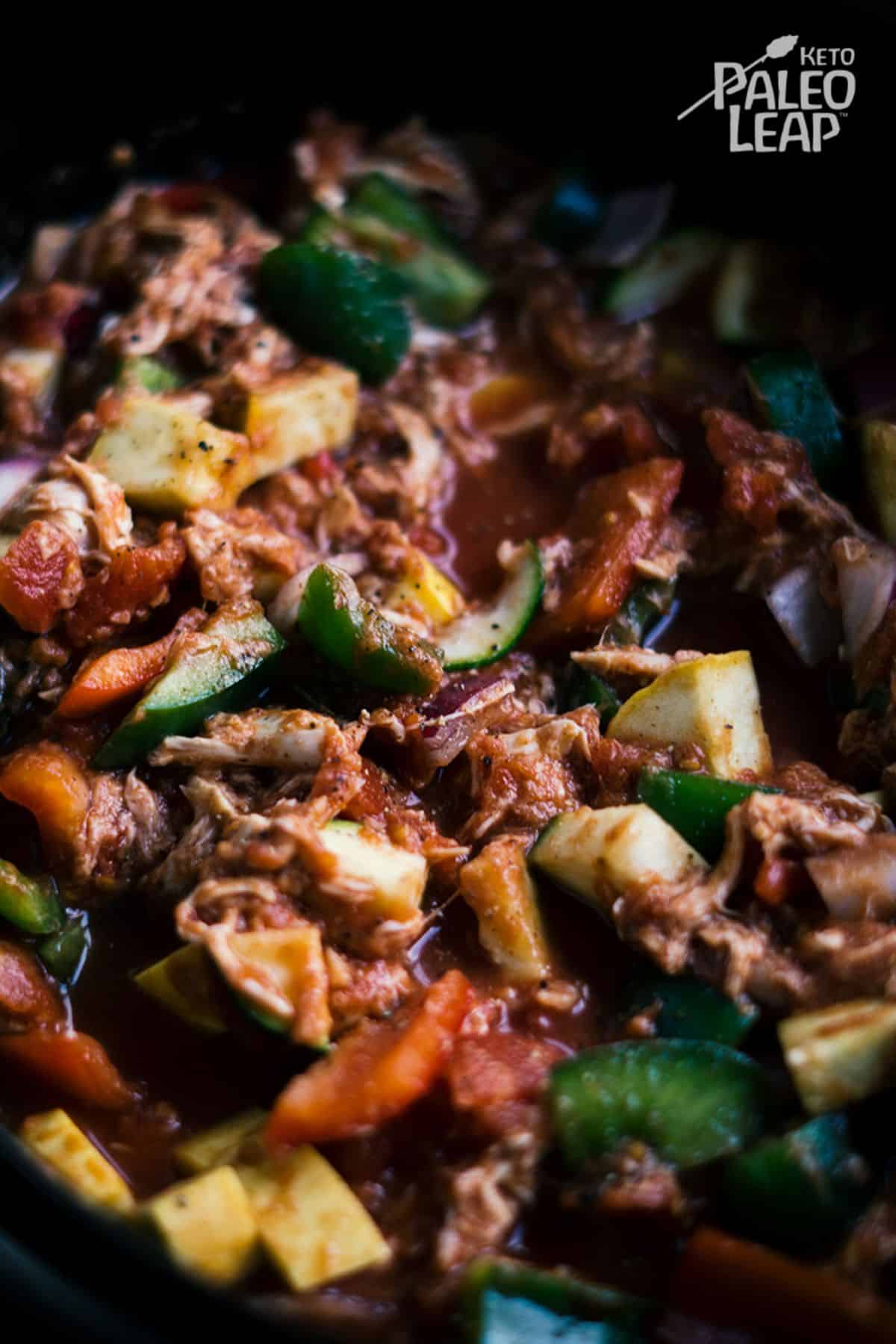 Preparation
Place the chicken breasts in the bottom of a slow cooker.
Top with all the remaining ingredients and season generously with sea salt and freshly ground black pepper.
Cover and cook on low for 6 to 8 hours or high for 4 to 5 hours.
Once the chicken is cooked through and no longer pink, remove it from the slow cooker.
Shred the chicken with a fork and mix well.
Serve topped with fresh cilantro and avocado.
📖 Recipe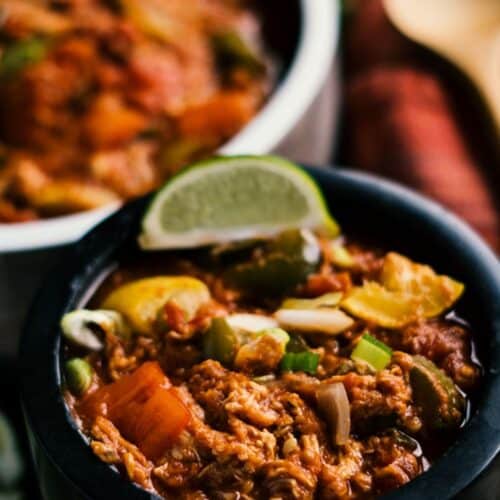 Keto Slow-Cooker Mexican Chicken Recipe
Prepare an amazingly flavorful dinner while you work or run errands, and come home to the delightful scent of keto slow-cooker Mexican chicken.
Instructions
Place the chicken breasts in the bottom of a slow cooker.

Top with all the remaining ingredients and season generously with sea salt and freshly ground black pepper.

1 bell pepper,

1 zucchini,

½ red onion,

1 jalapeño,

1.5 cups tomatoes,

2 garlic cloves,

1-2 tbsp. chili powder,

2 tbsp. ground cumin,

1 tsp. paprika,

1 cup tomato sauce,

1 cup chicken or beef stock,

Sea salt and freshly ground black pepper

Cover and cook on low for 6 to 8 hours or high for 4 to 5 hours.

Once the chicken is cooked through and no longer pink, remove it from the slow cooker.

Shred the chicken with a fork and mix well.

Serve topped with fresh cilantro and avocado.

Fresh cilantro,

2 avocados
Nutrition
Calories:
460
kcal
Carbohydrates:
30
g
Protein:
33
g
Fat:
27
g
Saturated Fat:
7
g
Polyunsaturated Fat:
3
g
Monounsaturated Fat:
16
g
Trans Fat:
0.5
g
Cholesterol:
75
mg
Sodium:
695
mg
Potassium:
1916
mg
Fiber:
13
g
Sugar:
11
g
Vitamin A:
3442
IU
Vitamin C:
72
mg
Calcium:
173
mg
Iron:
11
mg