The best recipes are simple: apply a seasoning rub to a cut of meat, cook low and slow, then finish off over high heat with a flavorful sauce. And this recipe is no different! Pork tenderloin is a lean cut of meat that turns tender and retains its moisture when cooked in a slow cooker.
The beautiful thing about slow cookers is the set it and forget it (well, sort of) feature; prepare the pork loin in the morning, then make the sauce and broil or grill when you arrive home.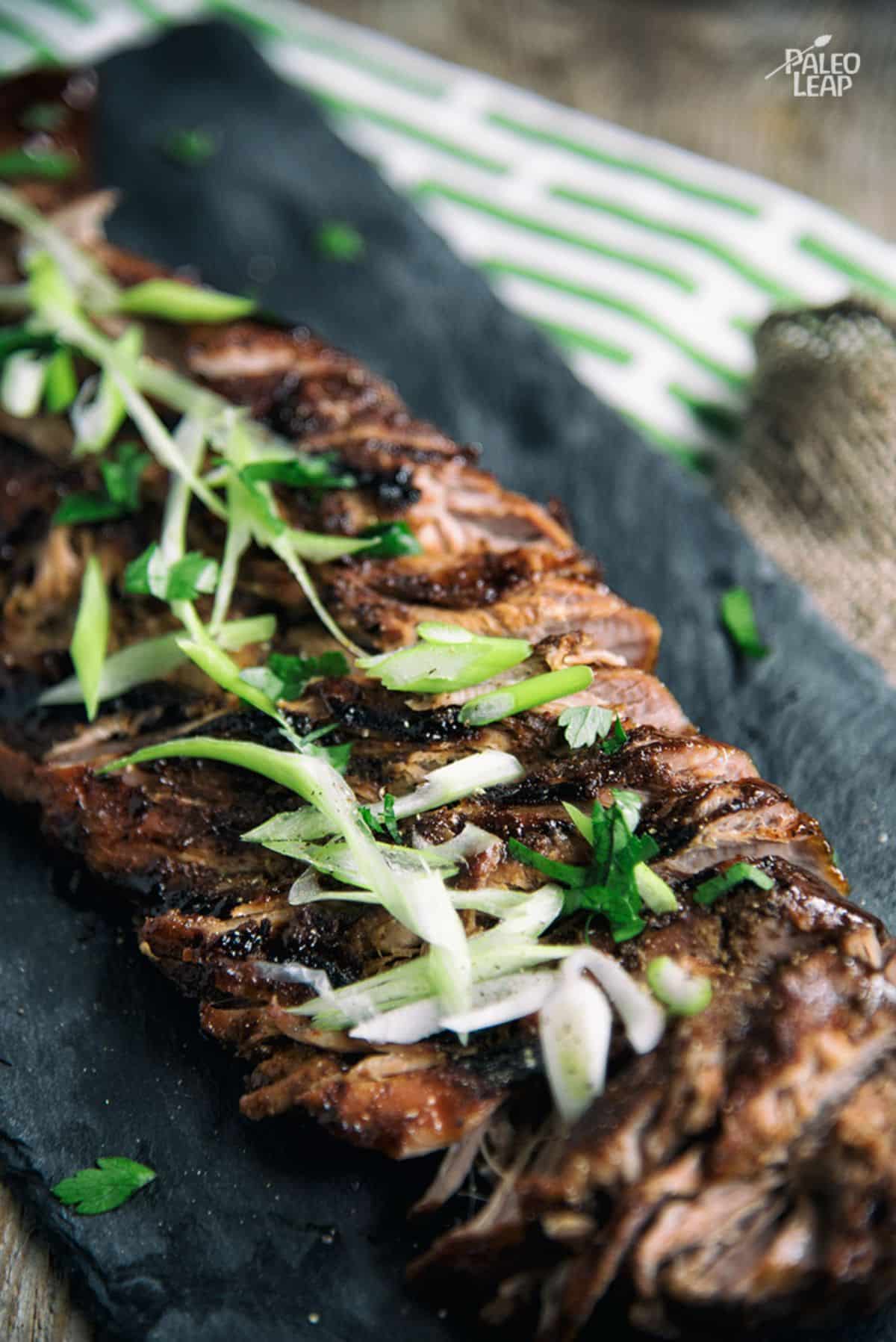 The bold Garlic-Ginger Sauce brings this dish home. Combine all the sauce ingredients and bring to a boil, stirring occasionally, then reduce heat and allow the sauce to simmer and thicken a bit.
The sliced knob of ginger, alongside the honey and coconut aminos makes for a sweet, savory, and spicy sauce. To the delight of your taste buds, the cooked tenderloin will soak up this sauce as you're basting it.
Serve the tenderloin with a side salad or roasted vegetables. If you have leftover meat, store it in a container in the fridge and enjoy it for leftovers the next day.
Slow Cooker Pork Tenderloin With Garlic-Ginger Sauce Recipe
Serves: 4 Prep: 15 min Cook: 6 H
Ingredients
2 lb. pork tenderloin
1 tsp. ground ginger
½ tsp. ground cinnamon
1 tsp. garlic powder
½ tsp. crush red pepper flakes
½ cup chicken stock
¼ cup apple cider vinegar
½ cup. water
2 to 4 tbsp. raw honey (optional)
2 tbsp. coconut aminos
2 tsp. fresh ginger, minced
2 garlic cloves, minced
1 green onion to garnish
Fresh parsley to garnish
Sea salt and freshly ground black pepper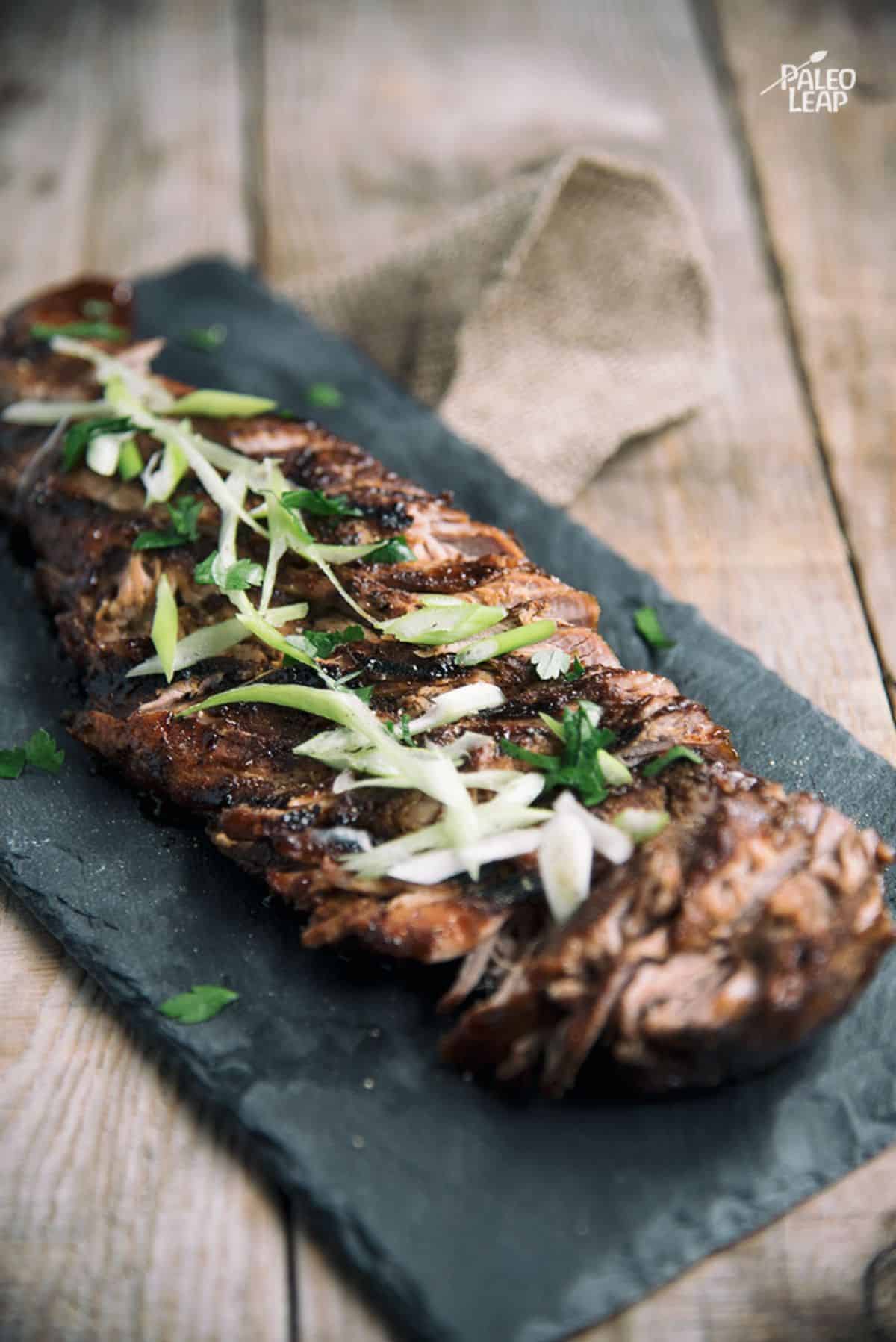 Preparation
In a small bowl, combine the ground ginger, ground cinnamon, garlic powder, and crushed red pepper and season to taste.
Rub the pork tenderloin with the ginger-cinnamon mix.
Place the tenderloin in a slow cooker, and pour the chicken stock around the pork.
Cook on low for 6 to 8 hours.
In a small saucepan over medium-high heat, add the apple cider vinegar, water, raw honey, coconut aminos, minced ginger, and minced garlic, and season to taste. Bring to a boil, slightly reduce heat, and simmer for 4 to 5 minutes.
Preheat the broiler or grill to high.
Remove tenderloin from the slow cooker and brush generously with the ginger-garlic sauce.
Grill or broil for 1 to 2 minutes per side, basting with the sauce every time.
Serve topped with green onions and fresh parsley.
📖 Recipe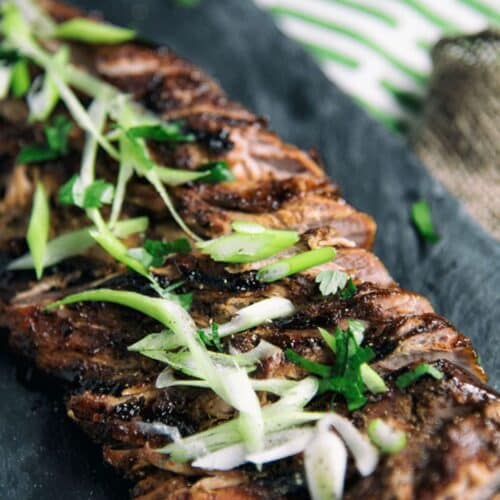 Slow Cooker Pork Tenderloin With Garlic-Ginger Sauce Recipe
A seasoned pork tenderloin cooked low and slow, then basted in a sweet and spicy garlic-ginger sauce.
Instructions
In a small bowl, combine the ground ginger, ground cinnamon, garlic powder, crushed red pepper and season to taste.

1 tsp. ground ginger,

½ tsp. ground cinnamon,

1 tsp. garlic powder,

½ tsp. crush red pepper flakes,

Sea salt and freshly ground black pepper

Rub the pork tenderloin with the ginger-cinnamon mix.

Place the tenderloin in a slow cooker, and pour the chicken stock around the pork.

Cook on low 6 to 8 hours.

In a small saucepan over medium-high heat, add the apple cider vinegar, water, raw honey, coconut aminos, minced ginger, minced garlic, and season to taste. Bring to a boil, slightly reduce heat, and simmer for 4 to 5 minutes.

¼ cup apple cider vinegar,

½ cup. water,

2 to 4 tbsp. raw honey,

2 tbsp. coconut aminos,

2 tsp. fresh ginger,

2 garlic clove,

Sea salt and freshly ground black pepper

Preheat broiler or grill to high.

Remove tenderloin from slow cooker and brush generously with the ginger-garlic sauce.

Grill or broil 1 to 2 minutes per side, basting with the sauce every time.

Serve topped with green onions and fresh parsley.

1 green onion,

Fresh parsley
Nutrition
Calories:
341
kcal
Carbohydrates:
15
g
Protein:
48
g
Fat:
9
g
Saturated Fat:
3
g
Polyunsaturated Fat:
1
g
Monounsaturated Fat:
3
g
Trans Fat:
0.1
g
Cholesterol:
148
mg
Sodium:
341
mg
Potassium:
1041
mg
Fiber:
1
g
Sugar:
9
g
Vitamin A:
389
IU
Vitamin C:
4
mg
Calcium:
34
mg
Iron:
3
mg