This is one of the most beautiful and mouthwatering stews, where you will find chicken, butter, bacon, mushrooms, and red wine altogether - in perfect harmony. Now, we all know that red wine is usually the go-to choice for roast beef with thyme, or darker meats in general.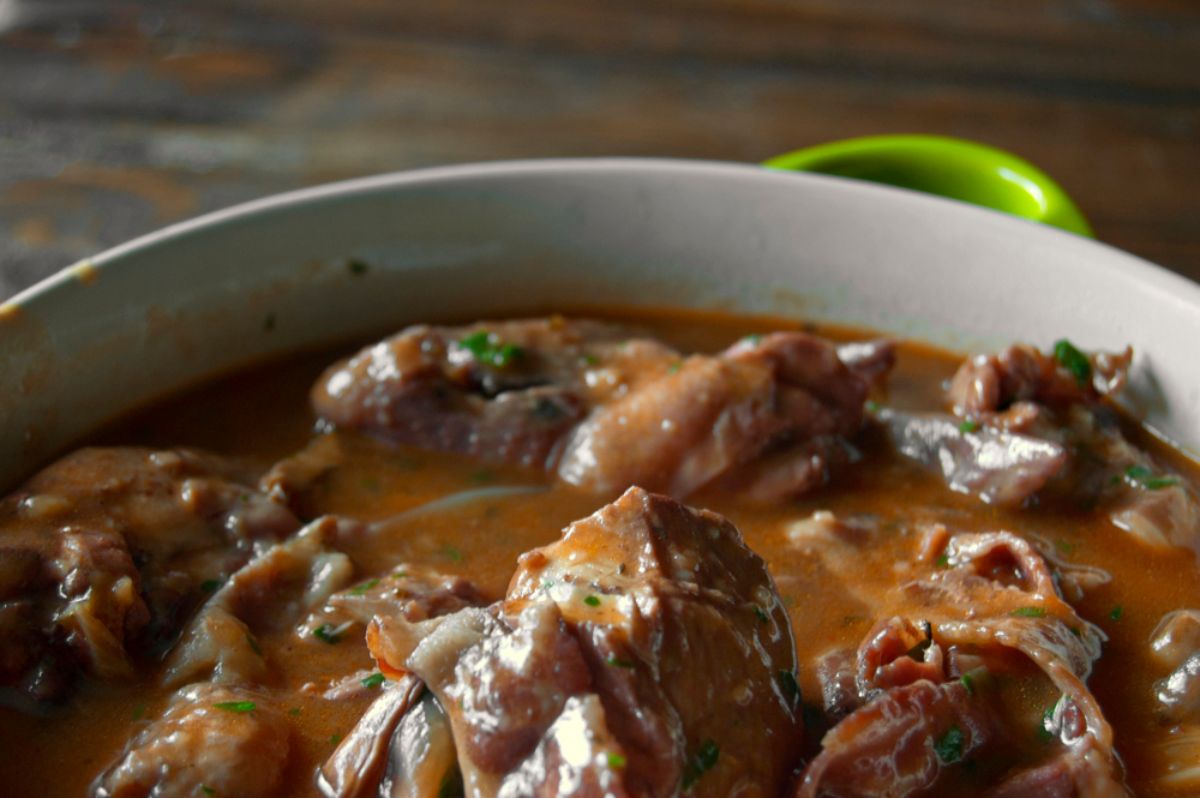 But red wine and chicken? Shouldn't it be marinated in white wine? Sometimes, but not always, is the quick answer. There are no hard and fast rules, though don't necessarily go with the cheapest wine.
If your body prefers red wine, choose one that you don't mind drinking a glass of, and embrace it and marinate away!
The next thing to consider is the chicken. When you choose to take on a Paleo lifestyle, it requires loads of changes, some of which can be completely overwhelming at first.
You'll encounter new ingredients, undiscovered recipes, and meal planning... Yet, it is very often what we eat which determines whether we are vibrantly healthy, or, all too often, unwell.
This also relates to the animals we consume. Now, more than ever, it is important to think about where your food comes from, and to question how it was raised.
Hopefully, you can find the locally grown chicken in your area, perhaps even get to meet the farmers themselves, then try the store. Where there is a will, there is a way. If you are determined to eat healthy now and into the next year, keep recreating Paleo recipes, and loving every bite!
Stewed Chicken And Vegetables Recipe
Serves: 4 Prep: 45 min Cook: 1 h 15 min
Ingredients
1 3 lb. chicken
½ bottle of red wine
1 bay leaf
2 sprigs of fresh thyme
4 oz. bacon, diced
¼ cup grass-fed butter or ghee
10 pearl onions
9 oz. white mushrooms
1 tsp. olive oil
2 cups chicken stock
1 tsp. tomato paste
2 tbsp. fresh parsley, finely chopped
Preparation
Cut chicken into eight pieces: 2 drumsticks, 2 thighs, 2 wings, and 2 breasts.
Allow the chicken to marinate in wine, with the bay leaf and thyme for at least half an hour.
In a medium skillet over medium heat, fry the bacon until golden brown. Remove from the pan and set aside.
In the same skillet over medium heat, melt 2 tablespoons of the butter and sauté the mushrooms and onions. Cook for about 5 minutes, or until the mushrooms and onions are golden browns. Remove from the pan and set aside.
Drain the chicken and set the remaining marinade aside. Melt the remaining butter in the frying pan and add the chicken. Sauté briefly to allow all sides of the chicken to brown.
Transfer the chicken to a large saucepan and add the remaining marinade and stock. Also, add the onions, mushrooms, bacon, and tomato paste. Cook over medium heat for about 45 minutes.
📖 Recipe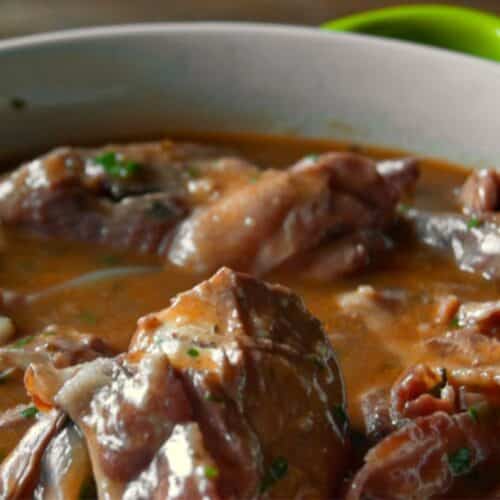 Stewed Chicken And Vegetables Recipe
You'll find half a bottle of red wine in this stewed chicken recipe list. Soak your chicken in your favorite Pinot noir for a rich and tasty stew.
Instructions
Cut chicken into eight pieces: 2 drumsticks, 2 thighs, 2 wings, 2 breasts.

Allow the chicken to marinate in wine, with the bay leaf and thyme for at least half an hour.

½ bottle red wine,

1 bay leaf,

2 sprigs fresh thyme

In a medium skillet over medium heat, fry the bacon until golden brown. Remove from the pan and set aside.

4 oz. bacon,

1 tsp. olive oil

In the same skillet over medium heat, melt 2 tablespoons of the butter and sauté the mushrooms and onions. Cook for about 5 minutes, or until the mushrooms and onions are golden brown. Remove from the pan and set aside.

¼ cup grass-fed butter or ghee,

10 pearl onions,

9 oz. white mushrooms

Drain the chicken and set the remaining marinade aside. Melt the remaining butter in the frying pan and add the chicken. Sauté briefly to allow all sides of the chicken to brown.

Transfer the chicken to a large saucepan and add the remaining marinade and stock. Also add the onions, mushrooms, bacon and tomato paste. Cook over medium heat for about 45 minutes.

2 cups chicken stock,

1 tsp. tomato paste,

2 tbsp. fresh parsley
Nutrition
Calories:
952
kcal
Carbohydrates:
15
g
Protein:
73
g
Fat:
66
g
Saturated Fat:
19
g
Polyunsaturated Fat:
13
g
Monounsaturated Fat:
28
g
Trans Fat:
0.4
g
Cholesterol:
277
mg
Sodium:
618
mg
Potassium:
1194
mg
Fiber:
2
g
Sugar:
7
g
Vitamin A:
1158
IU
Vitamin C:
23
mg
Calcium:
74
mg
Iron:
5
mg