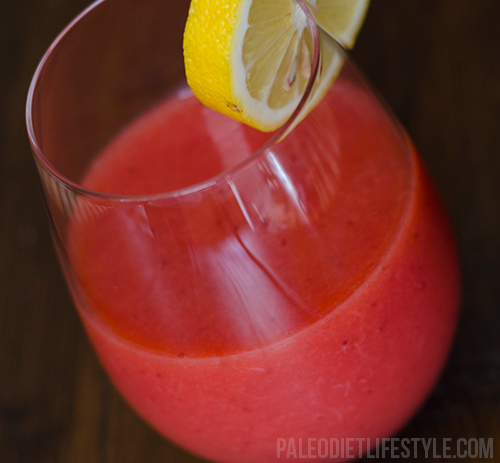 It seems as though the seasons have been a little confused lately (at least where I'm from). We may just be skipping out on Spring this year and jumping right into Summer. I guess I shouldn't really complain, as I could totally live without the rain. But then to think of what these odd temperatures will do to my garden.
It's my first year planting all my herbs and vegetables from seed and I'll be disappointed if mother nature is not on my side about that.
Anyway, I've decided to embrace the warmer temperatures and bring out all my favourite summer recipes earlier. This home-made lemonade tops the list! It's the best drink to have on a scorcher, sitting pool side and soaking in the rays for some free vitamin D. It's also great because it's quite filling at the same time. Make sure you have very ripe and juicy strawberries on hand and rhubarb from your garden is always the best option. In fact, if you ever find yourself with too much rhubarb, chop it up and freeze it for later use. I still have leftovers from last summer in my freezer and I'm often adding it to smoothies.
This is officially the first recipe on the website where I use rhubarb, a weird, but fascinating plant. What's consumed when eating rhubarb is the petiole, also called stalk. The leaves contain high levels of compounds that are toxic like oxalic acid and shouldn't be consumed. The stalks are rarely consumed raw because of their very tart taste and the levels of oxalic acids that are still high, even though not nearly as high as in the leaves. In that sense, rhubarb stalks were probably not consumed very frequently by our ancestors, but then again, we shouldn't be trying to blindly imitate them.
Many people are looking for more Paleo options for drinks and beverages other than smoothies, so this is definitely one great option. A very refreshing drink that's perfect for very hot days and that kids will love even if it's not loaded with refined sugar. It's also loaded with vitamin C from all the fresh lemon juice so it's a great immune booster.
Common lemonade recipes similar to this one often call for some added sugar, but this lemonade is sweet enough on its own from the lemon juice and strawberry that it doesn't need the addition of any unhealthy sweetener.
Strawberry Rhubarb Lemonade Recipe
Serves 6

Values are per portion. These are for information only & are not meant to be exact calculations.
Ingredients
3 1/2 cups water;
1 lb rhubarb, chopped into 1 inch pieces;
zest of 2 lemons;
3 cups fresh strawberries, halved;
1 1/2 cups freshly squeezed lemon juice;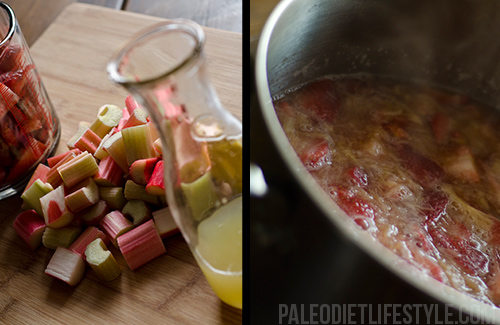 Preparation
In a large pot combine the water, rhubarb and lemon zest. Allow it to come to a boil. Once boiling, reduce the heat and continue to simmer for approximately 15 minutes. At this point, add the strawberries and cook for another 2 to 3 minutes.
Remove the pot from the heat and allow it to cool completely. Once the mixture is at room temperature, use a hand blender to purée it all. When a smooth texture takes form, stir in the lemon juice. You may find you do not need all the lemon juice, so add it in portions until you feel it's enough from the taste of it.
Place the lemonade in the refrigerator until very cold before serving.