Soup is always welcomed, especially in the cold wintertime when the extra heat from a hot soup can be very comforting.
It's a great way to consume healthy amounts of delicious and nutritious homemade stock. It's also a good way to use all kinds of vegetable scraps from your refrigerator in need of a vocation, especially with a puréed soup where nobody will ever notice your clever use of many disparate vegetables.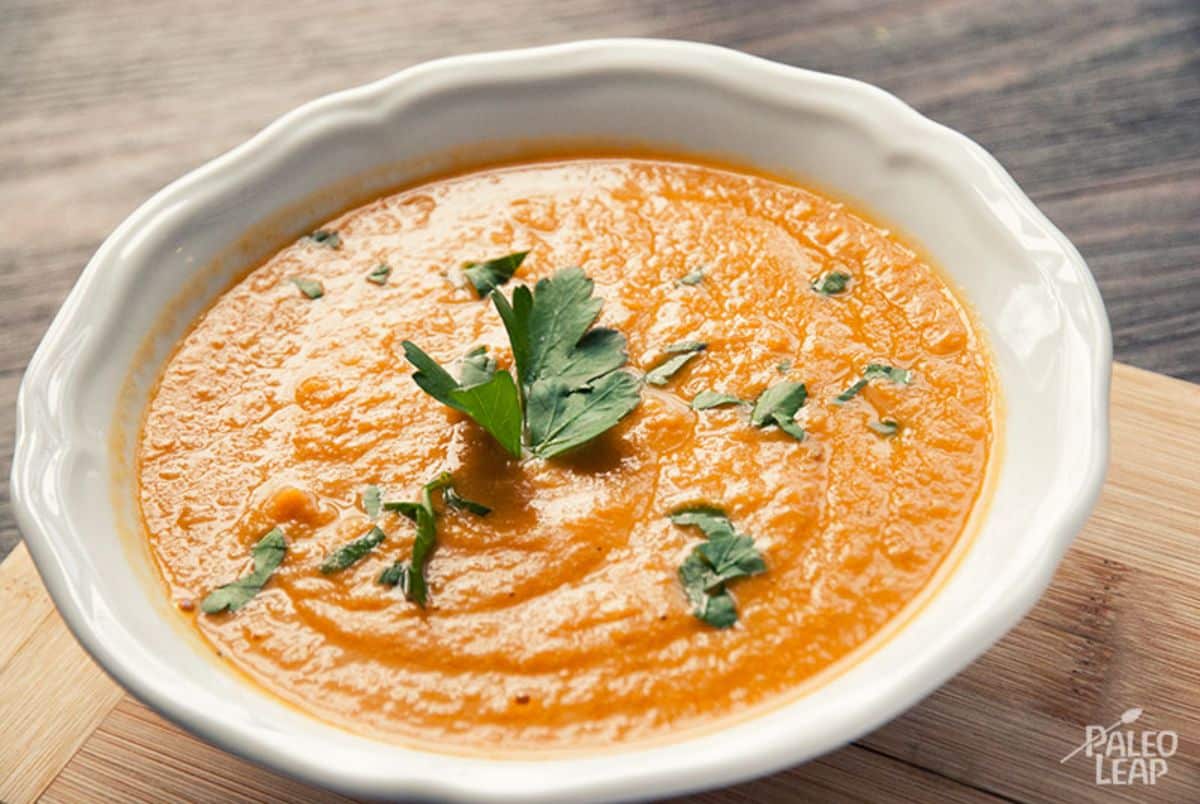 The following soup is different from many others in the use of sausage meat to give it a spicy taste and a great consistency. It'll also be a soup that's more filling than your usual watery soup.
Chorizo is a great choice of sausage for this soup, but any good quality spicy pork sausage will do. Choose sausages that come from your local farmer or butcher, which you know are only made from good and whole ingredients without any fillers or gluten. It's even better if you choose a sausage made from pasture-raised meat.
Chorizo is a type of spicy pork sausage originating mainly from Spain, but that also has its own adaptation in many European countries. It has become a highly popular sausage and is now available all over the U.S. at butchers and specialty meat and sausage shops.
The original Spanish chorizo, as well as the Portuguese one, gets its heat and smoky flavor mainly from smoked paprika. Chorizo can be available both fresh or cured and dried, but fresh sausage is the right choice for the following recipe.
Sweet potatoes, being a source of non-toxic starchy carbohydrates, are a great source of glucose energy to your cells, especially when in need of fuel to do some intense training or in the cold wintertime.
Remember that carbohydrates are not the enemy and that, especially if you don't have a damaged metabolism, sources of starchy carbohydrates are often an even better bet than most fruits that also contain appreciable amounts of fructose, which can become a big problem in high enough amounts.
Our ancestors would certainly have enjoyed energy-dense starchy vegetables whenever they were available.
The following soup is not only delicious but is also very simple and quick to prepare. In fact, it should be ready in less than 25 minutes. Most of the main ingredients also happen to be very common ones for Paleo aficionados, so you might already have all it takes in your kitchen right now.
Sweet potato and sausage soup recipe
Serves: 5-6
Ingredients
1 ¾ lbs sweet potatoes, peeled and roughly chopped;
½ lb of your favorite spicy pork sausage, casing removed;
2 large carrots, roughly chopped;
2 celery stalks, roughly chopped;
2 cloves garlic, minced;
1 ½ teaspoon curry powder;
1 red chili, sliced finely;
2 onions, roughly chopped
7 cups homemade chicken stock;
1 bunch of fresh parsley, chopped, for garnishing;
Cooking fat;
Sea salt and freshly ground black pepper to taste;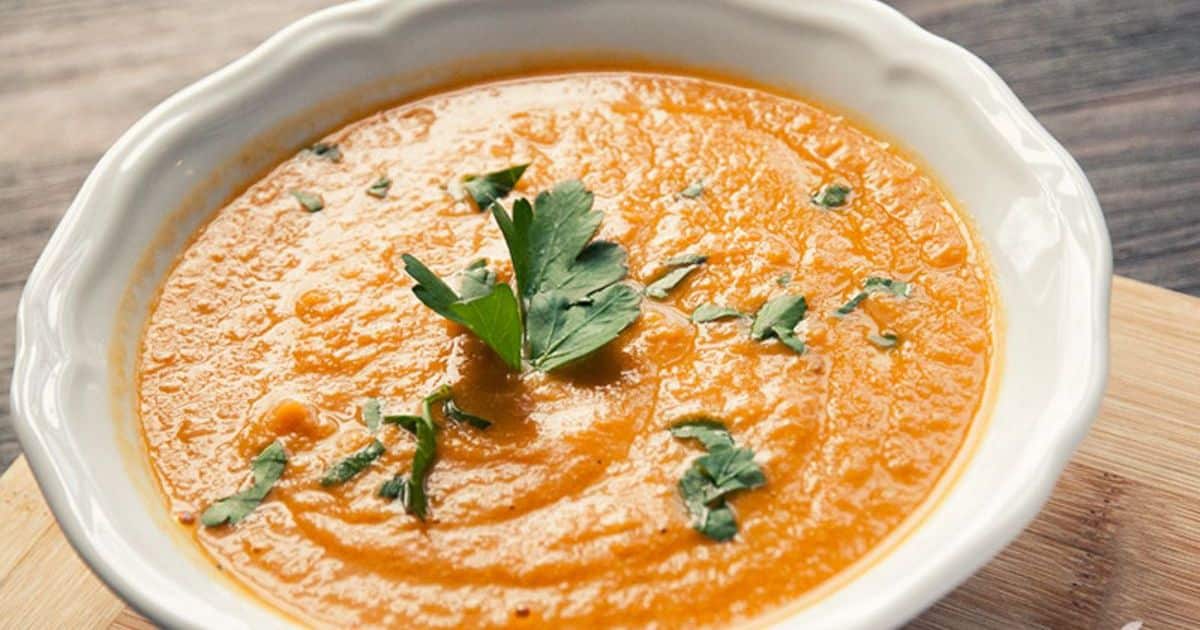 Preparation
Heat a large skillet over medium-high heat with some cooking fat.
Add the sweet potatoes, sausage meat, carrots, celery, garlic, onions, and curry powder. Combine well.
Cook, occasionally stirring, for about 8 minutes, until the carrots and sweet potatoes are slightly soft.
While the vegetables are cooking, pour the chicken stock into a pot and bring it to a boil.
Add the cooked vegetables to the hot stock, bring back to a simmer, and simmer for about 10 minutes until the sweet potato cubes are cooked through.
Season to taste with sea salt and freshly ground black pepper; pour everything into a blender or food processor and process until smooth.
Serve, garnished with red chili slices and chopped parsley.
📖 Recipe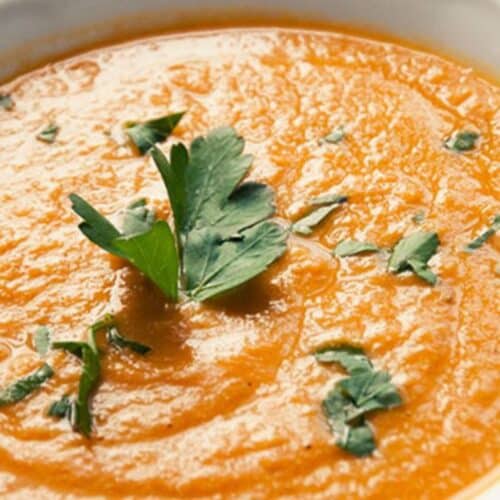 Sweet potato and sausage soup recipe
A quick and simple Paleo soup using sweet potatoes and spicy pork sausage as some of its main ingredients.
Ingredients
1 ¾

lbs

sweet potatoes

peeled and roughly chopped

½

lb

of your favorite spicy pork sausage

casing removed

2

large carrots

roughly chopped

2

celery stalks

roughly chopped

2

cloves

garlic

minced

1 ½

teaspoon

curry powder

1

red chili

sliced finely

2

onions

roughly chopped

7

cups

homemade chicken stock

1

bunch of fresh parsley

chopped, for garnishing

Cooking fat

Sea salt and freshly ground black pepper to taste
Instructions
Heat a large skillet over medium-high heat with some cooking fat.

Add the sweet potatoes, sausage meat, carrots, celery, garlic, onions, and curry powder. Combine well.

1 ¾ lbs sweet potatoes,

½ lb of your favorite spicy pork sausage,

2 large carrots,

2 cloves garlic,

1 ½ teaspoon curry powder,

2 onions,

2 celery stalks

Cook, occasionally stirring, for about 8 minutes, until the carrots and sweet potatoes are slightly soft.

While the vegetables are cooking, pour the chicken stock into a pot and bring it to a boil.

7 cups homemade chicken stock

Add the cooked vegetables to the hot stock, bring back to a simmer, and simmer for about 10 minutes until the sweet potato cubes are cooked through.

Season to taste with sea salt and freshly ground black pepper pour everything into a blender or food processor and process until smooth.

Sea salt and freshly ground black pepper to taste

Serve, garnished with red chili slices and chopped parsley.

1 red chili,

1 bunch of fresh parsley
Nutrition
Calories:
432
kcal
Carbohydrates:
51
g
Protein:
19
g
Fat:
17
g
Saturated Fat:
5
g
Polyunsaturated Fat:
2
g
Monounsaturated Fat:
8
g
Trans Fat:
0.1
g
Cholesterol:
43
mg
Sodium:
877
mg
Potassium:
1186
mg
Fiber:
7
g
Sugar:
15
g
Vitamin A:
26760
IU
Vitamin C:
23
mg
Calcium:
85
mg
Iron:
3
mg