These are not the dubiously-edible "nachos" that you pay $10 for at the movie theater. If you really want thin slices of salty Styrofoam topped with orange-colored craft glue, you'll have to look elsewhere.
But if you're in the mood for conveniently bite-sized scoops with a delicious savory-sweet flavor, loaded down with actually flavorful toppings, then you're in luck: here it is, in all its Paleo-friendly glory.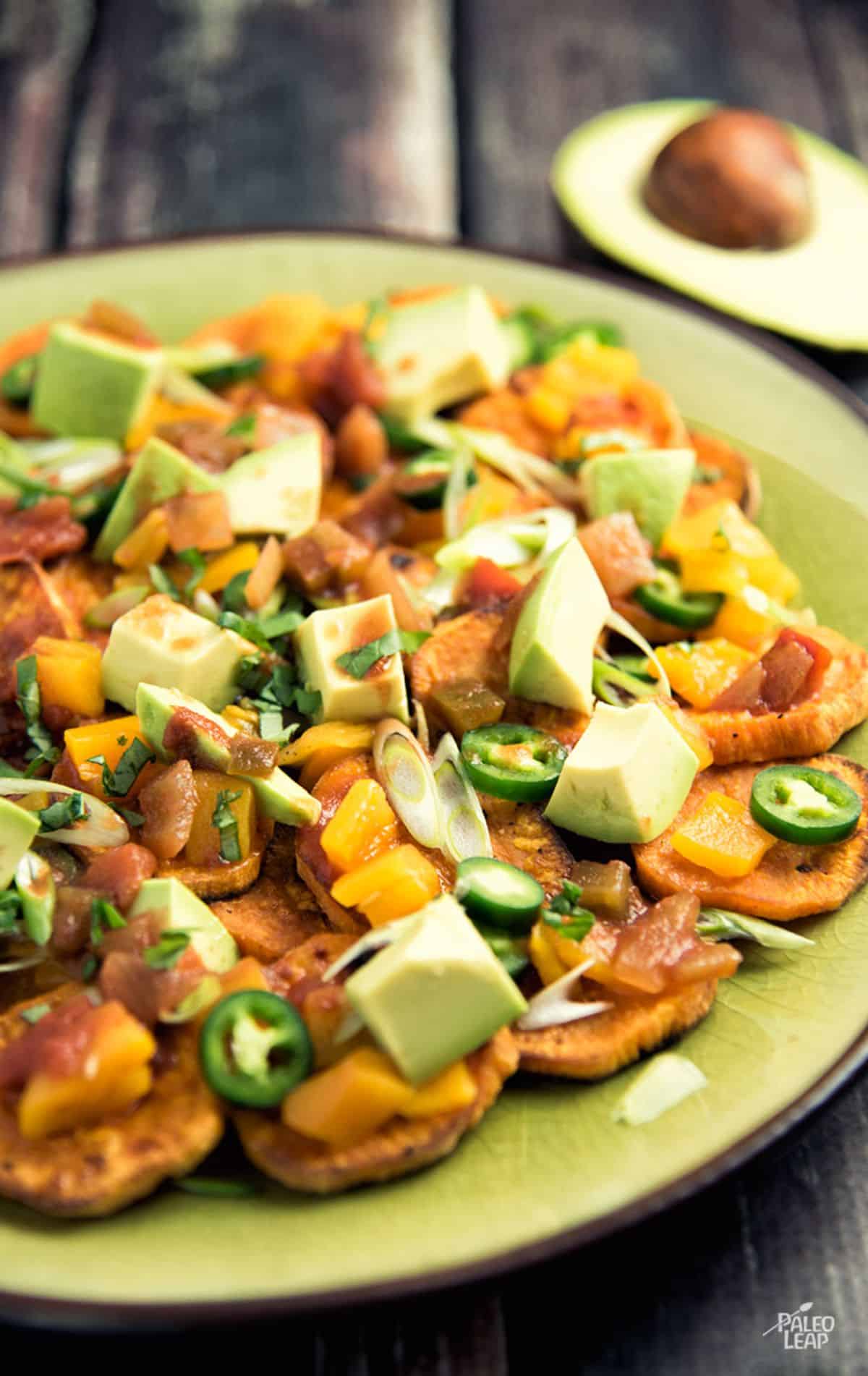 But how can you possibly have nachos when corn chips and cheese are both off the menu? Get a little creative: sweet potato rounds sliced thin and baked until they're crispy on both sides make a finger-friendly delivery vehicle for creamy avocado and fresh salsa – and don't forget the hot peppers and crunchy onions!
It's not an interpretation that looks exactly like the original, but the basic concept is there, and the flavor is delicious.
You can use any kind of your favorite salsa for this – go fruity if you like it sweet, or stick with a more classic tomato-based interpretation. Just to give you two possible ideas, this recipe includes instructions for a basic salsa; this one has a slightly sweeter variation with peaches. Some grocery stores even make Paleo-friendly salsas that you can buy pre-made to save some time (but be sure to check the ingredients list!)
If you can wait a few weeks, these would be perfect finger food to celebrate the return of barbecue weather, but they're also completely delicious inside, maybe with some chicken salad to add protein for a complete meal.
Sweet Potato Nachos Recipe
SERVES: 4 PREP: 15 min COOK: 45 min
Ingredients
2 large sweet potatoes, peeled and sliced into ¼-inch thick slices
¼ cup green onions, chopped
½ cup bell peppers, diced
1 or 2 jalapeños, sliced (optional)
1 avocado, diced
1 tsp. paprika
1 tsp. garlic powder
1 tbsp. olive oil
Fresh cilantro, minced
Sea salt and freshly ground black pepper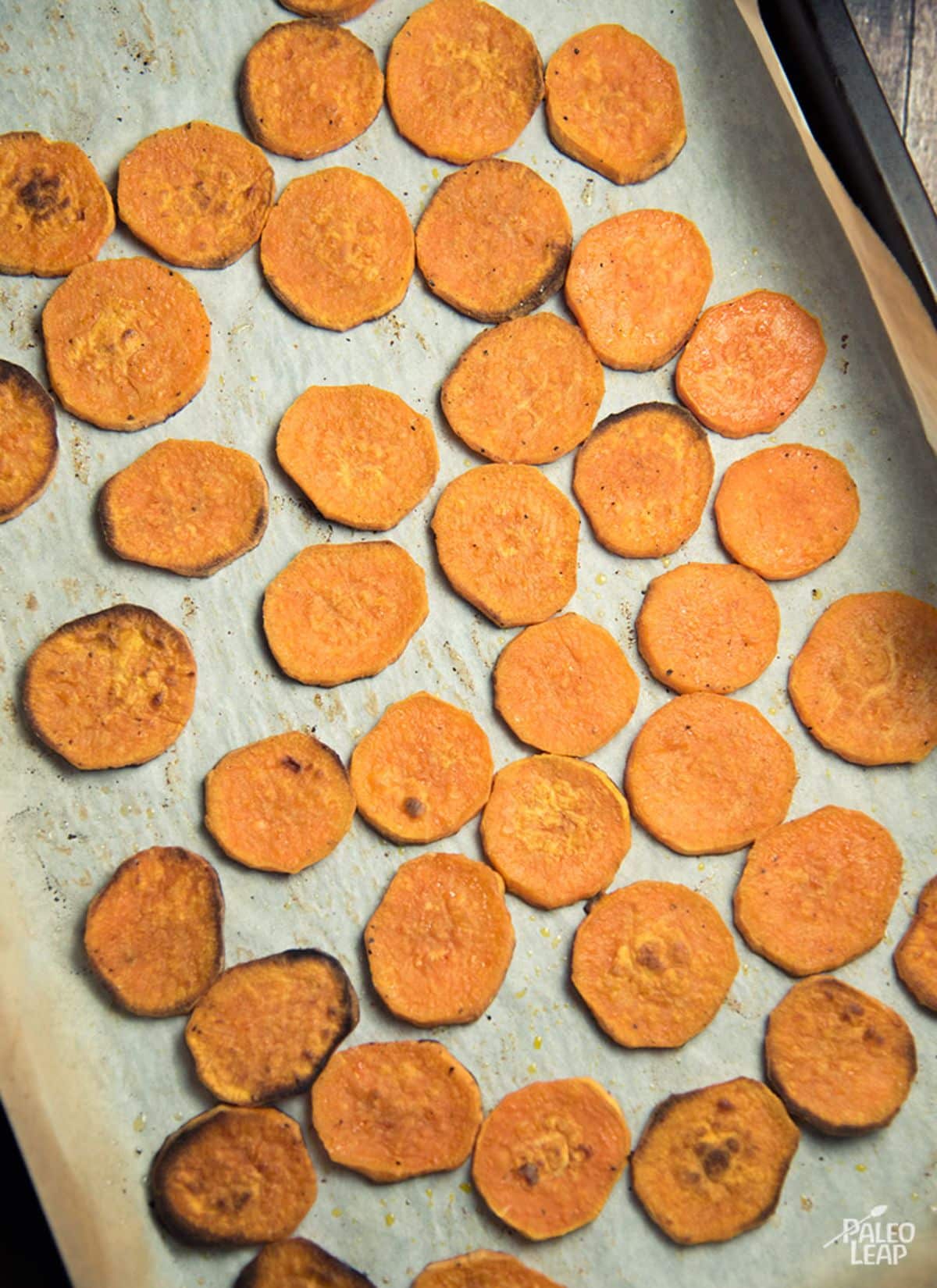 Preparation
Preheat your oven to 425 F.
In a bowl, combine the sweet potato slices, olive oil, paprika, and garlic powder, and season with salt and pepper to taste.
Mix everything until well combined.
Place the sweet potatoes on a baking sheet, and bake in the oven for 40 minutes, turning once.
Remove from the oven (but don't turn the oven off!) and top with the bell pepper, green onions, and 

jalapeños

.
Return the loaded potato slices to the oven and broil for 5 to 10 minutes.
Serve with avocado,  salsa, and fresh cilantro.
📖 Recipe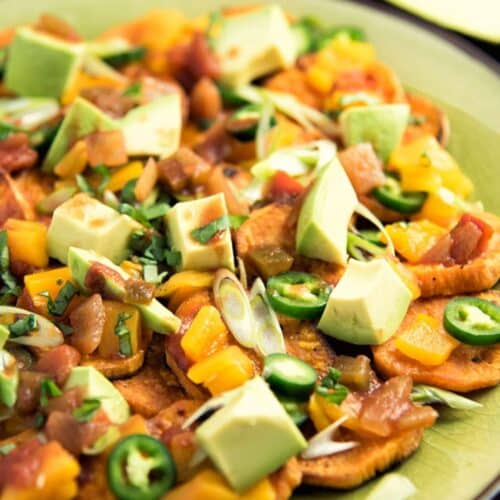 Sweet Potato Nachos Recipe
Missing nachos? Try this Paleo interpretation: crispy slices of sweet potato loaded down with flavor-packed toppings.
Instructions
Preheat your oven to 425 F.

In a bowl, combine the sweet potato slices, olive oil, paprika, and garlic powder, and season with salt and pepper to taste.

2 large sweet potatoes,

1 tsp. paprika,

1 tsp. garlic powder,

1 tbsp. olive oil,

Sea salt and freshly ground black pepper

Mix everything until well combined.

Place the sweet potatoes on a baking sheet, and bake in the oven for 40 minutes, turning once.

Remove from the oven (but don't turn the oven off!) and top with the bell pepper, green onions, and jalapeños.

¼ cup green onions,

½ cup bell peppers,

1 or 2 jalapeños

Return the loaded potato slices to the oven and broil for 5 to 10 minutes.

Serve with avocado, salsa, and fresh cilantro.

1 avocado,

Fresh salsa,

Fresh cilantro
Nutrition
Calories:
226
kcal
Carbohydrates:
30
g
Protein:
3
g
Fat:
11
g
Saturated Fat:
2
g
Polyunsaturated Fat:
1
g
Monounsaturated Fat:
8
g
Sodium:
69
mg
Potassium:
733
mg
Fiber:
8
g
Sugar:
6
g
Vitamin A:
17395
IU
Vitamin C:
37
mg
Calcium:
50
mg
Iron:
2
mg