There is nothing like a generous stack of Paleo pancakes to sweeten the freedom of the weekend or for a surprise breakfast in bed.
And if they happen to be topped with fresh blueberries, your favorite nut butter, and scrumptious maple syrup, then know that you have discovered something amazingly good. Just don't eat them all at once. At least not every day of the week!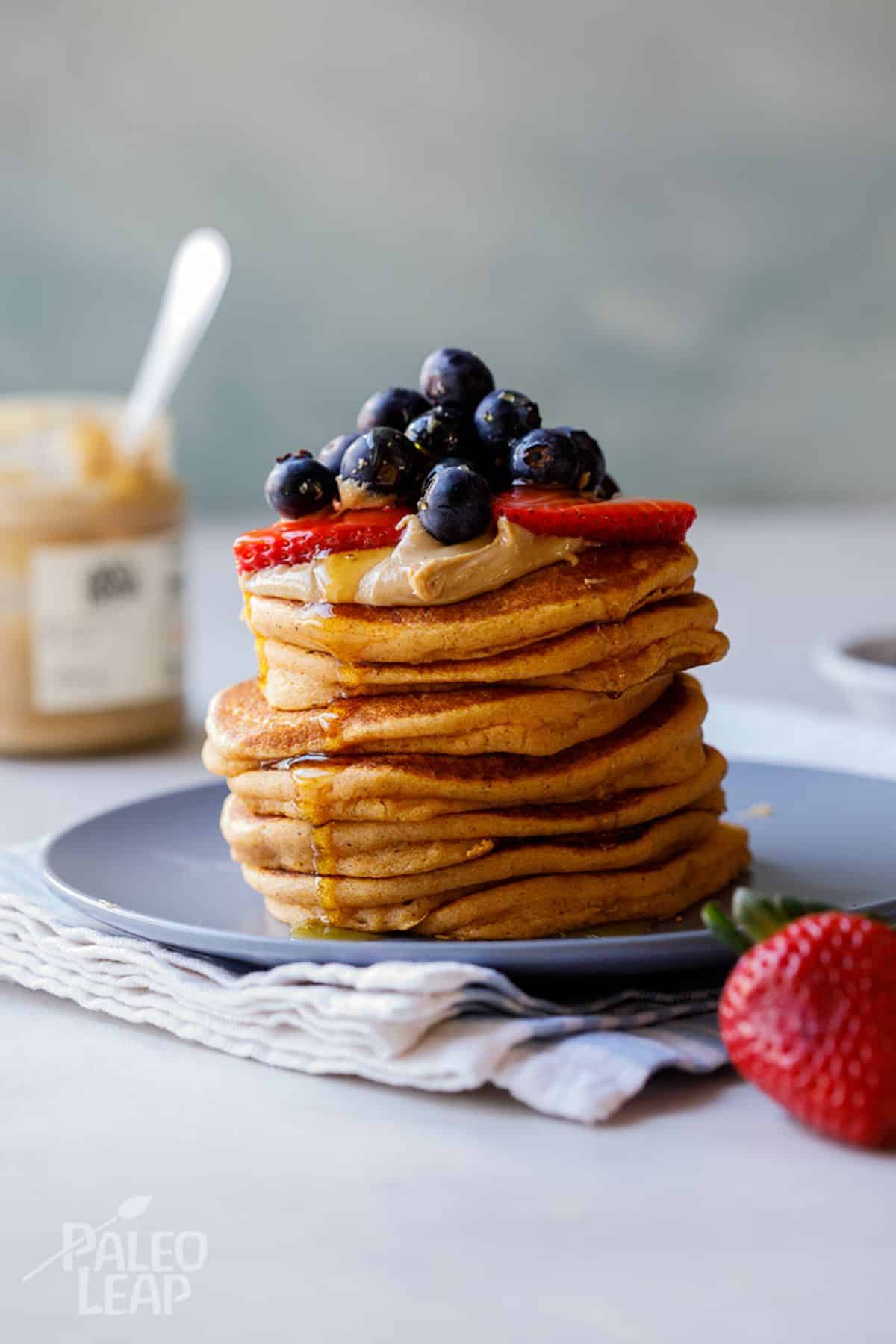 The recipe contains sweet potato, yet the main ingredient here is actually cassava flour if you aren't familiar with it, let it introduce itself to you in the form of fluffy pancakes.
Cassava flour is an excellent substitute for wheat flour, it is naturally free from gluten, and it is a starchy root vegetable coming from Asia and Africa (similar to taro, yam, and plantain).
The flour is made from the whole root, which is peeled and dried, not to be confused with tapioca flour which is also made from the cassava root, though going through a lengthier process.
It is high in carbohydrates, so err on the side of caution as too many pancakes could produce an insulin spike if you aren't used to so much better, but when all is said and done, these Paleo pancakes are definitely worth the experience!
If you wish to balance out the bulk of the pancakes with an energy-filled Paleo smoothie, we greatly encourage you to do so - this even makes it a convenient meal-to-go. You may also add a side of bacon and a luxurious poached duck egg. However you stack them, don't forget the berries.
Sweet Potato Pancakes Recipe
Serves: 4 Prep: 10 min Cook: 20 min
Ingredients
2 cups cassava flour
2 tsp. baking powder
Pinch of salt
½ tsp. ground cinnamon
1 ½ cups coconut milk
1 egg
3 tbsp. coconut oil, melted
2 tsp. vanilla extract
1 cup sweet potato puree
Fresh berries to serve
Nut butter, to serve (optional)
Honey, to serve (optional)
Preparation
Place all the dry ingredients in a large bowl and whisk together.
Add all the wet ingredients and mix well. If the batter seems too stiff, add more coconut milk/water until a smooth, creamy consistency is achieved.
Heat a pan over medium-low heat and fry spoonfuls of the batter until golden brown on both sides and cooked through.
Serve the pancakes with nut butter of your choice, berries, and/or a drizzle of honey.
📖 Recipe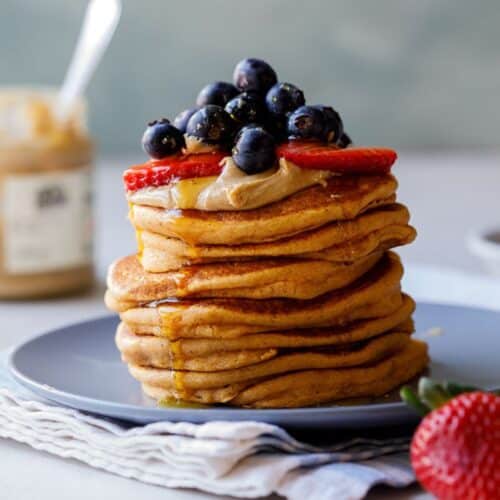 Sweet Potato Pancakes Recipe
The best recipe for a Paleo breakfast in bed? Sweet potato pancakes are what you need on your tray this weekend - berries and maple syrup included.
Ingredients
2

cups

cassava flour

2

tsp.

baking powder

Pinch

of salt

½

tsp.

ground cinnamon

1 ½

cups

coconut milk

1

egg

3

tbsp.

coconut oil

melted

2

tsp.

vanilla extract

1

cup

sweet potato puree

Fresh berries to serve

Nut butter

to serve (optional)

Honey

to serve (optional)
Instructions
Place all the dry ingredients in a large bowl and whisk together.

2 cups cassava flour,

2 tsp. baking powder

Add all the wet ingredients and mix well. If the batter seems too stiff, add more coconut milk/water until a smooth, creamy consistency is achieved.

Pinch of salt,

½ tsp. ground cinnamon,

1 ½ cups coconut milk,

1 egg,

3 tbsp. coconut oil,

2 tsp. vanilla extract,

1 cup sweet potato puree

Heat a pan over medium-low heat and fry spoonfuls of the batter until golden brown on both sides and cooked through.

Serve the pancakes with nut butter of your choice, berries, and/or a drizzle of honey.

Fresh berries to serve,

Nut butter,

Honey
Video
Nutrition
Calories:
558
kcal
Carbohydrates:
68
g
Protein:
6
g
Fat:
30
g
Saturated Fat:
26
g
Polyunsaturated Fat:
1
g
Monounsaturated Fat:
2
g
Trans Fat:
0.01
g
Cholesterol:
41
mg
Sodium:
316
mg
Potassium:
553
mg
Fiber:
4
g
Sugar:
7
g
Vitamin A:
13514
IU
Vitamin C:
18
mg
Calcium:
289
mg
Iron:
7
mg