Mashed sweet potatoes are a staple Fall food, and they're even better once you figure out that they don't actually need a topping of brown sugar and marshmallow fluff.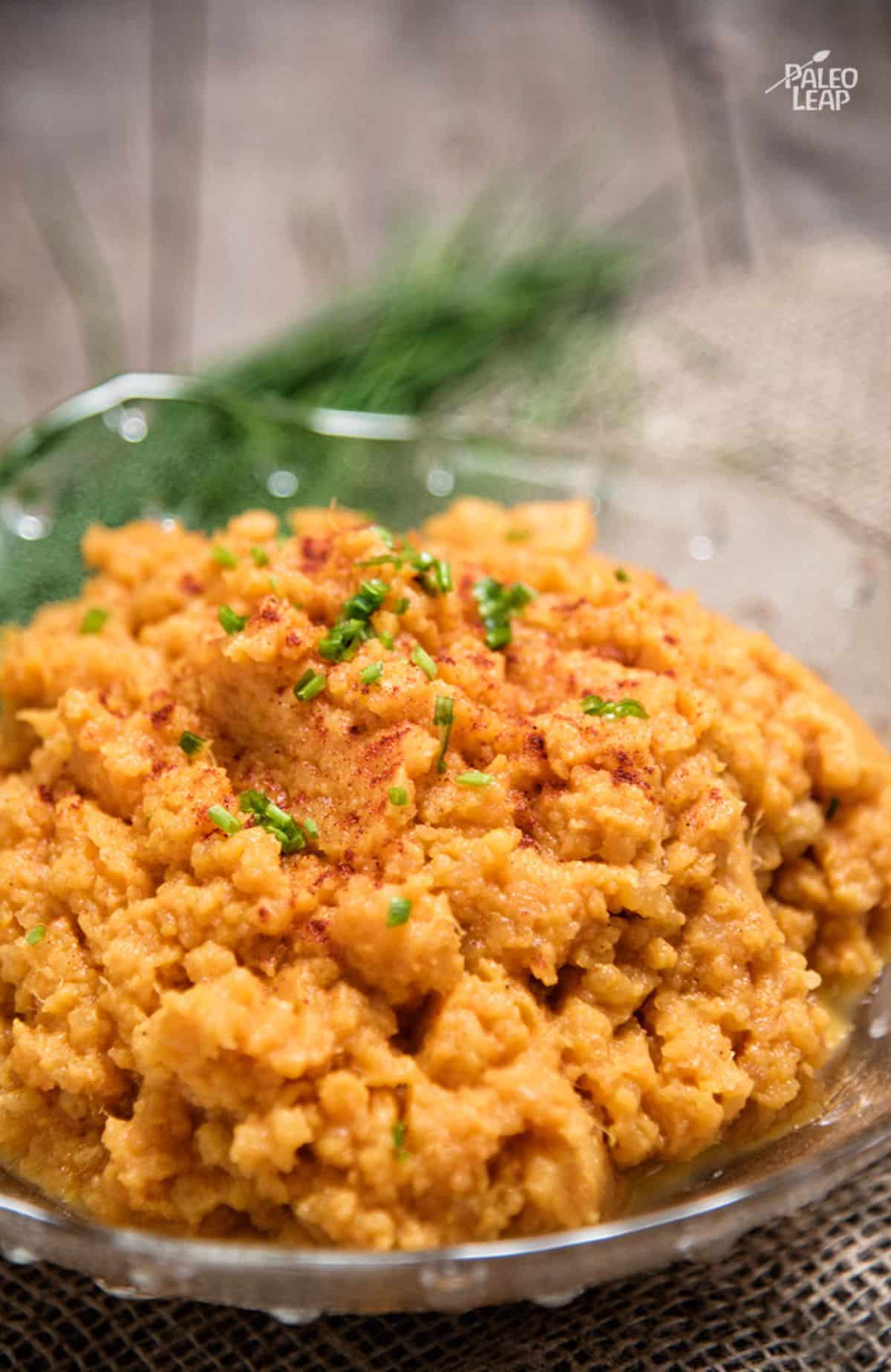 But even without all the extra sugar, mashed sweet potatoes can be very densely sweet, and sometimes the flavor is better if you add a little more savory to the mix.
That's what's going on here: the rutabaga helps to balance the sweetness and tip the final creation a little more to the rooty/savory side.
And then, of course, there's the butter. This is Paleo; no skimping on the butter allowed! If you're sensitive to lactose, ghee is another option, and olive oil would also be fine if dairy is completely out of the question.
The preparation is basically the same as any mashed root vegetable: boil, mash with fat and spices, and stir.
A sprinkle of paprika and a little fresh parsley on top bring out the light-orange color, and an extra drizzle of olive oil or butter on top would make the whole thing look very elegant. Give it a try as a holiday side or just for yourself after a long, cold day.
Sweet Potato and Rutabaga Mash Recipe
SERVES: 4 PREP: 15 min COOK: 20 min
Ingredients
4 sweet potatoes, peeled and cubed
1 rutabaga, peeled and chopped
1 tsp. garlic powder
1 tsp. onion powder
1 tsp. paprika
2 tbsp. fresh parsley, minced
Sea salt and freshly ground black pepper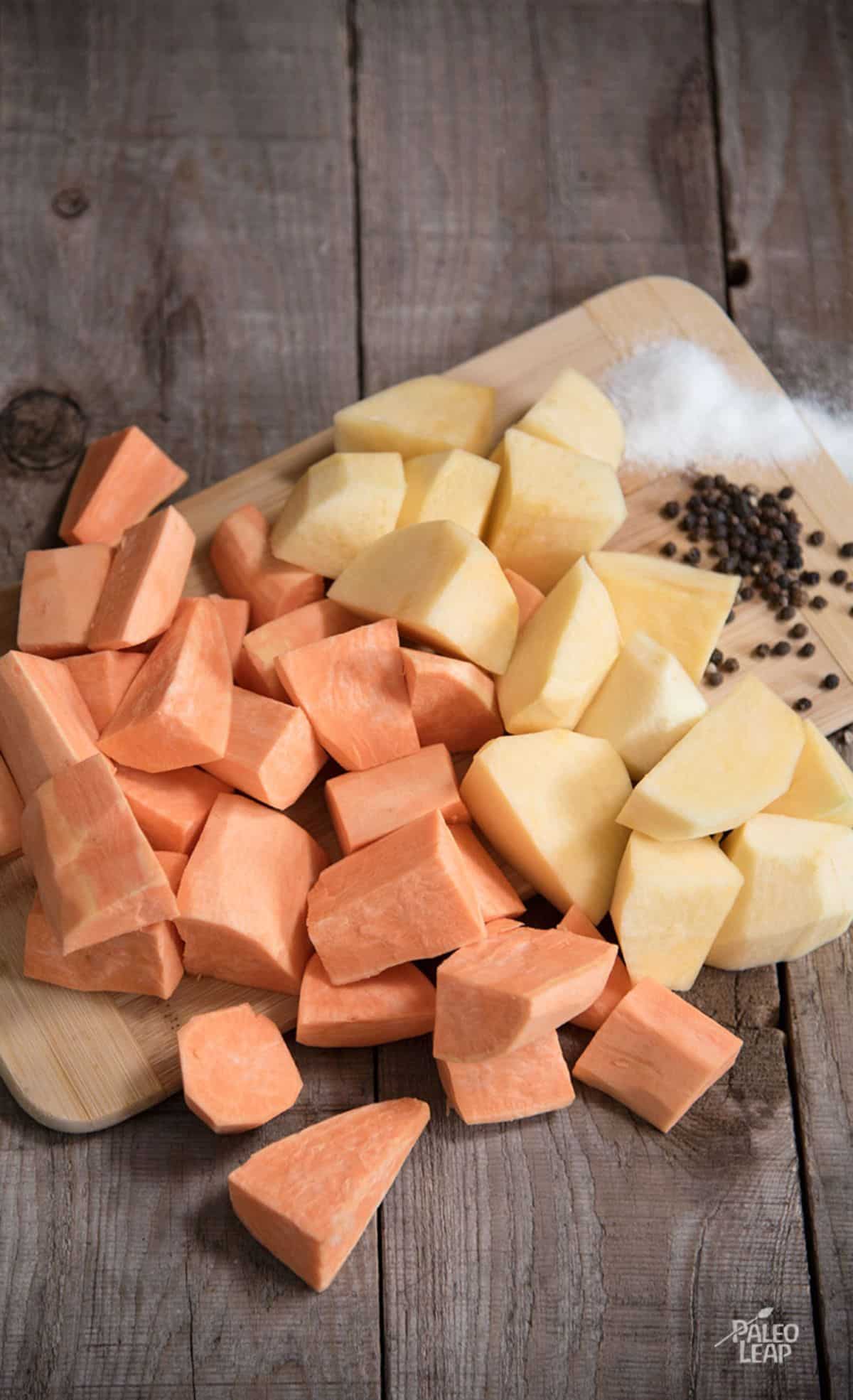 Preparation
Fill a large saucepan with water and bring to a boil.
Carefully add the rutabaga and cook for 5 to 6 minutes.
Add the sweet potato and cook for another 10 to 15 minutes, until both vegetables are able to be pierced with a knife.
Drain the water from the saucepan, and add the butter (or ghee or olive oil).
Mash the potato and rutabaga with a potato masher or hand mixer.
Sprinkle with garlic powder, onion powder, and salt and pepper to taste.
Give everything a good stir, and serve with fresh parsley on top.
📖 Recipe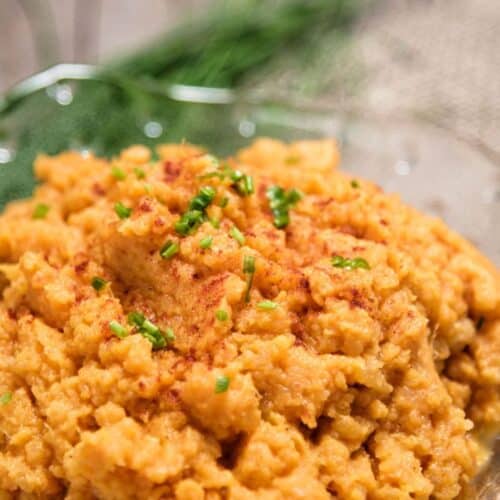 Sweet Potato and Rutabaga Mash Recipe
This savory mash has fewer carbs than regular mashed sweet potatoes, and the rutabaga adds an interesting flavor.
Ingredients
4

sweet potatoes

peeled and cubed

1

rutabaga

peeled and chopped

1

tsp.

garlic powder

1

tsp.

onion powder

2

tbsp.

butter

ghee, or olive oil

1

tsp.

paprika

2

tbsp.

fresh parsley

minced

Sea salt and freshly ground black pepper
Instructions
Fill a large saucepan with water and bring to a boil.

Carefully add the rutabaga and cook for 5 to 6 minutes.

Add the sweet potato and cook for another 10 to 15 minutes, until both vegetables are able to be pierced with a knife.

Drain the water from the saucepan, and add the butter (or ghee or olive oil).

Mash the potato and rutabaga with a potato masher or hand mixer.

Sprinkle with garlic powder, onion powder, and salt and pepper to taste.

1 tsp. garlic powder,

1 tsp. onion powder,

Sea salt and freshly ground black pepper

Give everything a good stir, and serve with fresh parsley on top.

2 tbsp. fresh parsley,

1 tsp. paprika
Nutrition
Calories:
215
kcal
Carbohydrates:
37
g
Protein:
4
g
Fat:
6
g
Saturated Fat:
4
g
Polyunsaturated Fat:
0.4
g
Monounsaturated Fat:
2
g
Trans Fat:
0.2
g
Cholesterol:
16
mg
Sodium:
137
mg
Potassium:
830
mg
Fiber:
7
g
Sugar:
10
g
Vitamin A:
19859
IU
Vitamin C:
37
mg
Calcium:
101
mg
Iron:
2
mg