Sick of gravy and stuffing? Take your leftovers in a completely different flavor direction with this spicy, Southwestern skillet recipe. Jalapeños peppers and a Tex-Mex spice blend completely change the flavor of the meat, so it doesn't taste like Thanksgiving at all.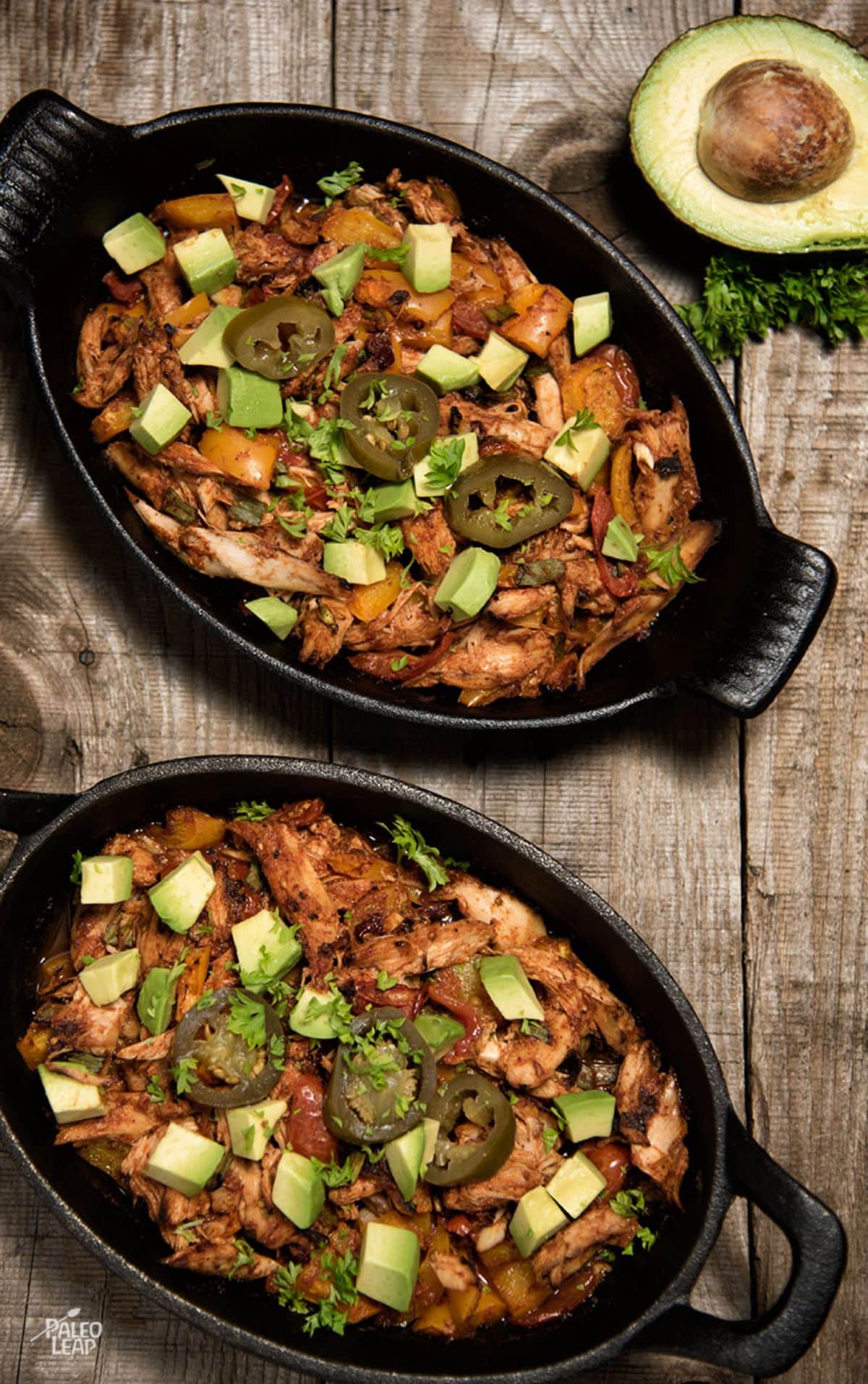 A quick note on the ingredients: enchilada sauce is available in stores, but you might be hard-pressed to find one that isn't full of gross stuff.
This recipe has instructions for making a Paleo version if necessary – it's basically just tomato sauce with extra spices, so it isn't hard. Try making double what you need and then freeze the extra for the next time you want some.
The pickled jalapeños give the whole recipe a nice, spicy garnish and make it easy for each person to adjust the spice level without making a lot of extra work for the cook. It's a very family-friendly recipe and a nice way to enjoy some flavors that typically get neglected during the winter months.
Tex-Mex Turkey Skillet Recipe
SERVES: 4 PREP: 15 min COOK: 30 min
Ingredients
2 cups leftover turkey, shredded
1 bell pepper, chopped
1 cup grape tomatoes, halved
1 onion, diced
2 garlic cloves, minced
4 green onions, sliced
1 avocado, diced
1 ½ cups enchilada sauce
½ cup chicken stock
2 tbsp. chili powder
2 tsp. smoked paprika
1 tsp. cumin
Pickled

jalapeños

, to taste, for garnishing
Sea salt and freshly ground black pepper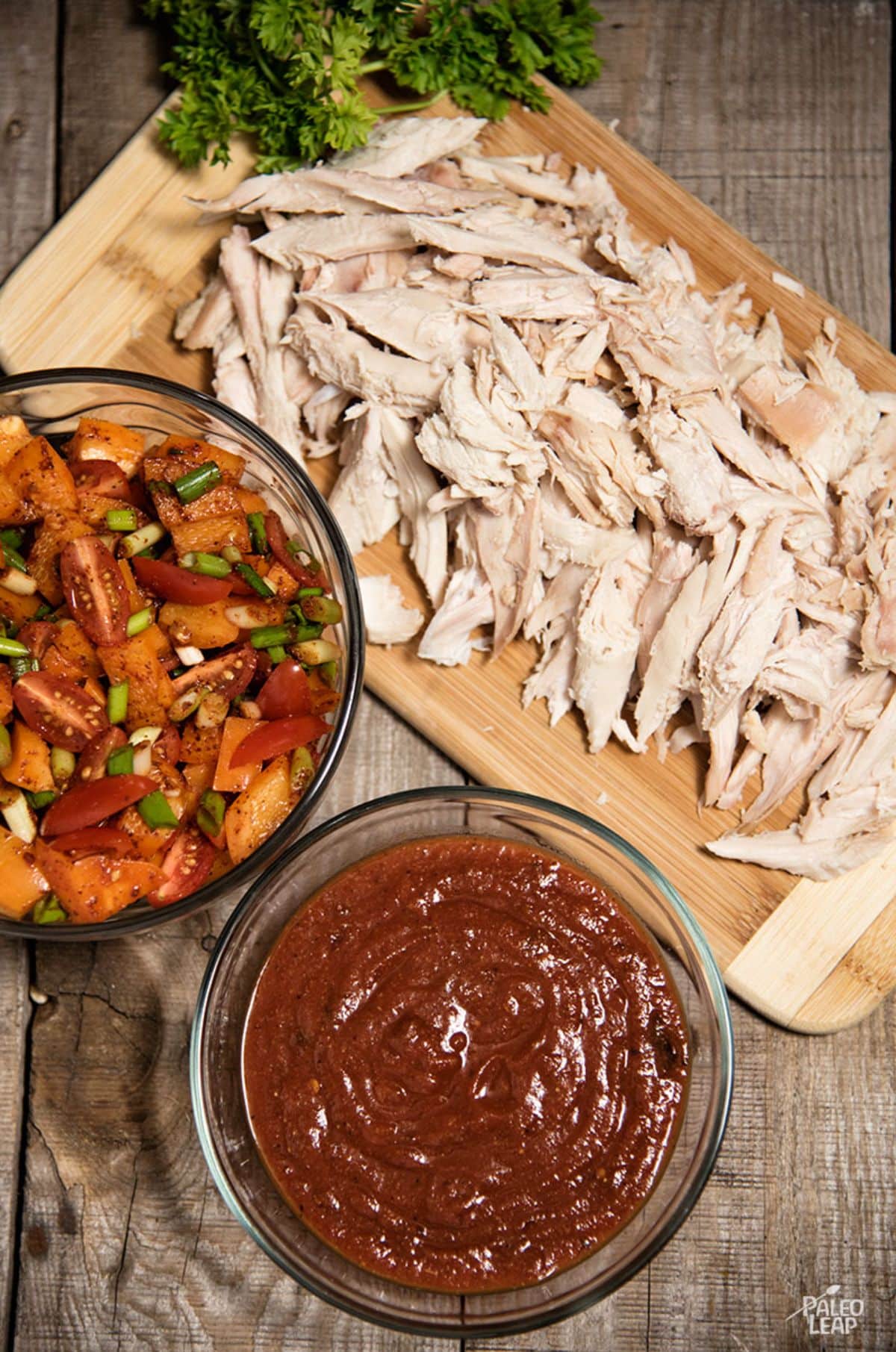 Preparation
Melt some cooking fat in a skillet over medium-high heat.
Add the onion and garlic and cook until soft.
Stir in the bell pepper, tomatoes, and half the green onions.
Sprinkle with chili powder, paprika, cumin, sea salt, and black pepper. Give everything a good stir and cook for 3 to 4 minutes.
Add the turkey, enchilada sauce, and chicken stock. Bring to a boil, and lower heat to a simmer.
Cover and simmer for 20 to 25 minutes.
Serve with remaining green onions, avocado, and pickled jalapeños on top.
📖 Recipe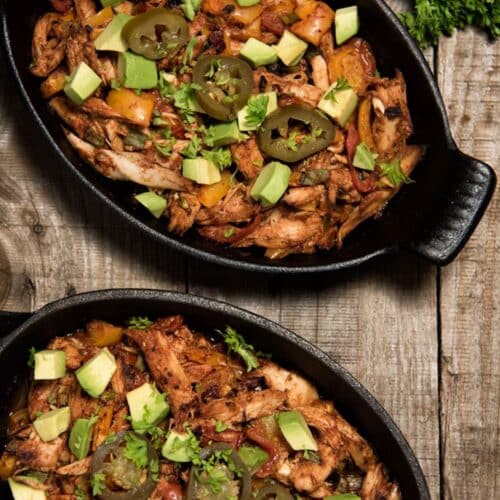 Tex-Mex Turkey Skillet Recipe
Turkey leftovers for people who are sick of turkey leftovers: get excited about them again with this simple skillet dinner.
Instructions
Melt some cooking fat in a skillet over medium-high heat.

Add the onion and garlic and cook until soft.

Stir in the bell pepper, tomatoes, and half the green onions.

1 bell pepper,

1 cup grape tomatoes,

4 green onions

Sprinkle with chili powder, paprika, cumin, sea salt, and black pepper. Give everything a good stir and cook for 3 to 4 minutes.

2 tbsp. chili powder,

2 tsp. smoked paprika,

1 tsp. cumin,

Sea salt and freshly ground black pepper

Add the turkey, enchilada sauce, and chicken stock. Bring to a boil, and lower heat to a simmer.

2 cups leftover turkey,

1 ½ cups enchilada sauce,

½ cup chicken stock

Cover and simmer for 20 to 25 minutes.

Serve with remaining green onions, avocado, and pickled jalapeños on top.

1 avocado,

Pickled jalapeños
Nutrition
Calories:
323
kcal
Carbohydrates:
26
g
Protein:
26
g
Fat:
15
g
Saturated Fat:
3
g
Polyunsaturated Fat:
3
g
Monounsaturated Fat:
7
g
Trans Fat:
0.1
g
Cholesterol:
77
mg
Sodium:
1030
mg
Potassium:
895
mg
Fiber:
10
g
Sugar:
11
g
Vitamin A:
5485
IU
Vitamin C:
55
mg
Calcium:
82
mg
Iron:
5
mg