If tuna fish patties and crab cakes are your favorite appetizers at the restaurant, but you are concerned about the kind of flour used to bind the goodness altogether, as well as the quality of the cooking oil, you must try this amazing Paleo alternative at home! It is lightly reminiscent of the sea and of tropical beaches, yet you can easily gather the ingredients wherever you are in the world.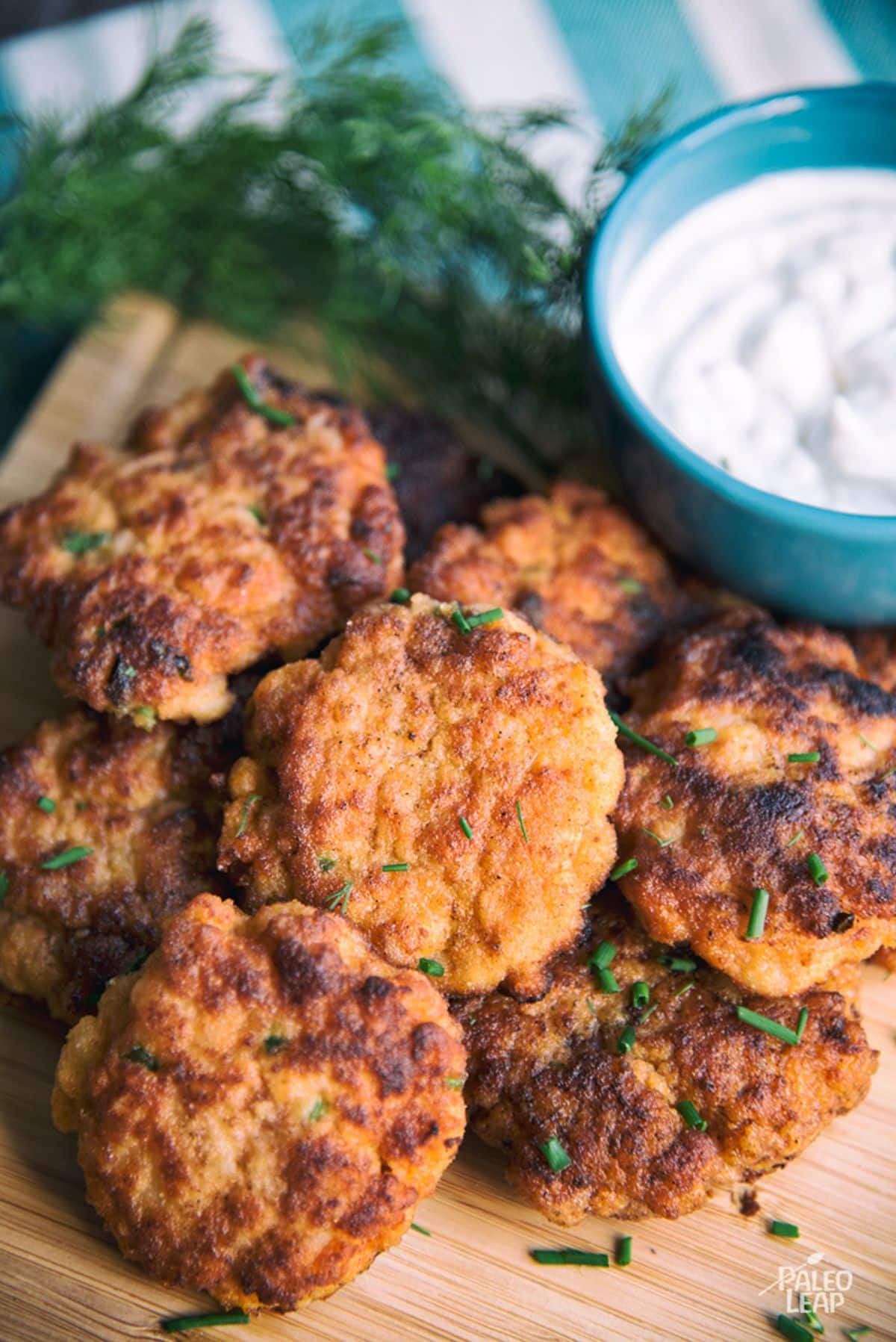 A note of caution: shrimp is a member of the shellfish family, and if you are allergic in any way, please refrain. If you just happen to love fish of all kinds, then feel free to dig in and eat as many shrimp patties as you wish.
Shrimp is undoubtedly rich in selenium and B12, phosphorus and choline, as well as powerful antioxidants that help fight free radicals, which are ever so important as we age. Food should always make us feel good and look great, so make a conscious effort to choose healthy options with every bite.
Dip those Thai shrimp patties into a simple homemade Paleo mayonnaise, adding spices such as mustard, red pepper flakes, and chipotle chili powder to give it an extra kick. Or opt for an even spicier Sriracha Sauce to make sure you have covered all degrees of hotness.
You can even follow this recipe for a well-balanced spicy mayo if you wish. We suggest adding a generous bowl of raw leafy greens on the side, so you can alternate the best bites; it makes for a great salad combo too!
Thai Style Shrimp Patties Recipe
Serves: 4 Prep: 15 min Cook: 10 min
Ingredients
1 lb. raw shrimp, peeled, deveined, and roughly chopped
2 tbsp. fresh red curry paste
1 garlic clove, minced
2 tbsp. fresh chives, minced
1 tbsp. fresh lime juice
1 egg, beaten
2 tsp. fish sauce
2 tbsp. coconut milk
½ cup coconut flour
2 tbsp. fresh cilantro, minced
¼ cup coconut oil
Sea salt and freshly ground black pepper
1 lime, cut into wedges for serving
Spicy mayonnaise for dipping, optional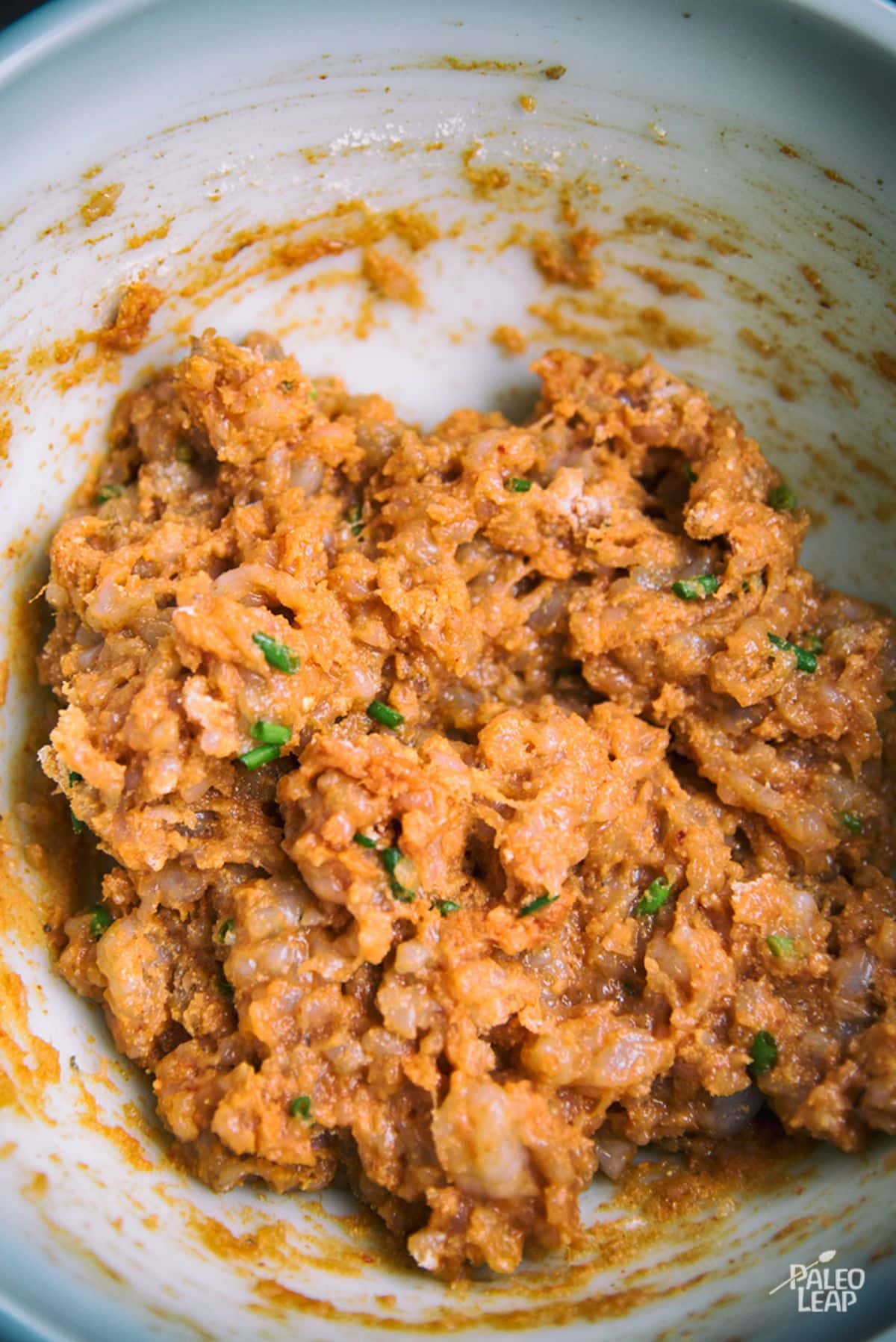 Preparation
In a bowl, combine the shrimp, curry paste, chives, garlic, lime juice, egg, fish sauce, coconut milk, cilantro, and ¼ cup of coconut flour.
Stir until all ingredients are thoroughly combined.
Melt coconut oil in a skillet over medium-high heat.
Form the shrimp paste into small patties of about 2 inches in diameter.
Dip each side of the patties in the remaining coconut flour to lightly coat them.
Fry the patties in the skillet for about 2 to 3 minutes per side.
Dry any excess fat from the patties and serve with fresh lime and spicy mayonnaise.
📖 Recipe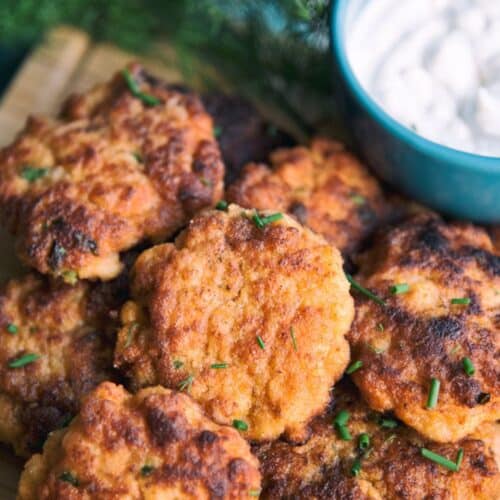 Thai Style Shrimp Patties Recipe
Sometimes what you order at a restaurant you can cook an even tastier version of at home. Thai shrimp patties happen to be one of those incredible things.
Instructions
In a bowl, combine the shrimp, curry paste, chives, garlic, lime juice, egg, fish sauce, coconut milk, cilantro, and ¼ cup of coconut flour.

1 lb. raw shrimp,

2 tbsp. fresh red curry paste,

1 garlic clove,

2 tbsp. fresh chives,

1 tbsp. fresh lime juice,

1 egg,

2 tsp. fish sauce,

2 tbsp. coconut milk,

½ cup coconut flour,

2 tbsp. fresh cilantro,

Sea salt and freshly ground black pepper

Stir until all ingredients are thoroughly combined.

Melt coconut oil in a skillet over medium-high heat.

Form the shrimp paste into small patties of about 2 inches in diameter.

Dip each side of the patties in the remaining coconut flour to lightly coat them.

Fry the patties in the skillet for about 2 to 3 minutes per side.

Dry any excess fat from the patties and serve with fresh lime and spicy mayonnaise.

1 lime,

Spicy mayonnaise for dipping
Nutrition
Calories:
308
kcal
Carbohydrates:
14
g
Protein:
20
g
Fat:
20
g
Saturated Fat:
15
g
Polyunsaturated Fat:
1
g
Monounsaturated Fat:
2
g
Trans Fat:
0.01
g
Cholesterol:
184
mg
Sodium:
888
mg
Potassium:
251
mg
Fiber:
6
g
Sugar:
2
g
Vitamin A:
2258
IU
Vitamin C:
13
mg
Calcium:
99
mg
Iron:
2
mg