Sweet potatoes aren't just good with cinnamon and nutmeg! They're also delicious with a little bit of zing – in this case, from plenty of ginger and some optional curry paste.
The ginger gives you a nice background tingle; the curry paste will add some sharper spice, but you can leave it out if you aren't really into spicy food.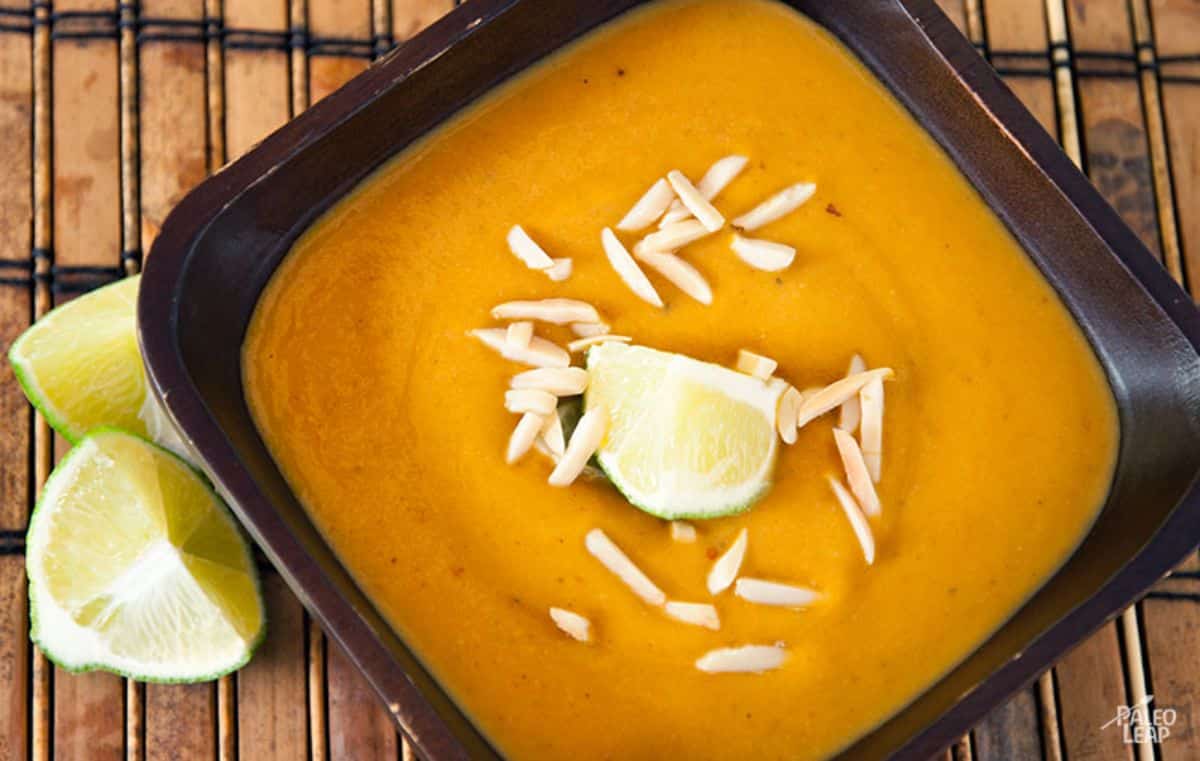 Thanks to the coconut milk and the sautéed onion, this soup also has a very pleasant sweetness: it's the perfect comfort food when you need one or just an appetizer to go with a lighter meal (soup and salad, anyone?). Alternately, top it with some grilled chicken or another protein if you just want something small.
If you can hold back from eating it all hot out of the pan, this soup is excellent for leftovers or even freezing.
Make a big batch and spoon some out into single-serving containers, then toss them into the freezer: you'll have a quick, re-heatable start to whatever meal you're rushing to cook down the line. It's an easy way to avoid takeout temptations and get a meal that even tastes better, to boot!
Thai Sweet Potato and Carrot Soup Recipe
SERVES: 4 PREP: 15 min COOK: 25 min
Ingredients
1 large sweet potato, peeled and chopped;
1½ pounds carrots, peeled and chopped;
1 medium yellow onion, peeled and chopped
1 tbsp. red curry paste; (optional)
1 tablespoon freshly grated ginger;
3 cloves garlic, minced;
1 quart chicken stock;
1 can coconut milk;
1 tbsp. fish sauce;
1 lime, cut into wedges;
1 cup roasted almonds, chopped; (optional)
Sea salt and freshly ground black pepper;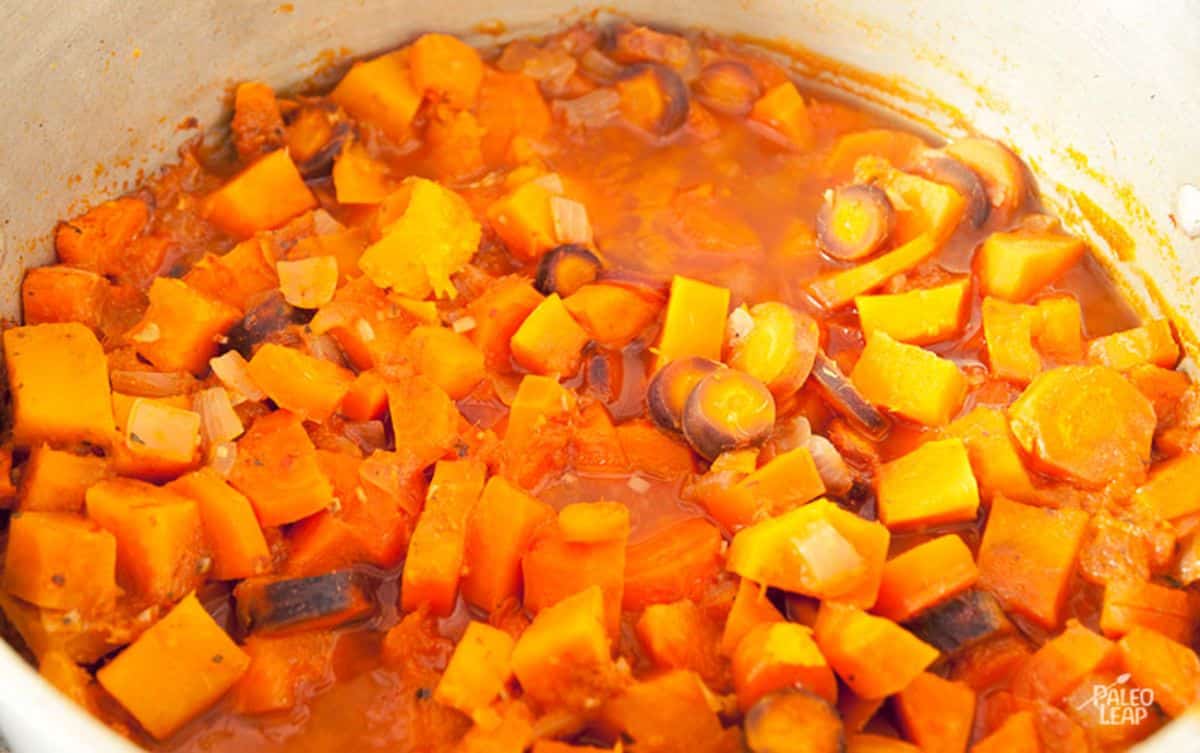 Preparation
Add some cooking fat to a large saucepan placed over medium heat.
Add the onions and cook for 2 minutes.
Add the ginger, garlic, and curry paste to the saucepan, and cook for another 2 minutes.
Add the sweet potatoes, carrots, and chicken stock.
Bring everything to a boil; then cover and reduce to a simmer.
Let the soup simmer for 20 minutes until all the vegetables are tender.
Puree the soup until smooth using an immersion blender or food processor.
Stir in the coconut milk and the fish sauce, and season with salt and pepper to taste.
Serve garnished with lime wedges and roasted almonds.
📖 Recipe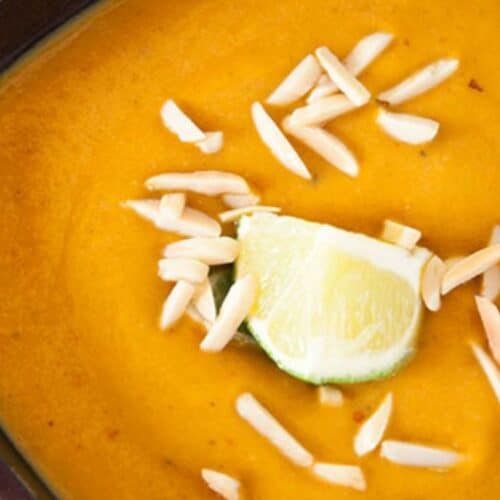 Thai Sweet Potato and Carrot Soup Recipe
Spice up your root vegetables with this hearty and filling Thai soup.
Instructions
Add some cooking fat to a large saucepan placed over a medium heat.

Add the onions and cook for 2 minutes.

Add the ginger, garlic, and curry paste to the saucepan, and cook for another 2 minutes.

1 tbsp. red curry paste,

1 tablespoon freshly grated ginger,

3 cloves garlic

Add the sweet potatoes, carrots, and chicken stock.

1 large sweet potato,

1½ pounds carrots,

1 quart chicken stock

Bring everything to a boil then cover and reduce to a simmer.

Let the soup simmer for 20 minutes, until all the vegetables are tender.

Puree the soup until smooth using an immersion blender or food processor.

Stir in the coconut milk, the fish sauce, and season with salt and pepper to taste.

1 can coconut milk,

1 tbsp. fish sauce,

Sea salt and freshly ground black pepper

Serve garnished with lime wedges and roasted almonds.

1 lime,

1 cup roasted almonds
Nutrition
Calories:
660
kcal
Carbohydrates:
52
g
Protein:
19
g
Fat:
46
g
Saturated Fat:
24
g
Polyunsaturated Fat:
5
g
Monounsaturated Fat:
14
g
Trans Fat:
0.01
g
Cholesterol:
7
mg
Sodium:
809
mg
Potassium:
1442
mg
Fiber:
14
g
Sugar:
21
g
Vitamin A:
32071
IU
Vitamin C:
16
mg
Calcium:
210
mg
Iron:
6
mg