This warm, pureed soup is filling but light enough to serve even in the summer – the fresh vegetables keep it from being too heavy or overwhelming. It's a great accompaniment to a quick batch of grilled chicken breasts or another meal that calls for something a little more substantial than a salad.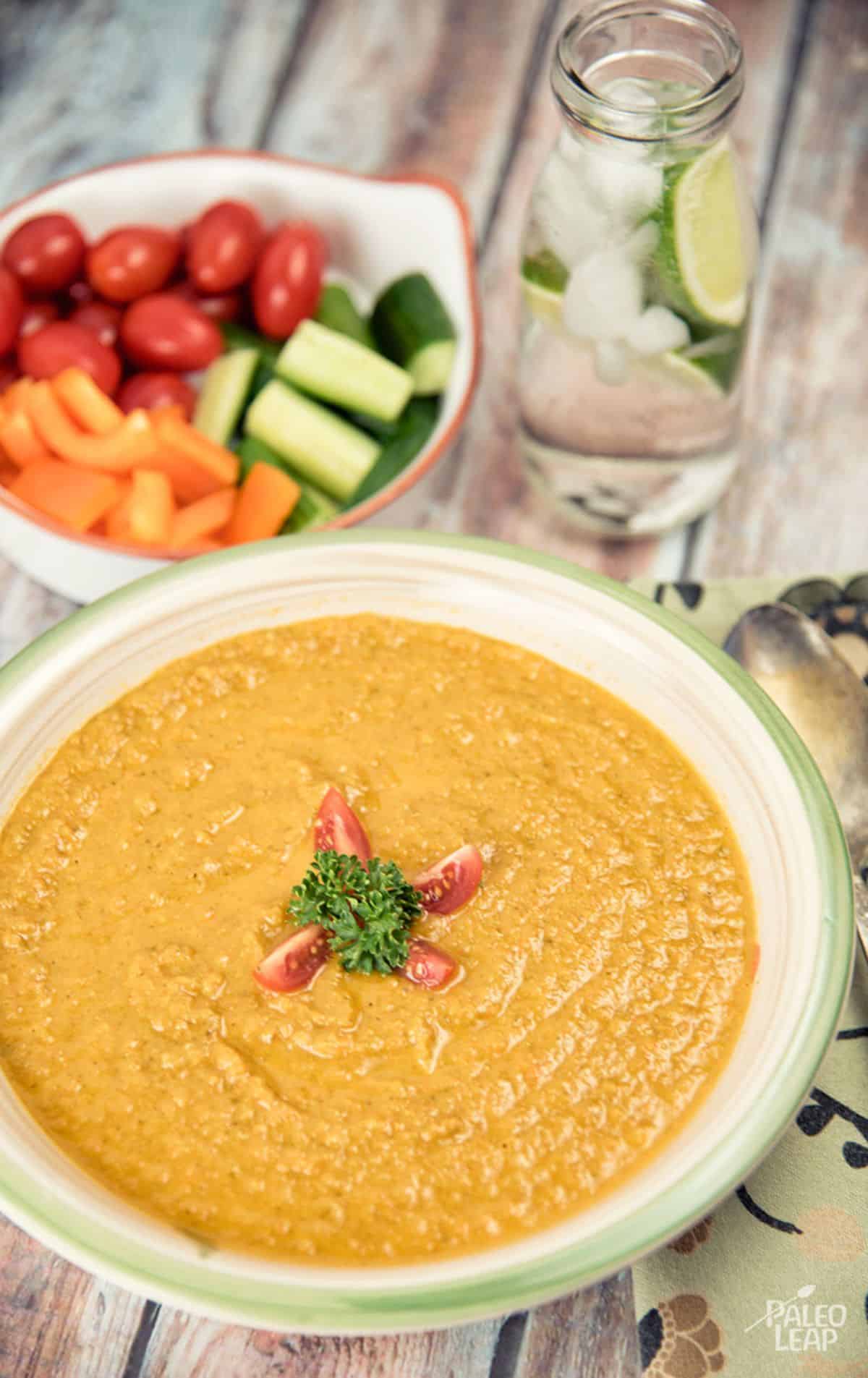 Tomatoes are also an ideal summer vegetable from a health perspective: did you know that the lycopene they contain may help protect against skin cancer?
That's not to spread around the sun-phobia – Paleo doesn't actually see the sun as a giant carcinogen in the sky, and sunbathing can actually be good for you. But if anti-cancer protection comes in such a delicious package, why wouldn't you eat it?
This is also a perfect way to ease some greens onto the dinner table if you have pickier kids – since the soup itself isn't green, you can just blend the spinach right on in, and what they don't know won't hurt them, right?
The carrots add some sweetness to the flavor, and the almond or coconut milk gives it a great texture: they won't have to know they're eating spinach unless you fess up!
Tomato Florentine Soup Recipe
SERVES: 4 PREP: 20 min COOK: 30 min
Ingredients
4 large tomatoes, cored and sliced in half
1½ cups carrots, shredded
1 cup fresh spinach, roughly chopped
1 small onion, chopped
3 garlic cloves, minced
¼ cup almond or coconut milk
Sea salt and freshly ground black pepper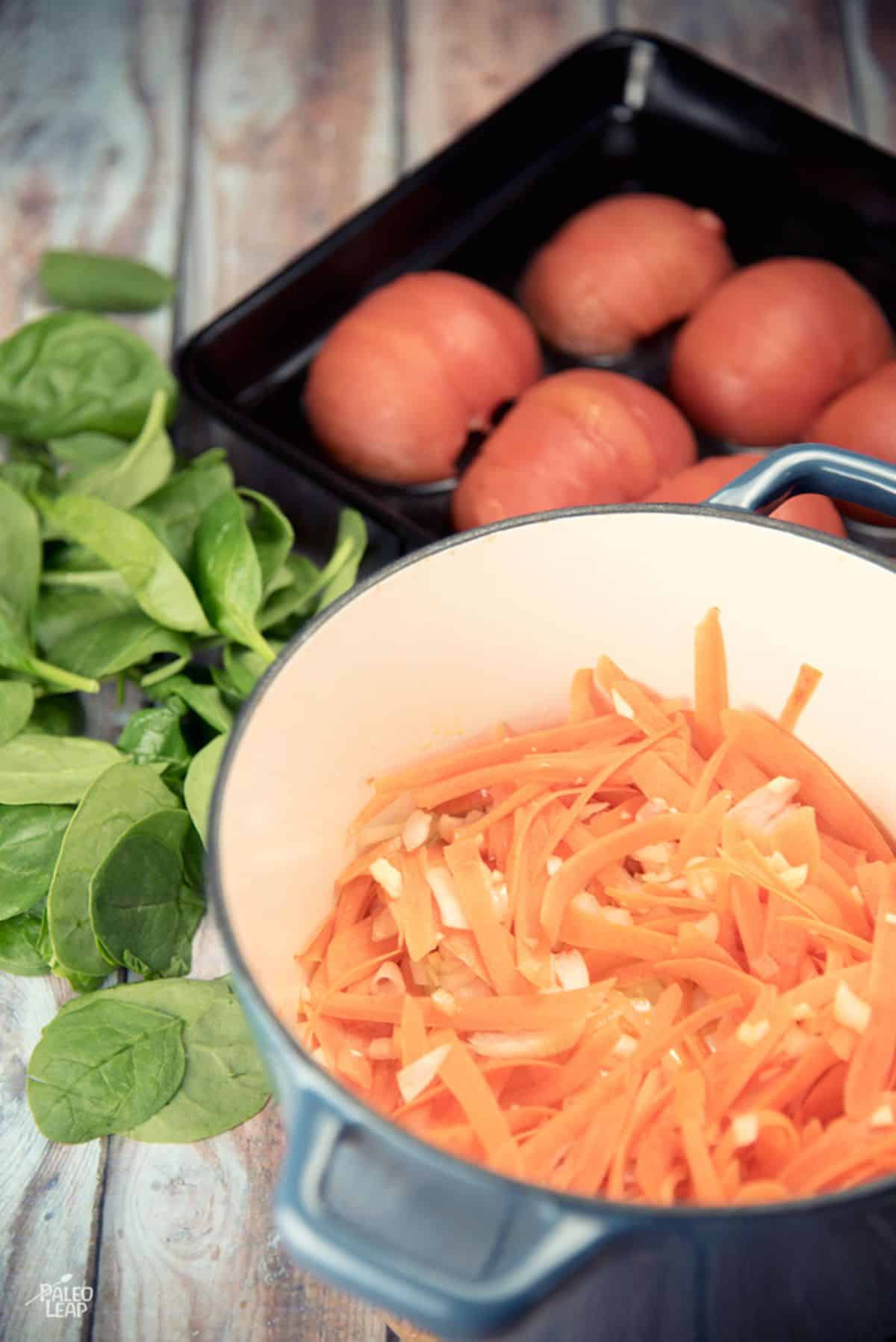 Preparation
Preheat your oven to 350 F.
Place the tomatoes, cut side down, on a baking sheet.
Roast in the oven for 15 to 20 minutes, and let rest until cool enough to handle.
Remove the skin from the tomatoes.
Heat the olive oil in a saucepan placed over medium heat.
Cook the onion, garlic, and carrot until softened, about 10 minutes.
Add the tomatoes and spinach and cook for another 5 minutes.
Purée the soup using an immersion blender.
Add the coconut milk, and blend again.
Season to taste and serve.
📖 Recipe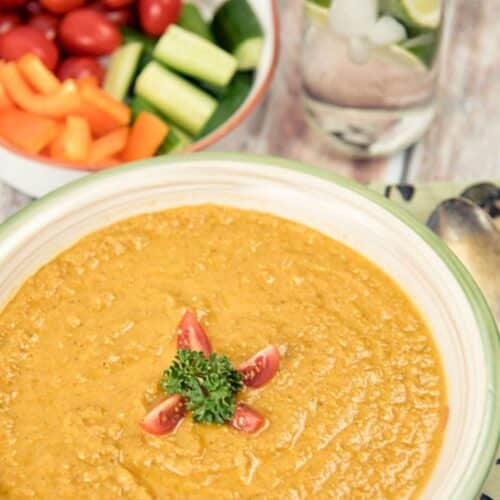 Tomato Florentine Soup Recipe
A soup light enough to serve in the summertime, with all the flavors of the season in one delicious bowl.
Instructions
Preheat your oven to 350 F.

Place the tomatoes, cut side down, on a baking sheet.

Roast in the oven for 15 to 20 minutes, and let rest until cool enough to handle.

Remove the skin from the tomatoes.

Heat the olive oil in a saucepan placed over medium heat.

Cook the onion, garlic, and carrot until softened, about 10 minutes.

1 small onion,

3 garlic cloves,

1½ cups carrots

Add the tomatoes and spinach and cook for another 5 minutes.

Purée the soup using an immersion blender.

Add the coconut milk, and blend again.

¼ cup almond or coconut milk

Season to taste and serve.

Sea salt and freshly ground black pepper
Nutrition
Calories:
83
kcal
Carbohydrates:
13
g
Protein:
2
g
Fat:
3
g
Saturated Fat:
3
g
Polyunsaturated Fat:
0.2
g
Monounsaturated Fat:
0.2
g
Sodium:
53
mg
Potassium:
527
mg
Fiber:
4
g
Sugar:
7
g
Vitamin A:
8348
IU
Vitamin C:
23
mg
Calcium:
48
mg
Iron:
2
mg