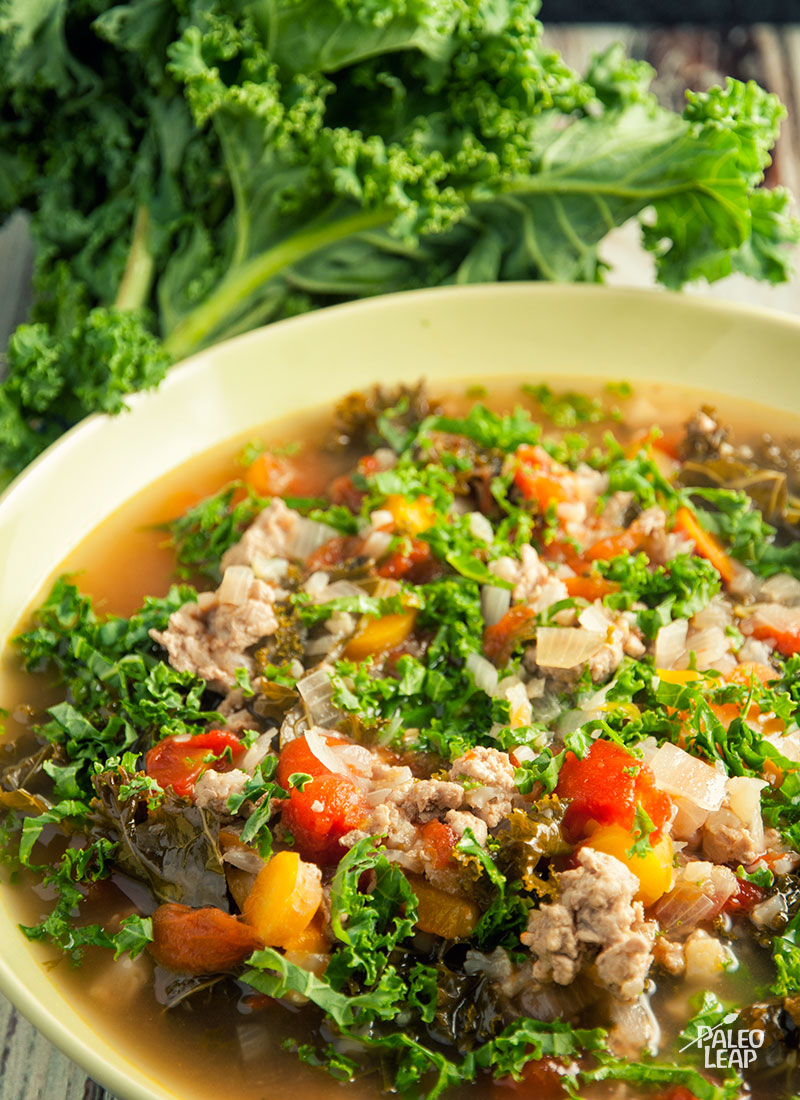 Kale is a vegetable you're likely to start seeing a lot more of at farmers' markets this time of year – it's one of the hardier leafy greens around, and tough enough to survive the first frost. In fact, it's even tastier afterwards, so go ahead and snap it up! It's great in salads or baked into crispy chips, but you can also toss it into a hearty bowl of this winter soup for an extra burst of color and nutrition.
The other vegetables here also prioritize the produce you can get seasonally; carrots and cauliflower should both be available fresh. It's a great lunch if you constantly get home from the market on Saturday afternoon and have trouble deciding what to cook first: cook them all! With so much bone broth going into it, the soup is also a tasty answer to the first of the winter sniffle season.
If you want to keep with the seasonal theme, this would be a great main dish to serve with roasted root vegetables, potatoes, or winter squash (and if you want to get really decadent, wrap that squash in bacon). Or toss it in a thermos bottle to bring anywhere for lunch on the go: even if you don't have anywhere to reheat it, it'll keep hot for a few hours until you're ready to dig in.
Turkey, Kale, and Cauliflower Soup Recipe

SERVES: 4

PREP: 25 min.

COOK: 45 min.
Values are per portion. These are for information only & are not meant to be exact calculations.
Ingredients
1 lb. ground turkey;
4 shallots, chopped;
3 carrots, sliced;
1  bell pepper, cut into pieces;
15 oz can diced tomatoes;
5 cups chicken stock;
1 ½ cup cauliflower, minced;
4 cups kale, ribs removed, leaves coarsely chopped;
2 tbsp. coconut oil;
Sea salt and freshly ground black pepper;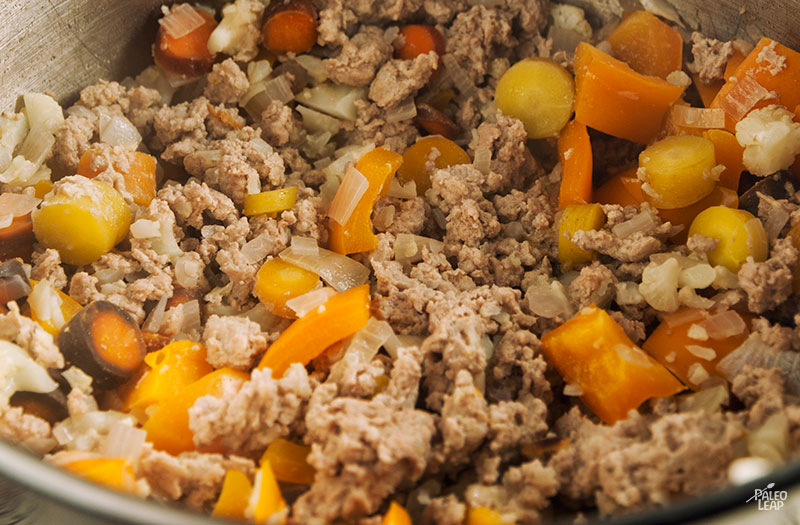 Preparation
Melt the coconut oil in a saucepan placed over a medium-high heat.
Add the shallots, carrots, cauliflower, and bell pepper.
Cook until the vegetables are slightly soft (8 to 10 minutes), stirring frequently.
Add the turkey to the vegetables and cook until the meat is cooked through (6 to 8 minutes).
Add the chicken stock, diced tomatoes, and season with salt and pepper to taste.
Bring the soup to a boil. Stir in the kale, reduce the heat to low, and let it simmer, covered, for 15 minutes.