Paleo bacon and marinara meatloaf is the perfect comfort food for those who follow the paleo or keto diet. This recipe is a delicious twist on the classic meatloaf that everyone knows and loves, but with a few unique ingredients that give it a special touch.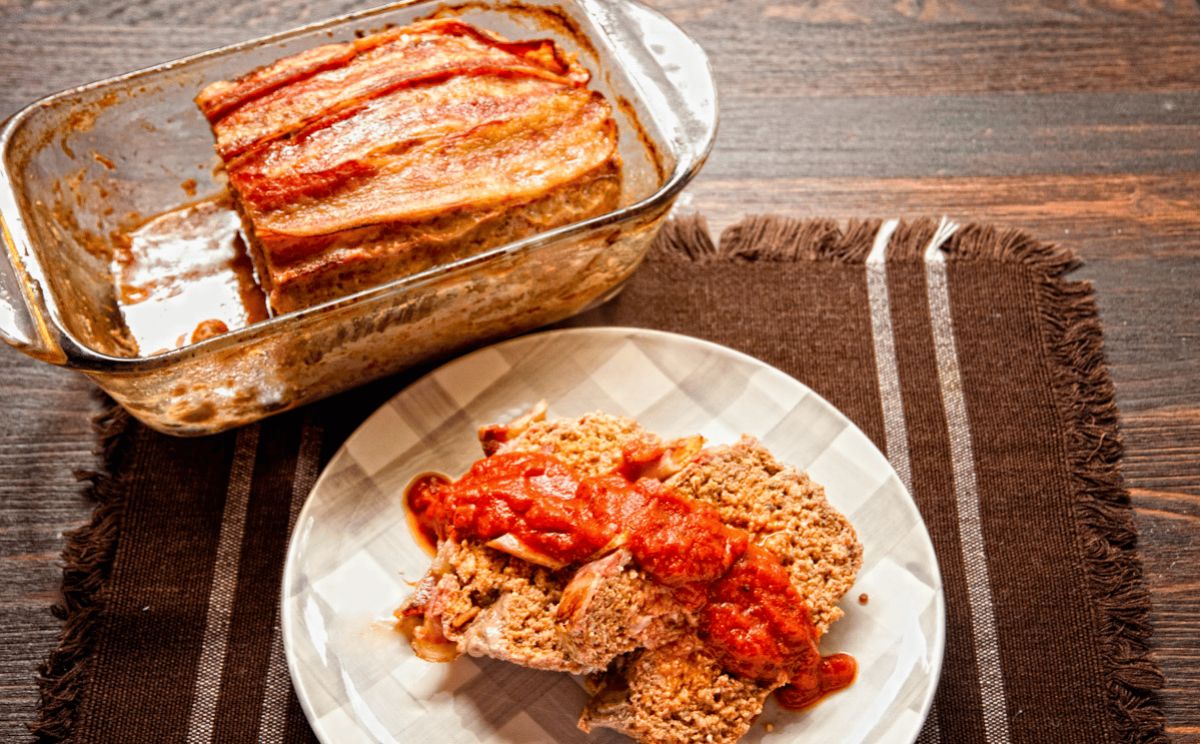 Jump to:
The best part about this recipe is that it is easy to make. It only takes 15 minutes to prep and a little less than 1 hour to cook, which makes it perfect for a busy weeknight dinner. Simply mix all of the ingredients together, shape it into a loaf, and bake in the oven.
First, the recipe starts with a combination of ground beef and pork, which gives the meatloaf a rich and hearty flavor. Then, you will top the loaf with bacon for extra flavor, and a crispy texture on top.
The recipe also calls for eggs, which help to bind the meatloaf together and give it a nice texture. The ginger and marinara sauce are added to give the meatloaf a little extra zing and depth of flavor.
Once it's finished baking, the meatloaf will be perfectly tender and juicy, and the bacon will be crispy and delicious. Serve it up with a side of vegetables, and you'll have a satisfying and delicious meal that will please even the pickiest of eaters.
Not sure where to start when following the Paleo way of eating? Check out this list of Paleo foods first to get started!
Bacon and Marinara Meatloaf
Serves: 6 Prep Time: 15 minutes Cook Time: 55 minutes
Ingredients
1 pound ground pork
2 pounds of ground beef
1 cup almond flour
2 large eggs
2 cups marinara sauce (no sugar added or homemade)
10 slices bacon
Sea salt and freshly ground black pepper
3 tablespoons chopped fresh ginger
If you want to make it homemade, this paleo marinara sauce is a great choice.
How to Make a Bacon and Marinara Meatloaf
Begin by preheating your oven to 350°F.
In a mixing bowl, combine the ground beef, pork, almond flour, eggs, ginger, and half of the marinara sauce (1 cup).
Add salt and black pepper to your personal taste (around 1 teaspoon each on average).
Shape the mixture into two loaves and place them in a baking dish, then cover the top of the loaves with 5 bacon slices each.
Bake in the preheated oven for 45 minutes, or until fully cooked.
Turn the oven to broil and cook for an additional 10 minutes to crisp up the bacon.
Allow the meatloaf to cool for a few minutes before slicing.
While it cools, in a separate pan, heat the remaining marinara sauce on the stovetop.
Serve the meatloaf slices on plates and pour the hot marinara sauce on top before serving.
More Paleo Meatloaf Recipes
Meatloaf is that classic comfort food mom always made, but now you can have your choice of different flavors and paleo friendly! Below are a few more excellent meatloaf recipes to test out soon!
In conclusion, this recipe for bacon and marinara meatloaf is a great option for those who want a delicious and satisfying meal that is also paleo and keto friendly. With its delicious combination of flavors and easy-to-follow instructions, it's sure to become a regular in your dinner rotation. So, give it a try, and let me know how it turns out for you!
📖 Recipe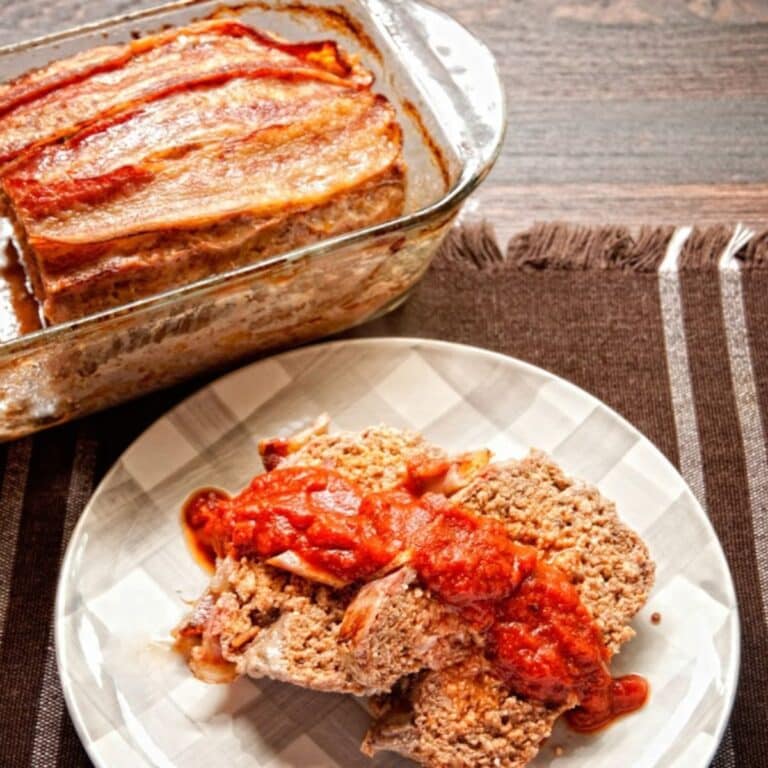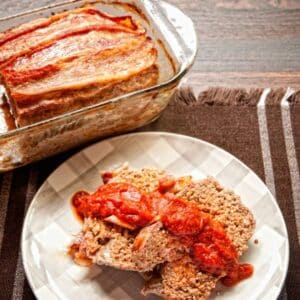 Bacon and Marinara Meatloaf
A rich and tasty bacon and marinara meatloaf is the perfect paleo friendly weeknight meal that is easy enough even a novice cook can make this recipe!
Instructions
Preheat your oven to 350°F.

Mix the ground meat with the almond flour, eggs, ginger, and half the marinara sauce together in a bowl. Season with sea salt and freshly ground black pepper to taste.

1 lb ground pork,

2 lbs ground beef,

1 cup almond flour,

2 eggs,

Sea salt and freshly ground black pepper to taste,

3 tablespoon chopped fresh ginger

Form two loafs in snug fitting baking dishes and cover the loafs with the bacon slices.

Put in the oven to bake for about 45 minutes, until well cooked.

Put the oven on broil for another 10 minutes to crisp up the bacon.

Remove the loafs from the oven and let cool for a few minutes.

Heat the rest of the marinara sauce on the stove top.

2 cups homemade marinara sauce

Slice the loafs, serve into plates and top with the hot marinara sauce
Notes
You may use any no-sugar-added marinara sauce that you prefer. 
When choosing bacon, look for uncured bacon with no additional sugar. 
If you prefer to leave out the pork, you can use an additional 1 pound of ground beef, or lamb instead.
Nutrition
Calories:
885
kcal
Carbohydrates:
9
g
Protein:
50
g
Fat:
72
g
Saturated Fat:
24
g
Polyunsaturated Fat:
5
g
Monounsaturated Fat:
27
g
Trans Fat:
2
g
Cholesterol:
241
mg
Sodium:
795
mg
Potassium:
975
mg
Fiber:
3
g
Sugar:
4
g
Vitamin A:
452
IU
Vitamin C:
6
mg
Calcium:
99
mg
Iron:
6
mg