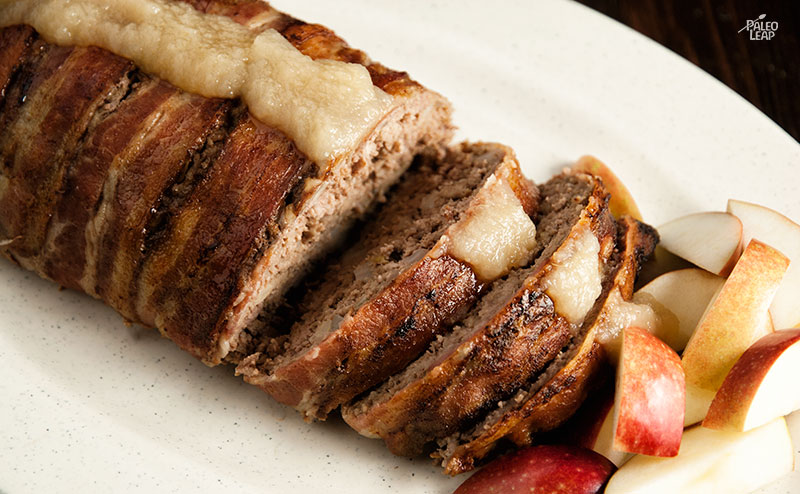 Pork-with-apples doesn't end at chops! Why not fill your pantry with this tasty autumn-themed meatloaf in case you need a slice of something to pull out for a quick lunchbox filler or snack? With the sweet apples, the fatty bacon, and just a little bit of spice, it's delicious hot or cold, and even better once it's had a day or two in the fridge for the flavor to develop.
The apples also let you get away without using any eggs as a binder, so this meatloaf is perfect for anyone with an egg allergy. It would also be easy to modify for an autoimmune protocol; just take out the chili powder and mustard, and make sure you're using safe bacon. In fact, you don't have to use the bacon at all here if you don't want to – instead of wrapping the meatloaf mixture in bacon, you could just cook it in a greased loaf pan. The bacon adds some extra flavor, though, not to mention that nice crispy brown crust on the outside!
For the applesauce to serve the meatloaf with, you could make your own Paleo-friendly version or look for a kind in stores that's just apples with no unnecessary junk added in. Or if you're in the mood for something a little tarter, you could also serve the meatloaf with a homemade cranberry relish. Add a big pile of your favorite vegetables, and you'll have a perfect dinner that also makes great leftovers for the next day's lunch.
Pork And Apple Meatloaf Recipe

SERVES: 4

PREP: 20 min.

COOK: 1 h.
Values are per portion. These are for information only & are not meant to be exact calculations.
Ingredients
1½ lb. ground pork;
1½ cup. apples, peeled and grated;
1 small onion, minced;
1 tbsp. chili powder;
1 tsp. ground cinnamon;
1 tsp. dry mustard;
7 slices bacon (or more);
Sea salt and freshly ground black pepper;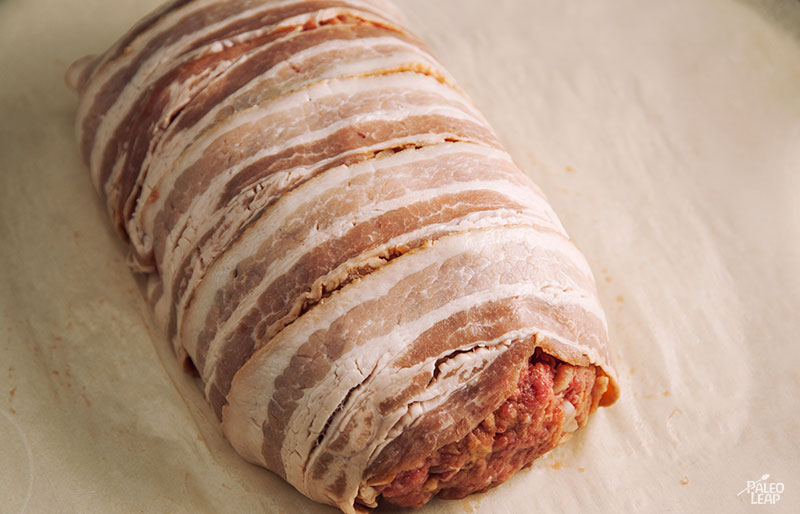 Preparation
Preheat your oven to 350 F.
Line a baking sheet with parchment.
In a bowl, combine the meat, apples, onion, chili powder, cinnamon, and season with salt and pepper to taste.
Shape the meat mixture into a loaf on the baking sheet.
Arrange the bacon across the top, and tighten underneath the meatloaf.
Place the loaf in the oven and bake for about 1 hour.
Set the oven to broil and broil for 3 to 5 minutes or until the bacon is crispy.
Serve the meatloaf with the applesauce.