Nothing invokes the spirit of home-cooked food more than the aroma of beef and broccoli, first sizzling, then simmering, on the stove.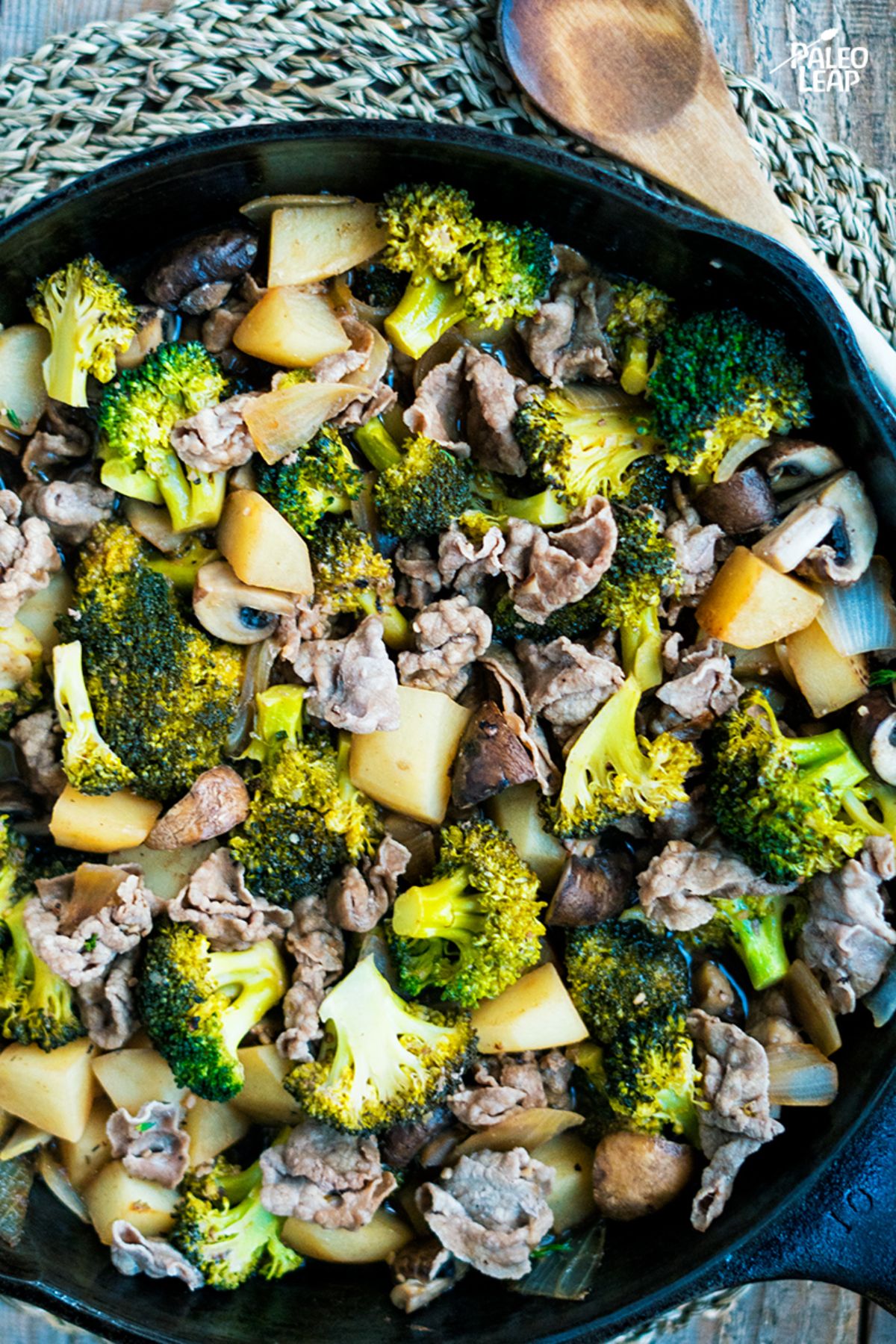 If you imagine it in your mind, chopping up the broccoli, mushrooms, and potatoes, then at some point, you can almost smell it cooking, and if you think about it for long enough, it may just end up as a requested dinner on your meal planner this week.
Set aside the thinking process, and let's get to the doing. In the first step, you will want to purchase a beautiful cut of beef sirloin steak. This is a relatively lean cut of meat but done the right way; it can be wonderfully tender.
You will want to pan-sear the thinly cut strips over medium-high heat for just a minute or two, then set them aside, and allow them to return to the pan once all of the other ingredients are nearly done cooking. In the end, everything can simmer together, coconut aminos included.
In the meantime, you may want to assemble a fruity salad with lemon dressing for a refreshing dash of pomegranate seeds and blueberries in your bowl. It can be consumed as a moreish dessert or a more complex side dish to bring startling harmony to your plate.
In the case of the latter, you may choose to skip the bananas; rest assured: the fruit is a terrific match!
Beef, Broccoli, And Potato Skillet Recipe
Serves: 4 Prep: 20 min Cook: 20 min
Ingredients
1 lb. beef sirloin steak, very thinly sliced
2 russet or sweet potatoes, diced
1 broccoli head, cut into florets
8 oz. mushrooms, chopped
1 onion, thinly sliced
1 ½ cups beef stock
2 garlic cloves, minced
2 tbsp. coconut aminos
4 tbsp. cooking fat
Sea salt and freshly ground black pepper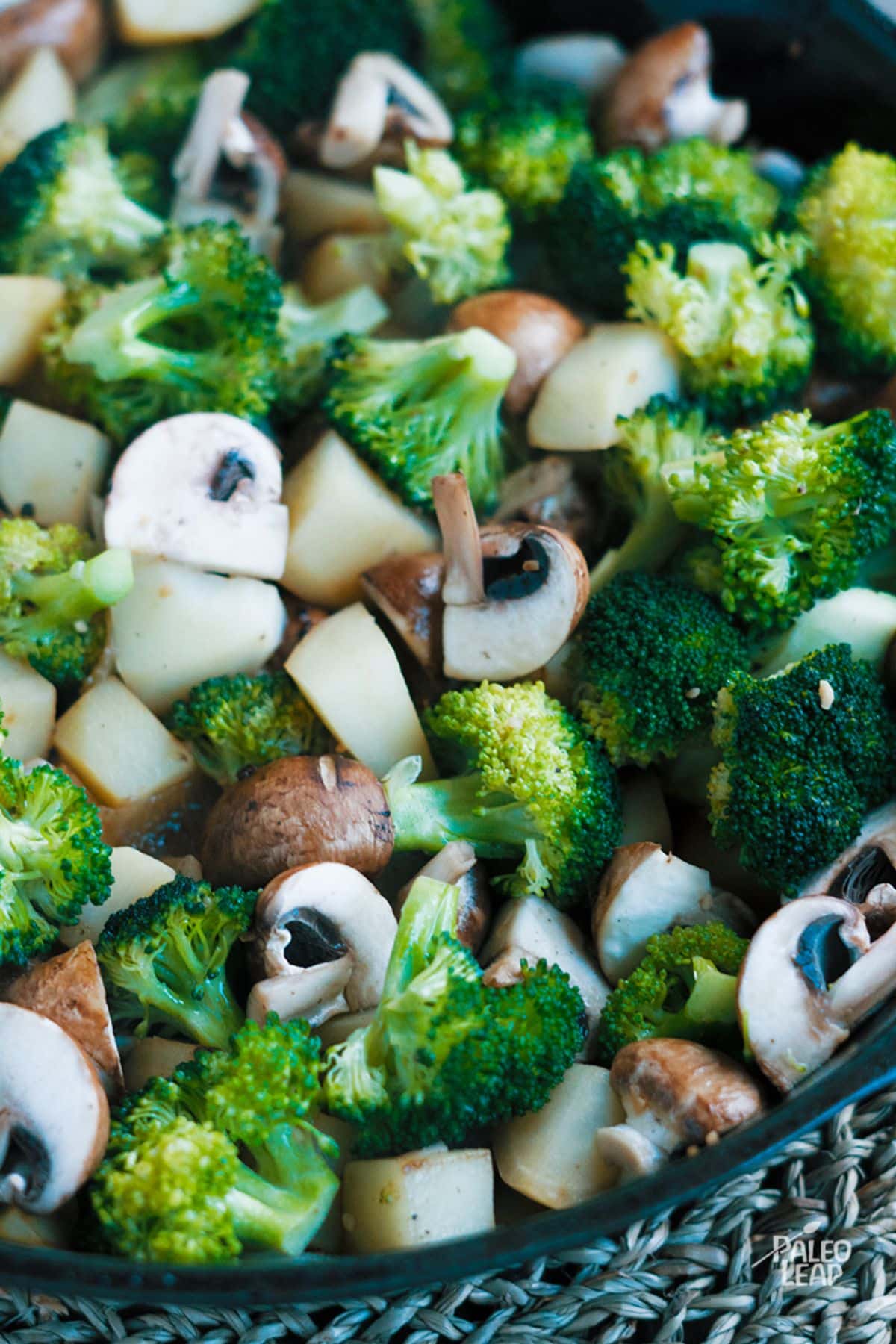 Preparation
Melt half the cooking fat in a skillet over medium-high heat.
Brown the sliced beef for 1 minute per side and set aside.
Melt the remaining cooking fat in the same skillet, add the diced potatoes, season to taste, and cook for about 4 to 5 minutes.
Add the onion and garlic, and continue to cook for another 2 minutes.
Add the mushrooms, broccoli, and beef stock; cover and cook for 6 to 8 minutes or until the potatoes and broccoli are soft and just about done.
Bring the beef back to the skillet, and continue cooking for another 3 to 4 minutes.
Add the coconut aminos, adjust the seasoning, mix everything, and serve the skillet hot.
📖 Recipe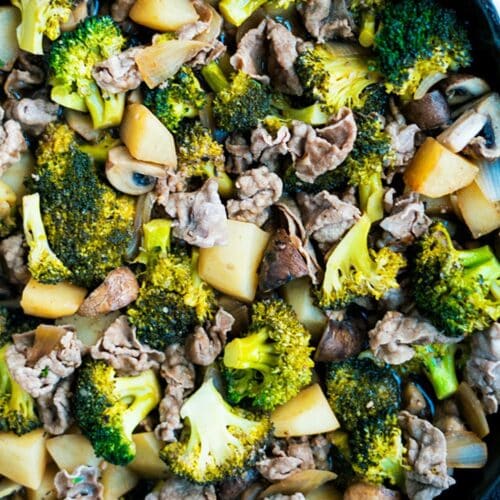 Beef, Broccoli, And Potato Skillet Recipe
Skillet dishes are most certainly here to stay, and this beef, broccoli, and potato skillet is no exception. Filled with mushrooms and sirloin steak, we call this one a winner.
Instructions
Melt half the cooking fat in a skillet over medium-high heat.

Brown the sliced beef for 1 minute per side and set aside.

Melt the remaining cooking fat in the same skillet, add the diced potatoes, season to taste, and cook for about 4 to 5 minutes.

2 russet or sweet potatoes,

Sea salt and freshly ground black pepper

Add the onion and garlic, and continue to cook for another 2 minutes.

Add the mushrooms, broccoli, and beef stock; cover and cook for 6 to 8 minutes or until the potatoes and broccoli are soft and just about done.

1 broccoli head,

8 oz. mushrooms,

1 ½ cups beef stock

Bring the beef back to the skillet, and continue cooking for another 3 to 4 minutes.

Add the coconut aminos, adjust the seasoning, mix everything, and serve the skillet hot.

2 tbsp. coconut aminos,

Sea salt and freshly ground black pepper
Nutrition
Calories:
473
kcal
Carbohydrates:
41
g
Protein:
35
g
Fat:
20
g
Saturated Fat:
4
g
Polyunsaturated Fat:
9
g
Monounsaturated Fat:
5
g
Trans Fat:
0.1
g
Cholesterol:
67
mg
Sodium:
534
mg
Potassium:
1712
mg
Fiber:
9
g
Sugar:
9
g
Vitamin A:
16979
IU
Vitamin C:
141
mg
Calcium:
171
mg
Iron:
11
mg