When we make the decision to eat a Paleo diet, there are usually a lot of questions about typical "grain replacements,", especially for certain cuisines. This comes up a lot when talking about Italian food.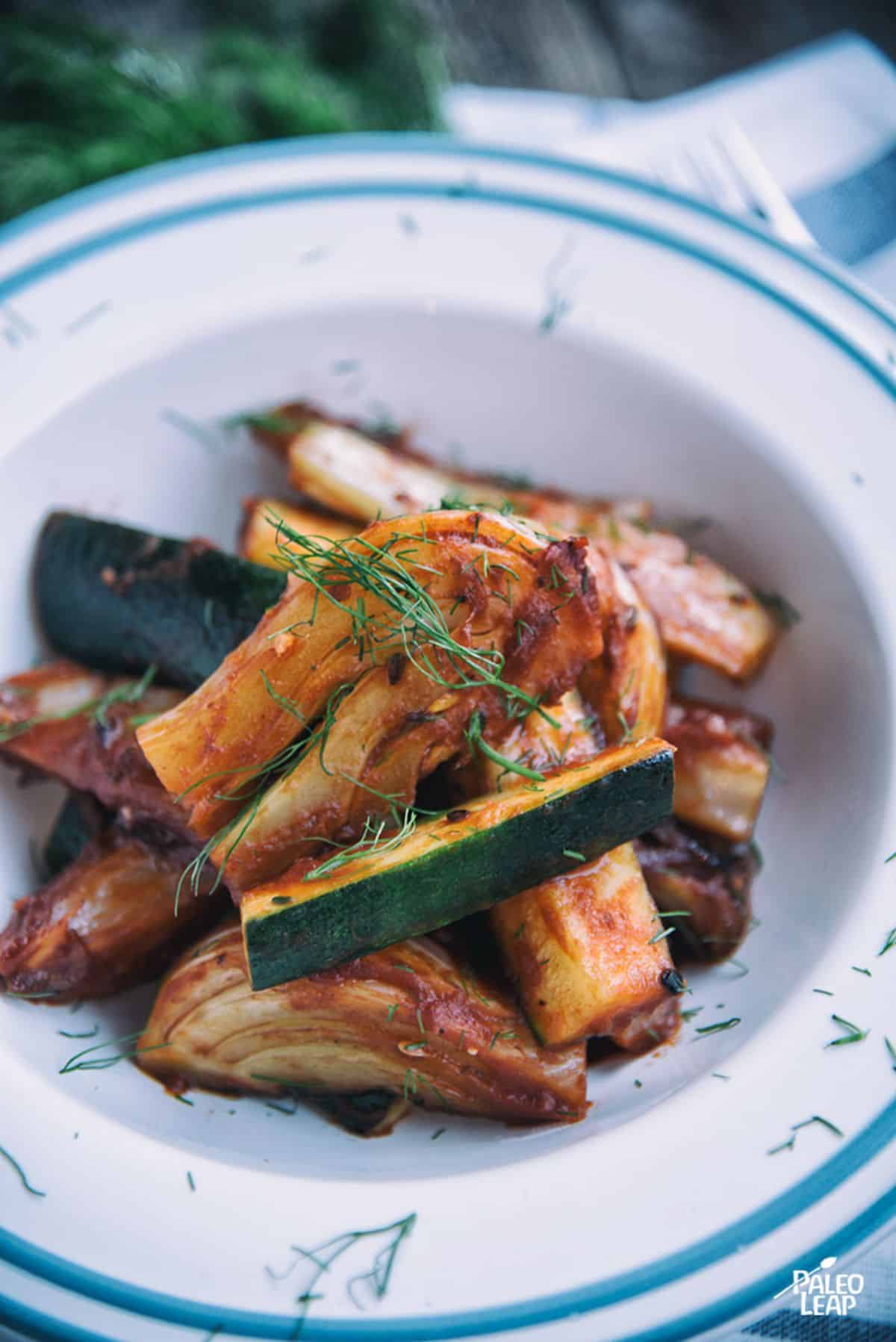 One of the things that we've learned over the years is that it is possible to enjoy almost any kind of food genre by working with the ingredients you have, being creative, and opening yourself up to new ways to serve your favorite meals.
We think this recipe serves as a great example of this in action. This Italian-esque side dish, drawing on the subtle flavors of zucchini and fennel, works beautifully as a main course accompaniment when you're doing an Italian night.
This recipe uses few ingredients, so focus on buying high-quality, fresh produce when you shop for this dish. Fennel bulbs aren't the most common produce item, so you may need to search specialty food markets or a local farmer's market for them. Look for bulbs that are white (without bruising or browning), firm, and crunchy. These tasty stalks pack a ton of Vitamin C and phytonutrients; it'll be worth the search!
This dish pairs well as a side or base for an Italian-themed main course. Some ideas for what to serve alongside this include the spicy shrimp and sun-dried tomatoes (for a seafood meal), porchetta (this is a great, more formal pork dish), or a more traditional meatball recipe. This side is so versatile – try something new when you serve it!
Braised Fennel and Zucchini in Tomato Sauce Recipe
Serves: 4 Prep: 20 min Cook: 20 min
Ingredients
2 fennel bulbs wedged
2 zucchini, sliced into wedges
1 red onion, sliced
½ tsp. fennel seed
½ tsp. dried oregano
½ tsp. dried thyme
2 garlic cloves, minced
1 ½ cups tomato sauce
2 tbsp. olive oil
Fresh dill (to garnish)
Sea salt and freshly ground pepper, to taste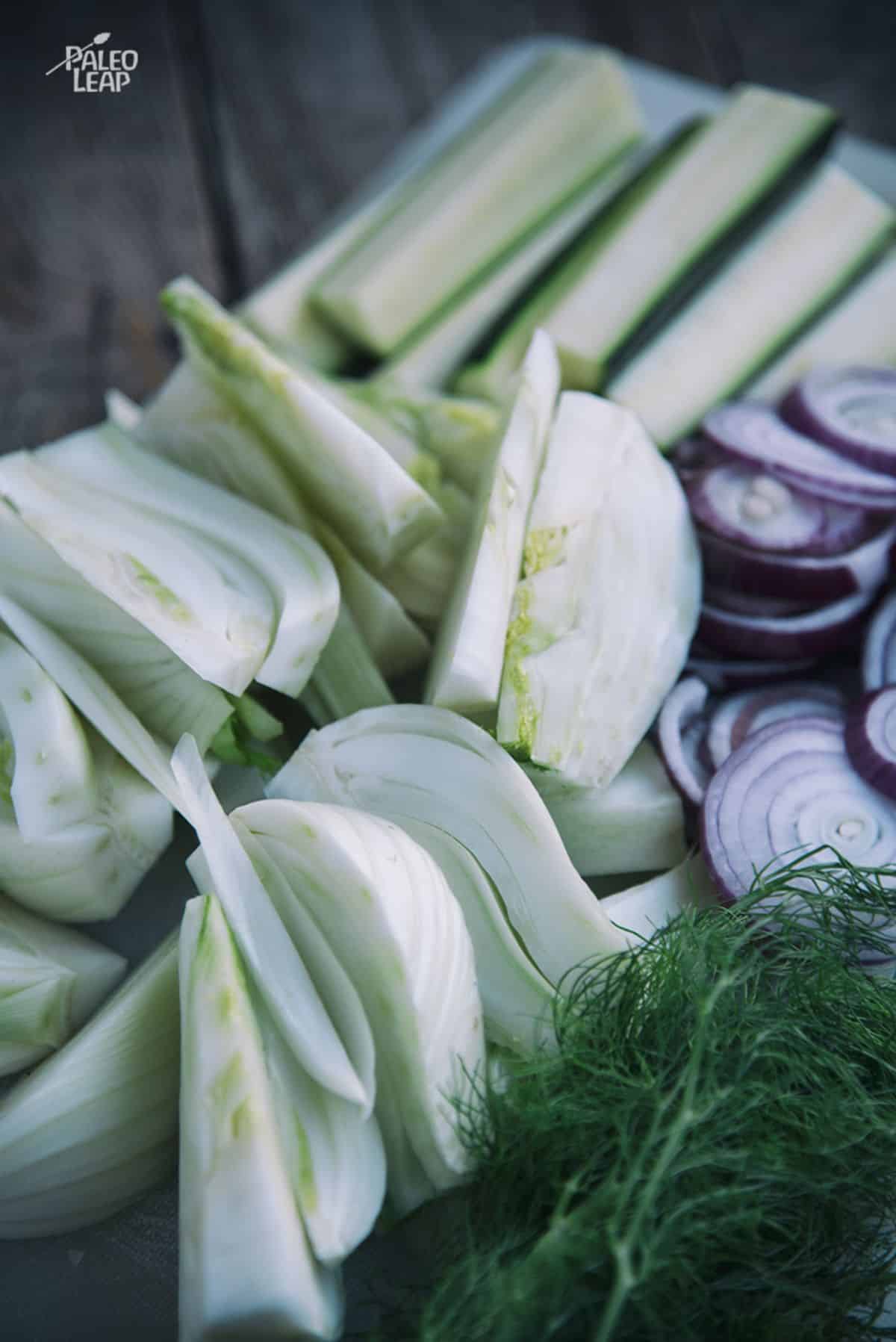 Preparation
Heat olive oil in a skillet over medium-high heat.
Add onion, fennel seed, and garlic; cook for 1 to 2 minutes.
Add the zucchini and fennel bulbs; cook another 3 to 4 minutes, stirring once in a while.
Pour in the tomato sauce, dried thyme, and dried oregano; stir everything together.
Cook for 10 to 12 minutes or until vegetables is tender.
Adjust seasoning with salt and pepper; serve topped with fresh dill.
📖 Recipe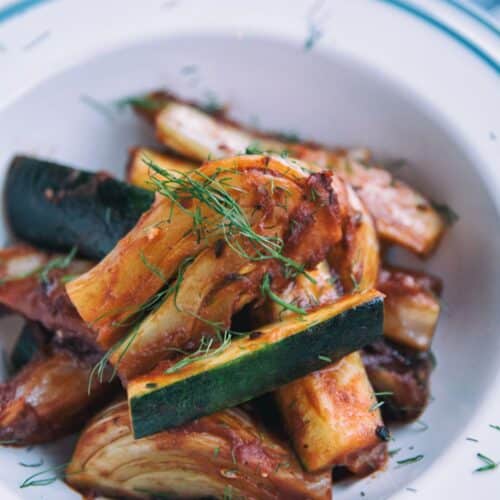 Braised Fennel and Zucchini in Tomato Sauce Recipe
Love Italian food? You can still enjoy it on a Paleo diet by using sides like this one as a base for your main course.
Instructions
Heat olive oil in a skillet over medium-high heat.

Add onion, fennel seed, and garlic; cook for 1 to 2 minutes.

2 fennel bulbs wedged,

1 red onion,

2 garlic cloves,

½ tsp. fennel seed

Add the zucchini and fennel bulbs; cook another 3 to 4 minutes, stirring once in a while.

2 zucchini,

2 fennel bulbs wedged

Pour in the tomato sauce, dried thyme, and dried oregano; stir everything together.

½ tsp. dried thyme,

1 ½ cups tomato sauce,

½ tsp. dried oregano

Cook for 10 to 12 minutes or until vegetables is tender.

Adjust seasoning with salt and pepper; serve topped with fresh dill.

Fresh dill,

Sea salt and freshly ground pepper
Nutrition
Calories:
159
kcal
Carbohydrates:
21
g
Protein:
4
g
Fat:
8
g
Saturated Fat:
1
g
Polyunsaturated Fat:
1
g
Monounsaturated Fat:
6
g
Sodium:
507
mg
Potassium:
1082
mg
Fiber:
7
g
Sugar:
12
g
Vitamin A:
786
IU
Vitamin C:
41
mg
Calcium:
124
mg
Iron:
3
mg