Risotto is the iconic Italian dish - rice simmered in a gorgeous broth with chopped bits of vegetables to match in flavor and consistency. Paleo risotto takes the broth part of the recipe into consideration, but tosses the white rice to the back of the cupboard, and utilizes riced cauliflower instead.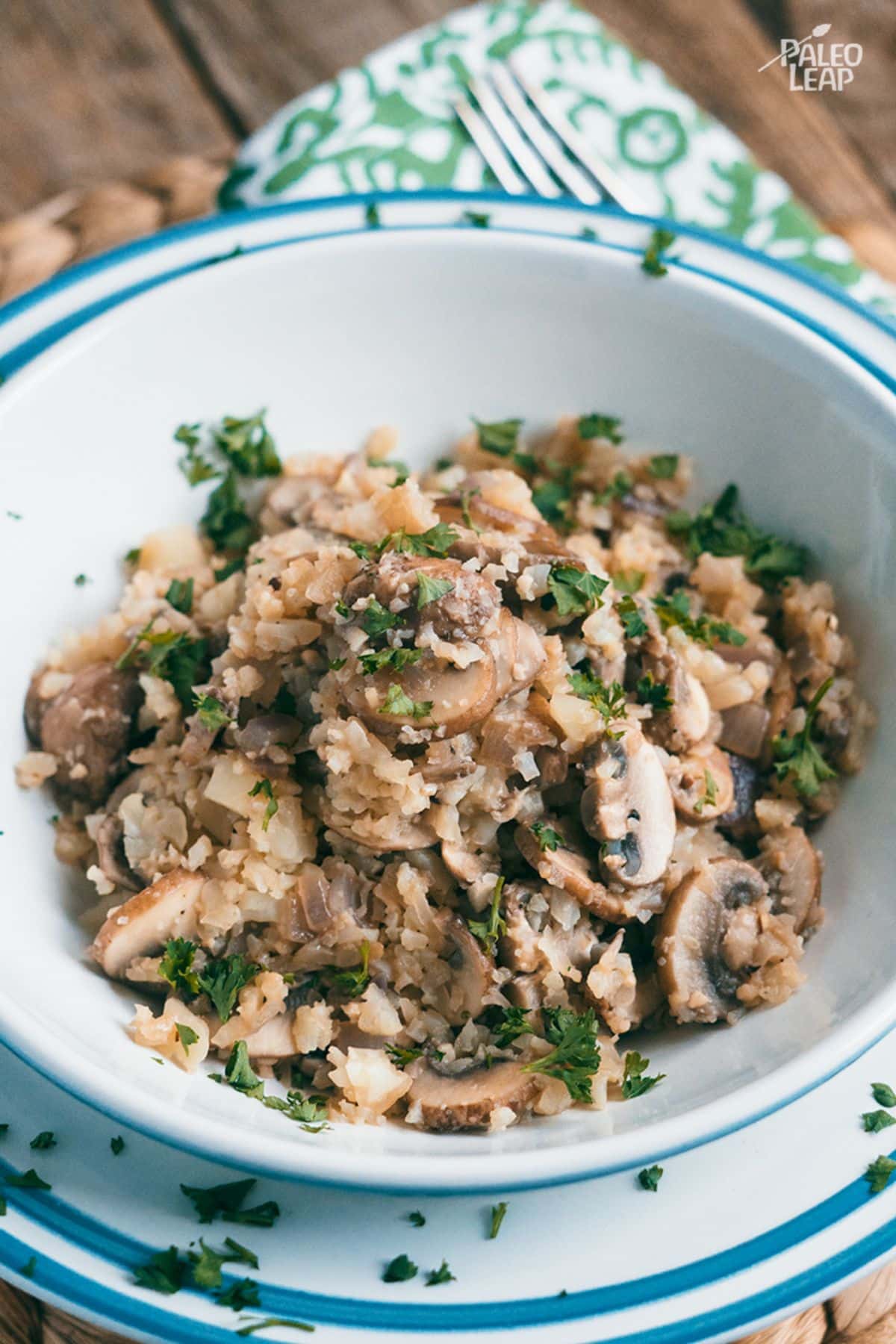 There is a big difference in terms of carbs, so if you are steering clear of a carb overload, you will want to go with the second option.
It is incredibly simple to make a mushroom and cauliflower risotto, and if we may suggest from the start, 2 tablespoons of avocado oil will help to make this dish simply amazing.
What forges the nutritive content, however, is the chicken stock. This is a must-have, and must-do, in any Paleo kitchen. You'll also want to accomplish this task of slow-simmering a chicken, and its bones, ahead of time, so that when you are truly hungry, there is no need to wait on the flavors to develop.
It always pays to be a step ahead, so stir up a big batch of bone stock (herbs optional) one weekend and freeze the leftovers, for when time is of the essence.
What to serve this cauliflower risotto with? What not to serve it with - that is the question. From simple chicken drumsticks to a whole oven-roasted chicken, to an Italian chopped salad, you will find that it complements just about anything you set on the table next to it.
Mushroom Cauliflower Risotto Recipe
Serves: 2 Prep: 20 min Cook: 15 min
Ingredients
1 cauliflower, riced
8 oz. mushrooms, sliced
1 onion, minced
2 garlic cloves, minced
1 cup chicken stock
2 tbsp. fresh parsley, minced
2 tbsp. cooking fat
Sea salt and freshly ground black pepper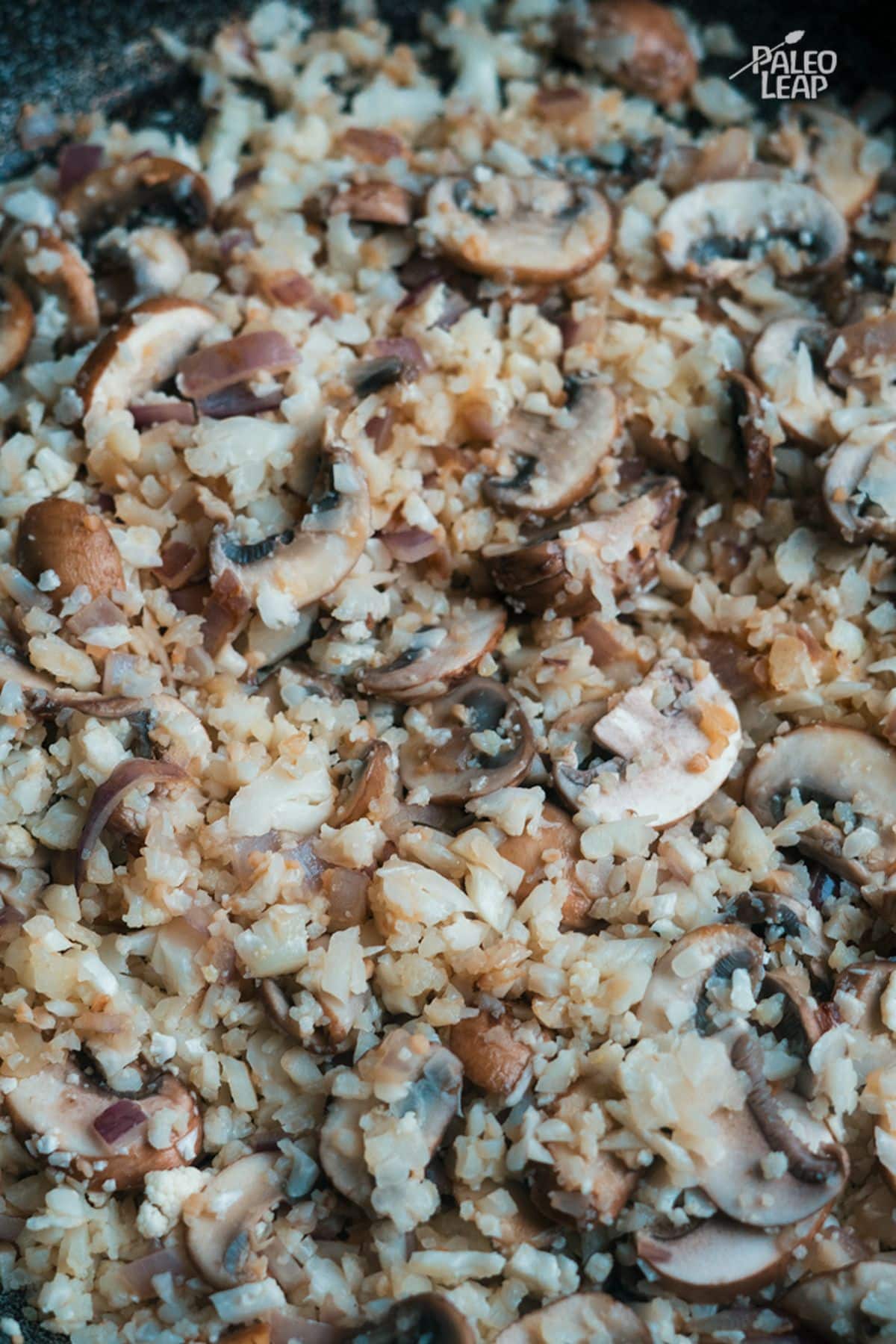 Preparation
Melt cooking fat in a skillet over medium heat.
Add the garlic and onion; cook until soft, about 1 to 2 minutes.
Add the mushrooms and cook until nicely browned 2 to 3 minutes.
Add the cauliflower rice, pour in the chicken stock, cover, and cook until the cauliflower is soft, about 4 to 5 minutes.
Season to taste, give everything a nice stir, and serve topped with fresh parsley.
📖 Recipe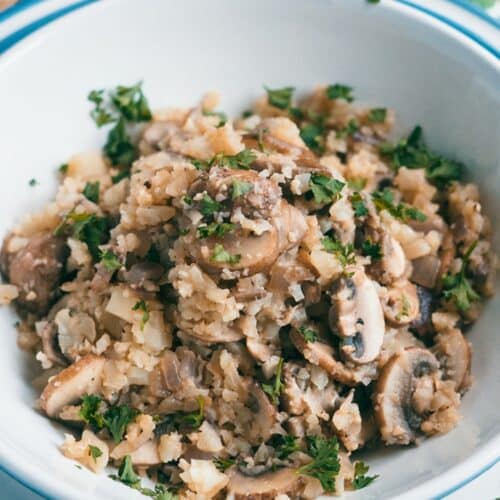 Cauliflower Mushroom Risotto Recipe
You are craving risotto, yet your desire to remain Paleo is tugging at your conscience - stir up a bowlful of mushroom cauliflower risotto instead. The problem was solved in an instant!
Instructions
Melt cooking fat in a skillet over medium heat.

Add the garlic and onion; cook until soft, about 1 to 2 minutes.

Add the mushrooms and cook until nicely browned 2 to 3 minutes.

Add the cauliflower rice, pour in the chicken stock, cover, and cook until the cauliflower is soft, about 4 to 5 minutes.

1 cauliflower,

1 cup chicken stock

Season to taste, give everything a nice stir, and serve topped with fresh parsley.

Sea salt and freshly ground black pepper,

2 tbsp. fresh parsley
Nutrition
Calories:
313
kcal
Carbohydrates:
31
g
Protein:
13
g
Fat:
18
g
Saturated Fat:
3
g
Polyunsaturated Fat:
9
g
Monounsaturated Fat:
4
g
Trans Fat:
0.1
g
Cholesterol:
4
mg
Sodium:
293
mg
Potassium:
1626
mg
Fiber:
10
g
Sugar:
11
g
Vitamin A:
1250
IU
Vitamin C:
163
mg
Calcium:
154
mg
Iron:
16
mg