Give your leftover roast chicken a new life with this savory mixture of tender vegetables, fragrant herbs, and rich, homemade stock.
It's also perfect for using up any vegetable odds and ends that are languishing in your refrigerator: you can really go all-out and add a lot of different vegetables according to your taste.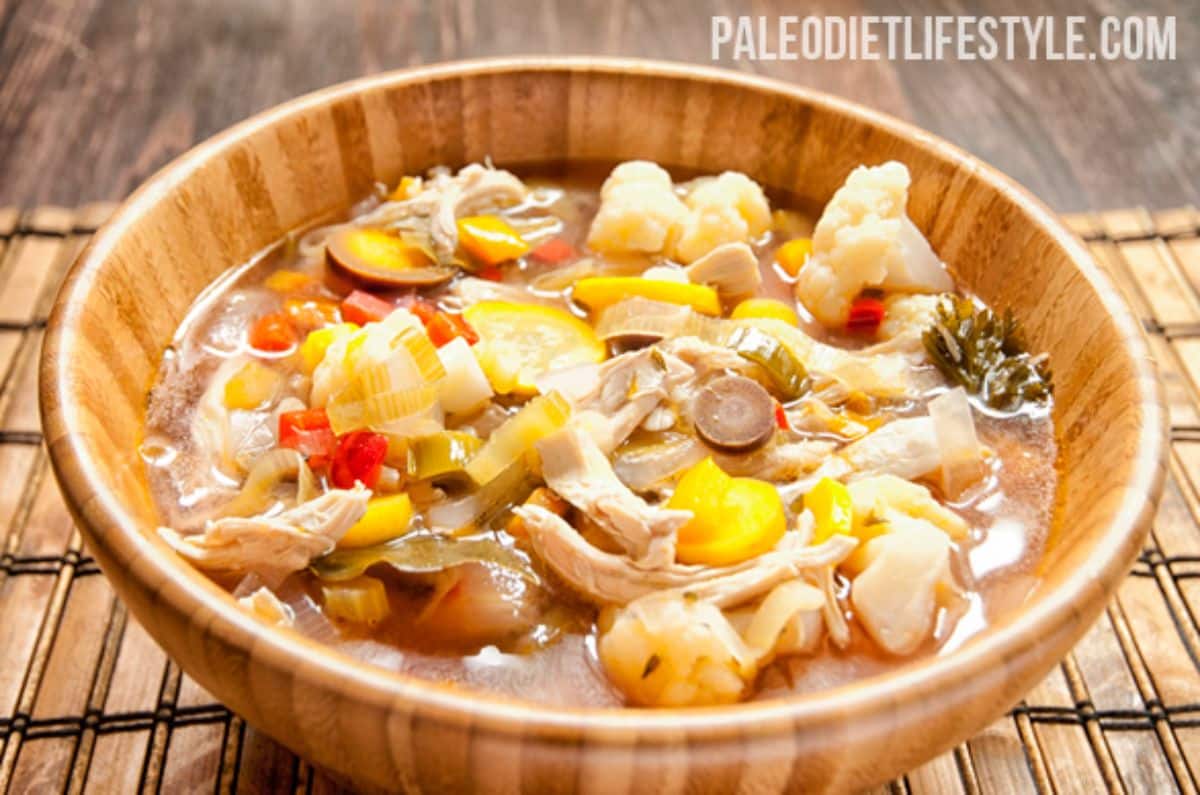 Theoretically, you could make this soup entirely from leftovers, but the result is so delicious that you'll likely find yourself buying another chicken just to make some more!
If you're making a chicken, especially for the soup, it's the perfect opportunity to make your own stock as well. You could always buy the stock at the store, but homemade stock is so much cheaper and more nutritious, and if you have a chicken anyway, you have all the ingredients right on hand.
Just toss the whole chicken into a big stock pot to simmer in 2-3 quarts of water for about an hour. Add some fresh herbs and spices (thyme, bay leaves, and peppercorns are good) and a few vegetables if you like.
Once the meat is cooked through, cut it off and save it in the fridge while you use the chicken bones to make some homemade stock. If you've never made your own stock before, you'll be amazed at the difference in taste.
The traditional reason for making chicken soup is comfort food when you're sick, and this recipe definitely lives up to its nickname of "Jewish penicillin."
First of all, it's packed with vegetables, and they're so soft and tender from cooking the soup that they're easy to get down even on an upset stomach. And then there's the stock itself – if you make bone broth at home, it's full of the good stuff.
The minerals and electrolytes are perfect for anyone who's been throwing up, and the gut-healing proteins in the broth help soothe your stomach and reduce inflammation.
It's a comfort food that's also good for you: what could be better? Serve it with a salad, a baked sweet potato, or a simple egg dish like a frittata or a quiche for a full meal, or just enjoy a bowl plain on its own as a delicious and nourishing snack.
Chicken and Vegetable Soup Recipe
SERVES: 8 PREP: 20 min COOK: 25 min
Ingredients
1 ½ cups shredded cooked chicken;
1 cup of cauliflower, cut into chunks;
1 bell pepper, diced;
1 leek, sliced;
1 medium onion, chopped;
2 small zucchinis, sliced;
3 medium carrots, sliced;
2 celery ribs, sliced;
1 cup diced tomatoes;
4 fresh thyme sprigs;
2 bay leaves;
1 handful fresh parsley, finely chopped;
6 to 8 cups chicken stock ;
3 garlic cloves, minced;
2 tbsp. Paleo cooking fat;
Sea salt and freshly ground black pepper to taste;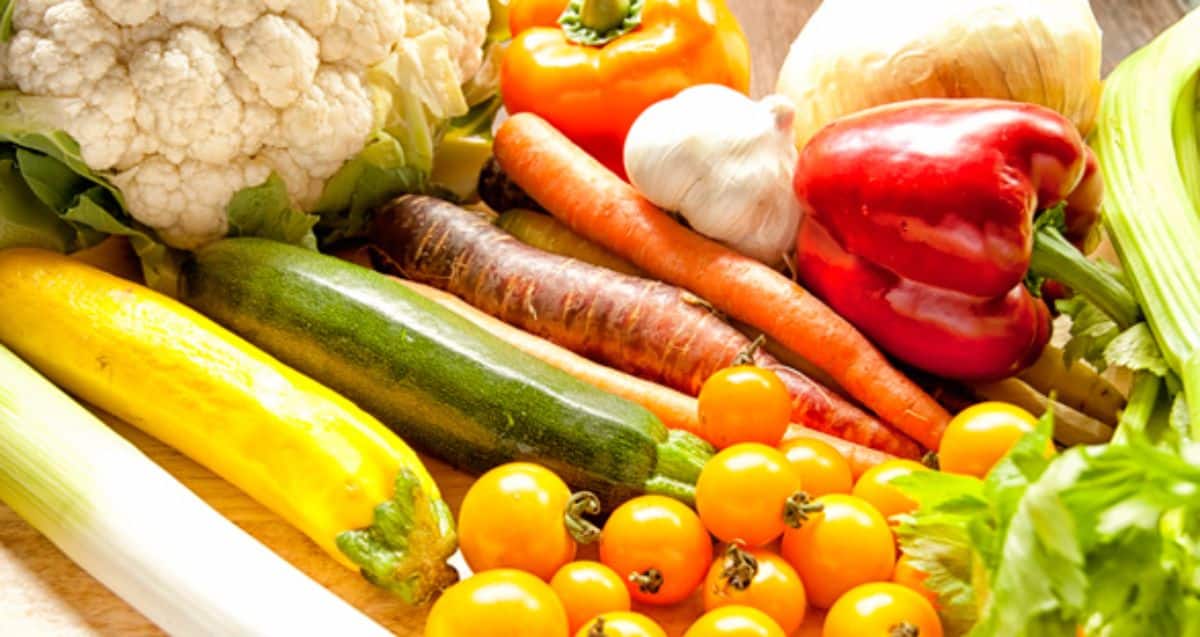 Preparation
In a large stockpot, melt the cooking fat over medium heat, and gently cook the onion, garlic, leek, and chicken for about 5 minutes or until the onion is nice and tender.
 Add the rest of the vegetables, bay leaves, thyme sprigs, and parsley, and cover it all with 6 to 8 cups of chicken broth.
Bring the soup to a boil, then reduce the heat and simmer for 20 minutes.
Season to taste with sea salt and freshly ground black pepper.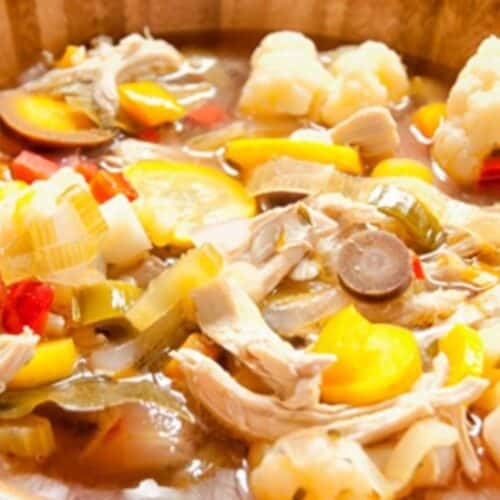 Chicken and Vegetable Soup Recipe
Who said you can't have comfort food on Paleo? This mouthwatering chicken soup is good for your body and your soul.
Ingredients
1 ½

cups

shredded cooked chicken

1

cup

of cauliflower

cut into chunks

1

bell pepper

diced

1

leek

sliced

1

medium onion

chopped

2

small zucchinis

sliced

3

medium carrots

sliced

2

celery ribs

sliced

1

cup

diced tomatoes

4

fresh thyme sprigs

2

bay leaves

1

handful fresh parsley

finely chopped

6 to 8

cups

chicken stock

3

garlic cloves

minced

2

tbsp.

Paleo cooking fat

Sea salt and freshly ground black pepper to taste
Instructions
In a large stockpot, melt the cooking fat over medium heat, and gently cook the onion, garlic, leek, and chicken for about 5 minutes or until the onion is nice and tender.

1 leek,

1 medium onion,

3 garlic cloves,

2 tbsp. Paleo cooking fat,

1 ½ cups shredded cooked chicken

Add the rest of the vegetables, bay leaves, thyme sprigs, and parsley, and cover it all with 6 to 8 cups of chicken broth.

1 cup of cauliflower,

1 bell pepper,

2 small zucchinis,

3 medium carrots,

2 celery ribs,

1 cup diced tomatoes,

4 fresh thyme sprigs,

2 bay leaves,

1 handful fresh parsley,

6 to 8 cups chicken stock

Bring the soup to a boil, then reduce the heat and simmer for 20 minutes.

Season to taste with sea salt and freshly ground black pepper.

Sea salt and freshly ground black pepper to taste
Nutrition
Calories:
186
kcal
Carbohydrates:
16
g
Protein:
13
g
Fat:
8
g
Saturated Fat:
1
g
Polyunsaturated Fat:
2
g
Monounsaturated Fat:
4
g
Trans Fat:
0.01
g
Cholesterol:
25
mg
Sodium:
308
mg
Potassium:
626
mg
Fiber:
3
g
Sugar:
8
g
Vitamin A:
4663
IU
Vitamin C:
42
mg
Calcium:
52
mg
Iron:
2
mg