A frittata is similar to an omelet but is usually thicker and fluffier. It's actually a lazy version of the traditional omelet in that you simply throw in your desired vegetables, whisk some eggs, incorporate them with the vegetables and let it cook.
Because frittatas are not as thin as the traditional French omelet and are usually bulkier with vegetables, ham, bacon, or sausages, they are often finished under the broiler so the top can brown while the bottom doesn't overcook.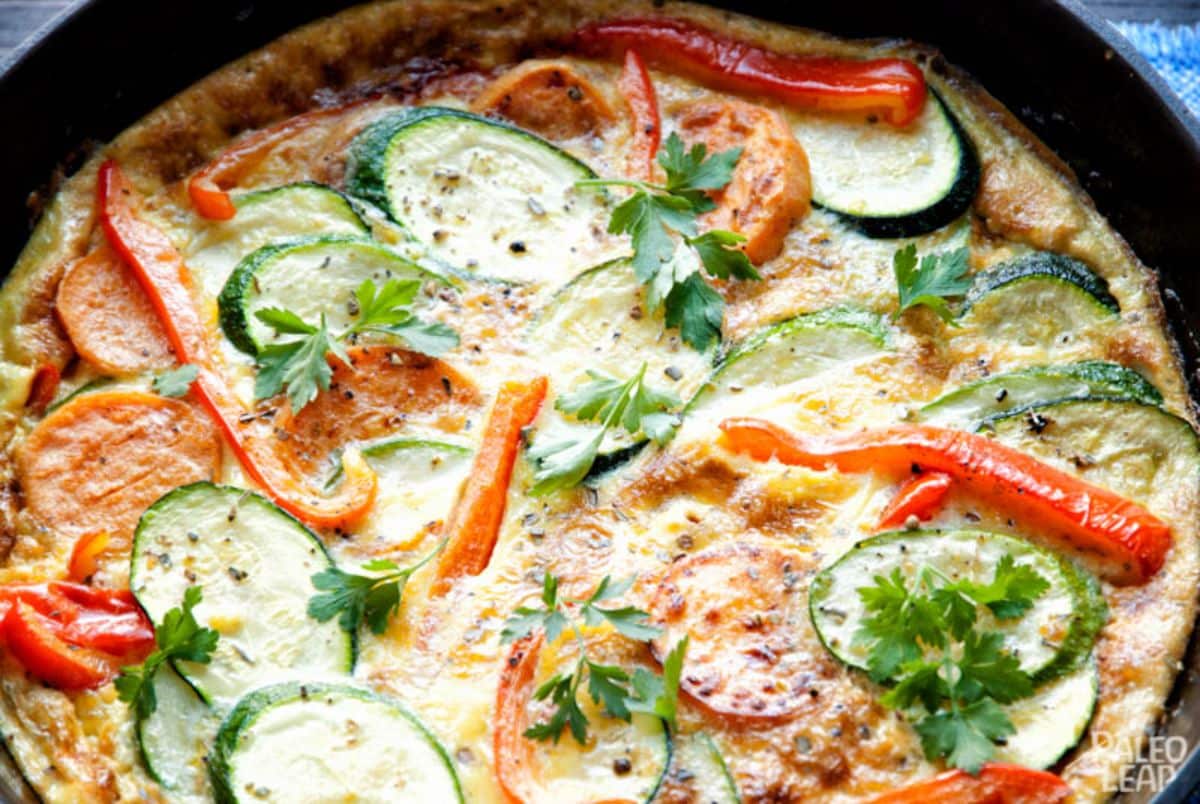 The reason why frittatas are often fluffier is that the eggs are beaten quite a bit more than in an omelet in an effort to incorporate more air into the mixture. They can be prepared with almost any vegetable or leftover meat you have around and are a great way to use some veggies that are looking for a vocation.
It makes one of the quickest meals, doesn't require any special ingredients, and is filling and delicious. This version uses some common vegetables like zucchini, bell pepper, and sweet potato.
Since the starchy sweet potato is included, it makes for an even more filling meal that's ideal around a workout for refueling the tanks.
It is often viewed as an Italian or Spanish specialty.
Zucchini and sweet potato recipe
Serves: 4
Ingredients
2 tablespoon Ghee or coconut oil;
8 eggs;
1 large sweet potato, peeled and cut into slices;
2 sliced zucchinis;
1 sliced red bell pepper;
2 tablespoon fresh parsley;
Salt and pepper to taste.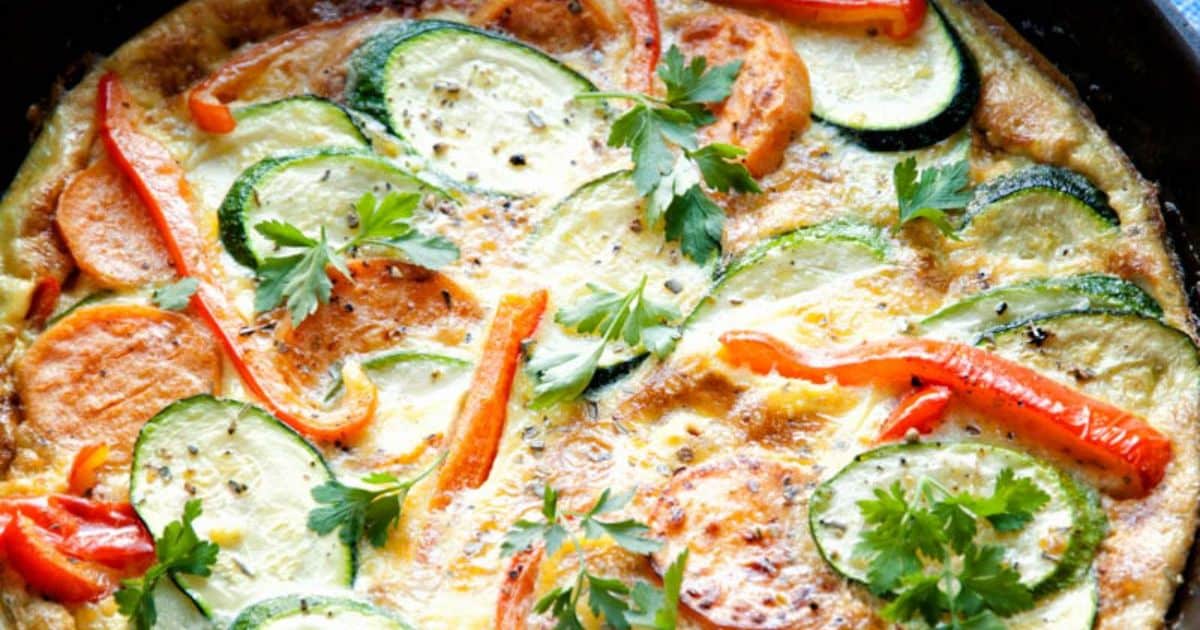 Preparation
Heat a pan over medium-low heat;
Add the oil and sweet potato slices and cook until soft, about 8 minutes;
Add the zucchini and red bell pepper slices and cook for another 4 minutes;
While it cooks, whisk the eggs in a bowl, making sure to incorporate a lot of air in the mixture;
Season the egg mixture with salt and pepper and add to the cooking veggies;
Cook on low heat until just set, about 10 minutes;
Finish the frittata until golden under a heated broiler.
Cut the finished frittata into wedges and serve with fresh parsley.
📖 Recipe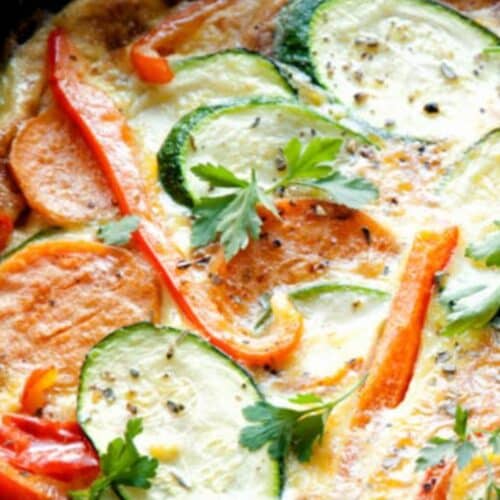 Zucchini and sweet potato recipe
This easy and filling frittata is simple to make when you don't really feel like cooking. A great dish to make with eggs where you can substitute any vegetables
Ingredients
2

tablespoon

Ghee or coconut oil

8

eggs

1

large sweet potato

peeled and cut into slices

2

sliced zucchinis

1

sliced red bell pepper

2

tablespoon

fresh parsley
Instructions
Preparation

Heat a pan over medium-low heat

Add the oil and sweet potato slices and cook until soft, about 8 minutes

2 tablespoon Ghee or coconut oil,

1 large sweet potato

Add the zucchini and red bell pepper slices and cook for another 4 minutes

2 sliced zucchinis,

1 sliced red bell pepper

While it cooks, whisk the eggs in a bowl, making sure to incorporate a lot of air in the mixture

Season the egg mixture with salt and pepper and add to the cooking veggies

Salt and pepper to taste.

Cook on low heat until just set, about 10 minutes

Finish the frittata until golden under a heated broiler.

Cut the finished frittata into wedges and serve with fresh parsley.

2 tablespoon fresh parsley
Nutrition
Calories:
265
kcal
Carbohydrates:
17
g
Protein:
14
g
Fat:
16
g
Saturated Fat:
8
g
Polyunsaturated Fat:
2
g
Monounsaturated Fat:
5
g
Trans Fat:
0.03
g
Cholesterol:
347
mg
Sodium:
166
mg
Potassium:
641
mg
Fiber:
3
g
Sugar:
6
g
Vitamin A:
9787
IU
Vitamin C:
60
mg
Calcium:
87
mg
Iron:
3
mg